There's nowt we like more to start the week than a game of spot the celeb.
So there's 10 HuffPost points on offer for the first person to find Victoria Beckham in this picture. Go!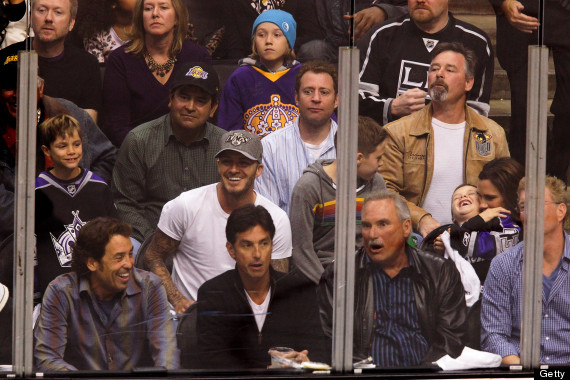 Got her?
That's her hiding behind her youngest son Cruz, as she watched an ice hockey match in LA yesterday.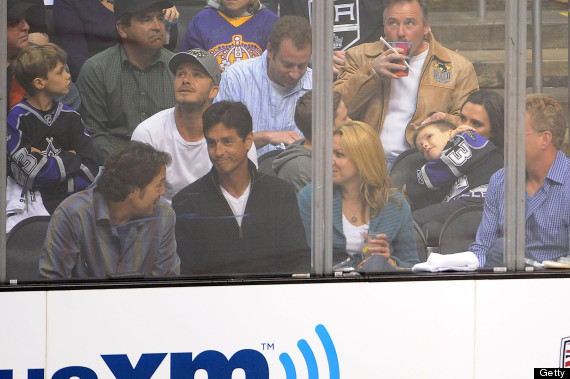 Posh was the only girl on the outing as daughter Harper Seven stayed at home.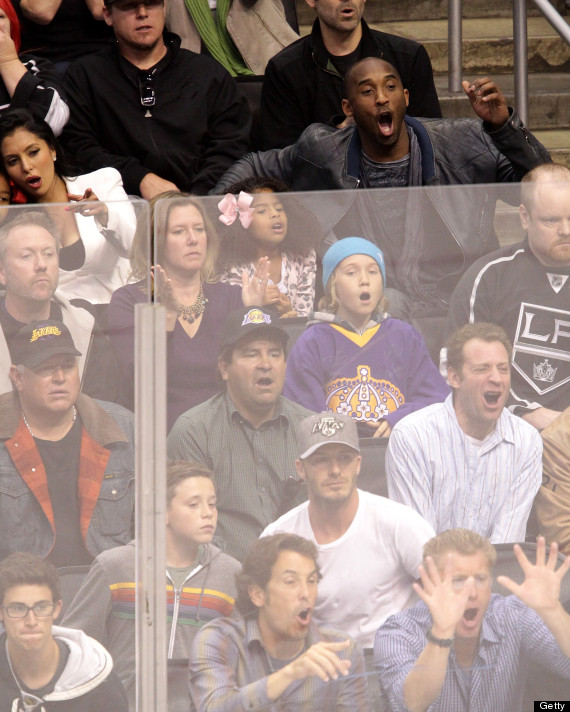 The little'un missed out on the family QT, as they watched the Vancouver Canucks and the Los Angeles Kings take on each other.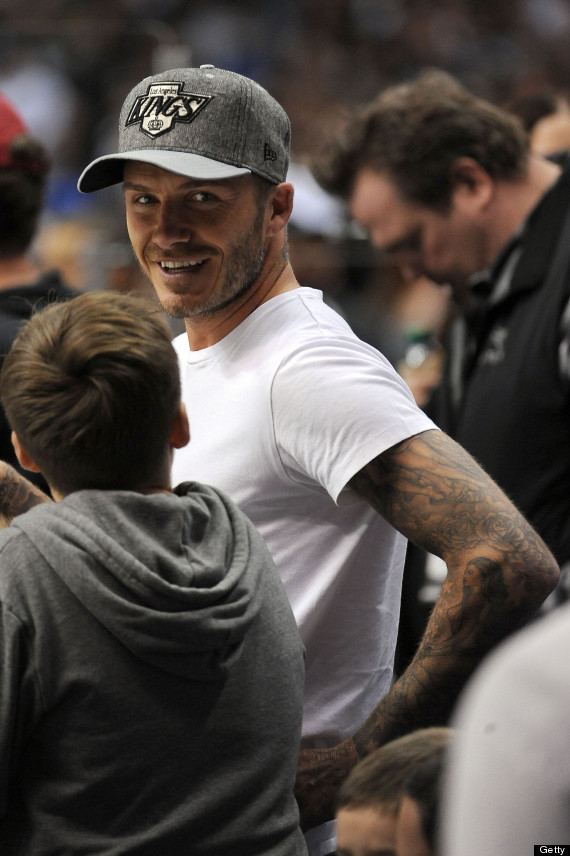 It was a busy sporting weekend for David as he also took son Romeo to support his basketball team at a match, as well as taking to the football pitch himself to resume his LA Galaxy duties.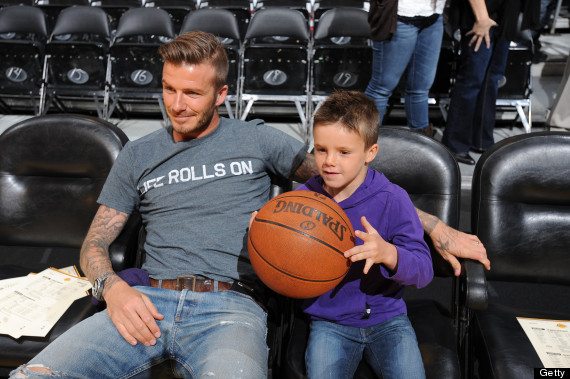 IN PICS: CELEBS AND THEIR OFFSPRING
Donatella & Allegra Versace The legend of the Versace ladies precedes them. After Gianni Versace's death, mother and daughter own 70% of the Versace empire. What we'd give for a teeny slice of that pie...

Janet Leigh & Jamie Lee Curtis Huff Po's very own blogger Jamie Lee Curtis is known as a scream queen for her roles in horror films Halloween, The Fog and Terror Chain. Her mother, legendary actress Janet Leigh, starred in Psycho and alongside her daughter in The Fog and Halloween H2O: 20 Years Later.

Goldie Hawn & Kate Hudson These golden beauties look more like sisters than mother and daughter. Both super successful actresses, the pair are rarely seen without huge grins across their faces. To be honest, with careers like their's we'd be smiling too.

Dina & Lindsay Lohan Dina, mother of off the rails actress LiLo, is a TV personality and actress in her own right. Dina and her younger daugher Ali recently starred in reality TV show, Living Lohan.

Jada Pinkett-Smith & Willow Smith Willow is an actress and musician following in the footsteps of her mother and father, Fresh Prince Will Smith. She released her debut single Whip My Hair in 2010 and is signed to mentor Jay-Z's label. Jealous.

Blythe Danner & Gwyneth Paltrow Both work hard to juggle motherhood and their award-winning careers as actresses. In 2011, Blythe urged her daughter to slow down because she was worried about her trying to do everything. Looks like even mothers need to be mothered sometimes!

Demi Moore & Rumer Willis The daughter of Demi Moore and Bruce Willis, Rumer has also embarked on a career in acting. She has starred alongside both parents: with her mother in Now and Then and with her father in The Whole Nine Yards and Hostage.

Janet Ellis & Sophie Ellis-Bextor Janet is best known for her time as a Blue Peter presenter, and being the mum of singer and model, Sophie.

Jerry Hall & Georgia May Jagger Last year mother and daughter teamed up for a H&M's advertising campaign. Hopefully it's the jeans, not genes, that makes the pair so stunning. Excuse us, we're just popping down to the shops...

Jerry Hall & Elizabeth Jagger Lizzy is Jerry and Mick Jagger's eldest daughter. Having inherited her mother's stunning looks she has modeled for a range of fashion houses.

Yasmin & Amber Le Bon Following in her mother's footsteps, eldest daughter Amber is carving out a successful modelling career for herself. The pair have even shared the same runway.

Pearl & Daisy Lowe Lowe is a big name in the fashion world, Pearl designs the clothes and Daisy models them. The Lowe ladies share big sultry, smokey eyes, but manage to look mischievous and fun loving at the same time. We LOVE them.

Madonna & Lourdes Despite being just a teen, Lourdes is already working with her mother. They created fashion label Material Girl together which is on sale at Macy's, she was also due to appear in Madge's directing debut W.E., but her scenes were cut at the last minute. Guess that's show business...

Tina & Beyonce Knowles This mother and daughter partnership are an unstoppable force. Both worked non-stop on Beyonce's music career and recently launched fashion label, House of Dereon together (named after Beyonce's granny, aww).