Labour may still have work to do if this audition for The Voice is anything to go by.
(Video by David Schneider.)
And just in case you're wondering who's still in the real competition...
Who Said It: Ed Miliband Or Buddha?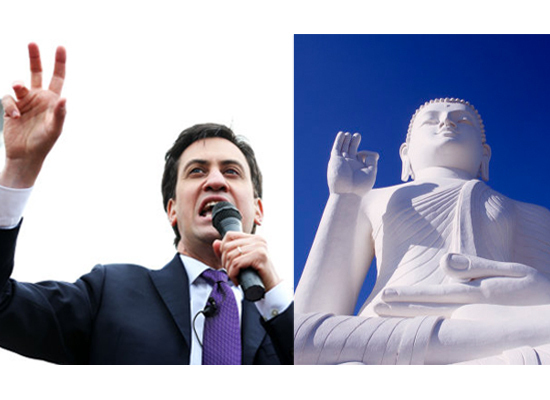 To get the highest score, get all the answers right in the fastest time!
The clock will start as soon as you submit your first answer.
0:00
"I never see what has been done; I only see what remains to be done."
Loading Slideshow
Team Danny - Aleks Josh

The 17 year old heartthrob works as a part-time lifeguard. Blind Audition: Jason Mraz - I'm Yours

Team Danny - Vince

This bare-footed babe auditioned without his shoes on. Blind Audition: King's of Leon - Sex On Fire

Team Danny - Max Milner

Max's mother is the leading lady in a West End production and he once played the lead in Footloose. Audition: Mash up of Eminem - Lose Yourself and The Beatles - Come Together

Team Danny - Bill

Ed Sheeran has already shown support for the 24 year old, describing a cover he sang as 'sick'. Blind Audition: Plan B - She Said

Team Danny - David Julien

His biggest fan is his dear old dad who never misses a gig. Blind Audition: The Script - Man That Can't Be Moved

Team Danny - John James Newman

This 33 year old has already had a taste for fame: his father is a rock star, his brother is in Waterloo Road and his band have supported Bon Jovi. Blind Audition: Eliza Doolittle - Pack Up

Team Danny - Emmy J Mac

This cutie owns a company that organises music events for children. Blind Audition: Corrine Baile

Team Danny - Murray Hockridge

At 47 years old, Murray has been working in the business for 30 years. Well, as the old saying goes - if at first you don't succeed... Blind Audition: James Morrison - You Give Me Something

Team Danny - Hannah Berney

Hannah was so star struck in her audition that she couldn't remember her mother's name. Blind Audition: Lady Gaga - You and I

Team Danny - Bo Bruce

This lovely Lady dropped her title in favour of...err...Bo. Blind Audition: Usher/ David Guetta - Without You

Team Jessie - Ben Kelly

With over a million views on YouTube and this bow-tied laddie made all four judges turn their chairs

Team Jessie - Ruth-Ann St. Luce

Wobbly audition or not, Jessie still turned her chair and that's what matters. Blind Audition: Leona Lewis - Run

Team Jessie - Cassius Henry

Despite having a record deal with Sony at just 16 years old, the tragic loss of his brother meant Cassius' dreams never materialised. Now, he's back and ready to start again. Blind Audition: Neyo - Closer

Team Jessie - David Faulkner

The shy Welsh builder surprised us all with his sassy rendition of a Motown classic. Blind Audition: Stevie Wonder - Superstitious

Team Jessie - Kirsten Joy

A backing singer who's sung with the best of them, Kirsten fancies some limelight of her own. Blind Audition: Emile Sande - Heaven

Team Jessie - Indie and Pixie

This Guilford twosome do everything together, including sing and wow Jessie J. Blind Audition: P!nk - Perfect

Team Jessie - Vince Kidd

This contestant claims he is constantly judged on his appearance, after such a swagtastic audition we bet his voice will be taking centre stage from now on. Blind Audition: Madonna - Like A Virgin

Team Jessie - Jessica Hammond Boldly singing one of the coaches' own songs clearly paid off for Jessica as she got all four to turn in their chairs

Team Jessie - Becky Hill

The 17 year old's audition moved Will.I.Am to tears. Blind Audition: John Legend - Ordinary People

Team Jessie - Toni Warne

After contracting alopecia, Toni's confidence ebbed away together with her dreams of pursuing a career in music. Lucky for us she's got her confidence back. Blind Audition: Will Young - Leave Right Now

Team Tom - Audrey

This bright haired lady has a fear of auditions but has sung as a backing singer for R. Kelly and P.Diddy. Blind Audition: Gnarles Barkley - Crazy

Team Tom - Sam Buttery

One word: quiff. Blind Audition: Adele - Set Fire To The Rains

Team Tom - Barbara Bryceland

This 47 year old grandma from Falkirk has got a pretty big voice. Blind Audition: Rolling Stones - Wild Horses

Team Tom - Adam Isaac

This young man started a major name dropping battle between will.i.am and Tom Jones. Blind Audition: Stereophonics - Maybe Tomorrow

Team Tom - Leanne Mitchell

A singer at a holiday park, Leanne hopes to bring her talent to a wider audience. Blind Audition: Beyonce - If I Were A Boy

Team Tom - Denise Morgan

The 31 year old from Manchester finds any opportunity to sing, she has even lent her voice to a drum & bass album in Japan. Blind Audition: Sara Bareilles - Love Song

Team Tom - Matt and Sueleen

This couple famously flipped a coin to decide which judge to take. Blind Audition: The Beautiful South - A Little Time

Team Tom - Lindsey Butler

Lindsey's mum egged her on to audition, and oh so very grateful we are. Her distinct country twang made Tom's head (and chair) turn. Blind Audition: Rod Stewart - I Don't Want To Talk About It

Team Tom - Ruth Brown

This 20 year old has always had music in her life and has even sung for the Prime Minister. Blind Audition: Kelly Rowland - When Love Takes Over

Team Tom - Deniece Pearson

You might recognise this woman from '80s band Five Star. Then again, you might not. Anyway she misses the fame game and wants in again. Blind Audition: Christina Aguilera - Fighter

Team Will - Heshima Thompson

This singer, dancer, actor sang backing vocals for Amy Winehouse and made all four coaches turn. Blind Audition: Taio Cruz - Dynamite

Team Will - Tyler James

Like another contestant on Will.I.Am's team, Tyler also has links with Amy Winehouse. Blind Audition: Otis Redding - Sitting On The Dock Of The Bay

Team Will - Jenny Jones

Jenny Jones, who we might start calling Jenny J, began singing at church before hitting the pub circuit. Blind Audition: Duffy - Mercy

Team Will - Joelle Moses

Joelle has already recorde backing vocals for the likes of Rihanna and Toni Braxton. Blind Audition: Adele - Rolling In The Deep

Team Will - J Marie Cooper

After singing one of Jessie's own songs, the pink haired singer made all four judges turned their chairs. Blind Audition: Jessie J - Mamma Knows Best

Team Will - Sophia Griffin

Sophie loves Danny O'Donoghue and has queued for eight hours to see him (twice). Shame he didn't turn around... Blind Audition: Estelle - American Boy

Team Will - Frances Wood

This tender 18 year old boldly sang a Black Eyed Peas' hit to catch the coaches' attention. It worked: Will.I.Am turn his chair. Blind Audition: Black Eyed Peas - Where Is The Love?

Team Will - Jay Norton

Jay landed himself a record deal 3 years ago, but unfortunately things didn't work out. Blind Audition: Aloe Blacc - I Need A Dollar

Team Will - Jaz Ellington

Everyone remembers this guy's audition, not only was Jaz the only person to sing two songs, but his rendition of Ordinary People made the coaches cry. Blind Audition: Ed Sheeran - A Team

Team Will - Kate Read

The bespectacled lass' audition song choice was inspired by her mother. Blind Audition: Cyndi Lauper - True Colours