It was always going to be difficult, from the moment that Engelbert Humperdinck's position in the draw meant he had to sing first of 26 acts. From the challenging pole position, he acquitted himself impeccably. In the end, however, his song Love Will Set You Free failed to fire, with the veteran crooner coming second last. For a long time, it looked like he wouldn't be getting off the duck, but finished with a respectable... 12 points, second only to the usual nul-pointed Norway at the bottom of the table.
Humperdinck, who was wearing a lucky necklace given to him by Elvis Presley, had said after his performance: "I had a great time, a very wonderful time. I hope everyone listening to the song... we shared the song with every generation. I sang it from my heart."
Irish twins Jedward didn't fare much better, securing only 46 points and earning 19th place, despite giving us their best C3P0 impressions, employing a water fountain, freshly-bouffed quiffs and their own tireless performances of catchy tune Waterline. They did the Emerald Isle proud, once again, after coming eighth in last year's competition.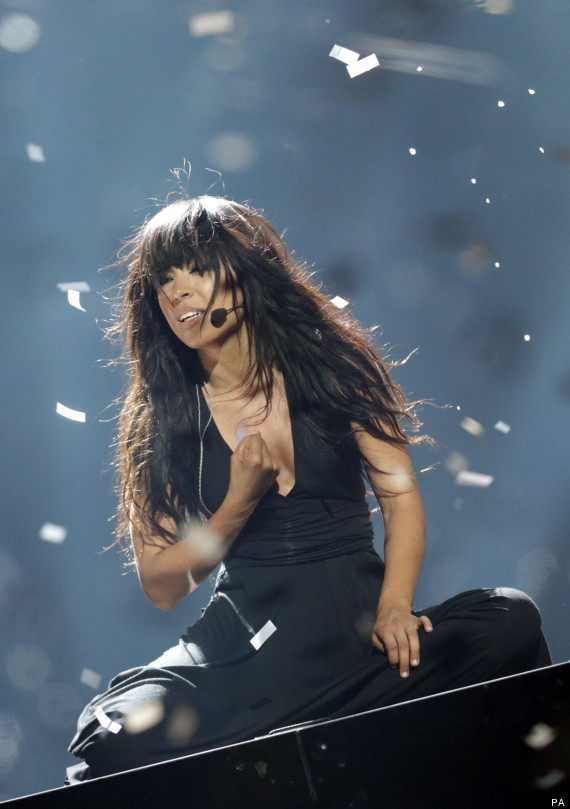 Sweden's Loreen won with her song Euphoria
But when it came to the voting, it was clear from the outset that Sweden would be sweeping the floor. The tune Euphoria, which has already topped the charts in Sweden and Finland, and been a top ten hit in Israel and Estonia, caught the imagination from the start, with singer Loreen making fans with her dance moves that borrowed much from Kate Bush, and a soaring chorus that hit all the right Euro-voting buttons, and will be heard across club dance floors, no doubt, for the rest of the summer.
Loreen is a singer already popular with Swedish fans after coming fourth in Swedish Idol eight years ago. She had been variously, a television presenter, and reality TV director before entering the Swedish competition to find her country's Eurovision entry in 2011. She didn't get to the final on that occasion, but she's reached crowning glory this year with a stunning 372 points, more than 100 points ahead of her nearest rival.
Sweden has won the Eurovision Song Contest a total of five times now, including their most famous ever entrants Abba in 1974. They have also walked away winners in 1984, 1991 and 1999.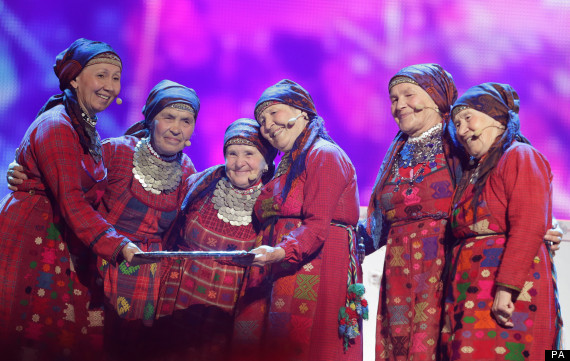 The Russian grannies were a triumph
The Russian grannies - real name Buranovskiye Babushki - lived up to their 20 million hits on YouTube, and sealed their place in Eurovision audience hearts, with a second place position of 259 points.
Six of them, dressed in patchwork uniforms, stopped baking their bread in an on-stage kiln long enough to belt out Party For Everybody. They were make up-free, head-scarved and with barely 10 teeth between them... everything Eurovision is all about.

In third place was Serbia with 214 points. The show finished in the early hours of the morning in Azerbaijan's capital Baku, and was watched by a reported audience of 125 million worldwide.
The 26 finalists here... who do you think should have won?

Loading Slideshow
United Kingdom: Engelbert Humperdinck - Love Will Set You Free

Azerbaijan: Sabina Babayeva - When the Music Dies

Spain: Pastora Soler - Quédate conmigo

Germany: Roman Lob - Standing Still

Iceland: Gréta Salóme & Jónsi - Never Forget

Greece: Eleftheria Eleftheriou - Aphrodisiac

Albania: Rona Nishliu - Suus

Romania: Mandinga - Zaleilah

Cyprus: Ivi Adamou - La La Love

Denmark: Soluna Samay - Should've Known Better

Hungary: Compact Disco - Sound of Our Hearts

Moldova: Pasha Parfeny - Lăutar

Ireland: Jedward - Waterline

France: Anggun - Echo (You and I)

Italy: Nina Zilli - L'amore è femmina (Out of Love)

Russia

Serbia: Željko Joksimović - Nije ljubav stvar

Macedonia: Kaliopi - Crno i belo

Malta: Kurt Calleja - This is the Night

Ukraine: Gaitana - Be My Guest

Sweden: Loreen - Euphoria

Turkey: Can Bonomo - Love Me Back

Estonia: Ott Lepland - Kuula

Norway: Tooji - Stay

Lithuania: Donny Montell - Love is Blind

Bosnia and Herzegovina: MayaSar - Korake ti znam