Rochelle Wiseman's hen do had a lot to live up to after fiance Marvin Humes' week on the lash in Las Vegas.
But luckily Roch managed to escape the embarrassment Marv suffered at the hands of his JLS bandmates after he was chained to a dwarf for the day, settling for a man with a mask of her beloved. She did have a suitably messy night though as the rest of The Saturdays (and a few other celeb chums) sent her off into the world of married life. TOWIE's Georgina Dorsett and Myleene Klass (random) were among the 48 hens clucking around London on Saturday night as they hit Suka at The Sanderson Hotel for a slap up meal, before heading to the Rose Club in Mayfair. Myleene organised for all the girls to have a special customised manicure featuring Marvin's face on their nails.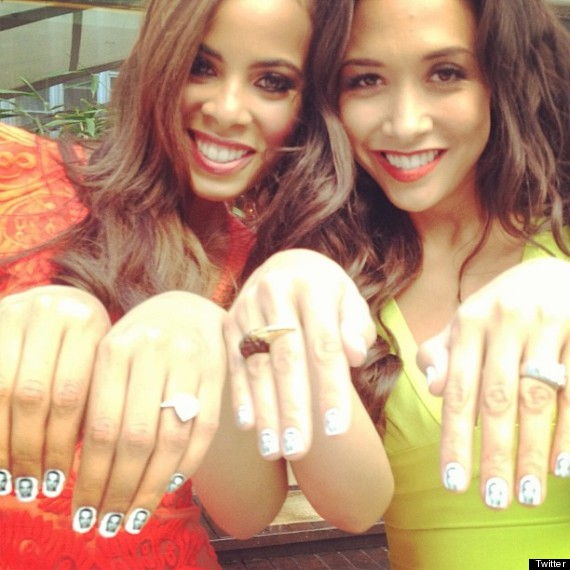 The girls had been at Champney's Health Resort the night before for some pampering and relaxation, but weren't joined by bandmate Una Healy, as she was out celebrating her own hen do. But it looks like she made up for missing out on it...
Some of pop's other big names also tried to get in on the hen action, despite not actually being hens, as Jay McGuiness from The Wanted tried to crash the party.
However, after the bouncers refused to let him in for free (awkward), Jay paid especially to meet up with the girls. Has he not heard of the 'girls only' rule?
A source told The Mirror: "Jay had been chatting to some of the punters outside about how he was 'dropping by the club to say hi to the girls'.
"He obviously wasn't on the list or part of the plan as the doormen wouldn't let him in for free and made him cough up to enter."
> ENTER OUR COMPETITION TO WIN ONE DIRECTION GOODIES
Also on HuffPost: