From this month's Q magazine:
Ricky Gervais is sitting in his West Hampstead office, feet on the desk. "Q magazine?" he says, tugging at today's chosen attire. "Good. I don't think you can get more rock'n'roll than a cashmere cardigan covered in cat hair."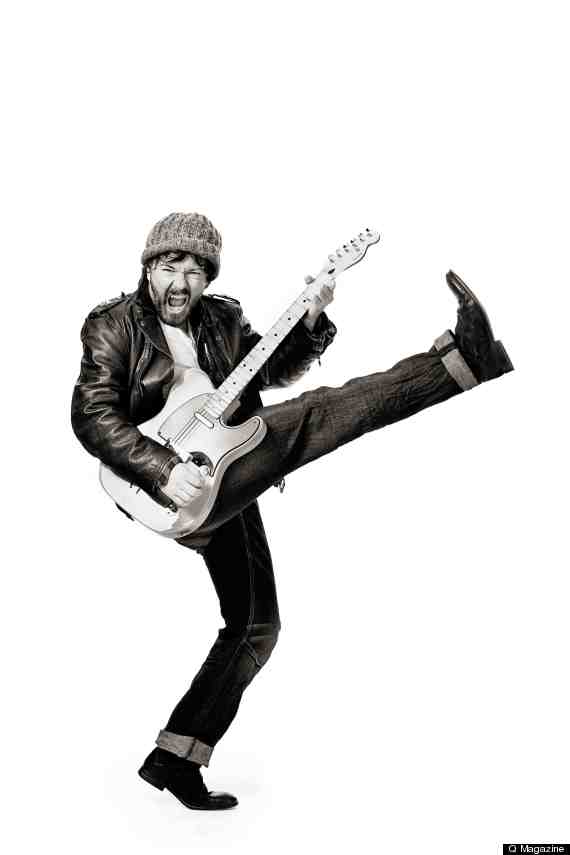 Ricky Gervais or Bruce Springsteen? It's hard to tell
It depends on the type of cat, Q offers, helpfully. "Yes," he agrees. "That's pretty much how Bruce would roll."
Precisely how Bruce Springsteen might or might not roll was on Gervais's mind a few days ago when he chose to don prime Boss-wear for his Q photos. "I kept thinking, It's got to be obvious. I don't think I'm cool," he says. "The last thing you want is me doing Bruce looking as if I think I'm cool.
More from Ricky below, and here's the Boss himself in action...

"As a comedian there's a fine line between being a prat and trying to retain too much dignity," is his explanation. "Our job is to lose a bit of dignity. If you think someone can't take the mickey out of themselves, it's sort of over. Do you know what I mean?"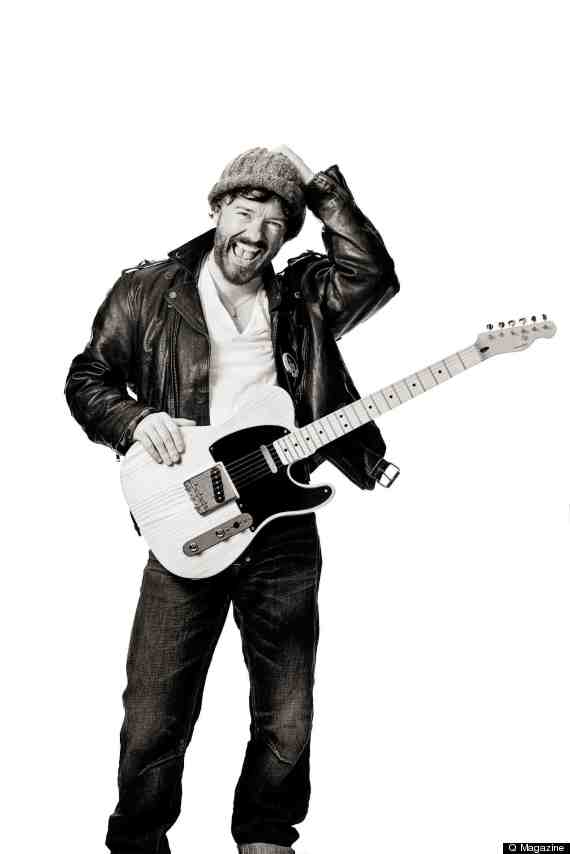 It's all rock n roll to Ricky
On music...
"Coldplay," he says. "There's obviously a backlash against them. They're not the coolest band in the world, but I like the fact they just did it. And then when you meet them they're nice, funny, normal people who are trying to be excellent at something. You can only applaud that. You can dislike their stuff but you can only applaud that attitude, you know?"
In 2012 the culture of complaint is so acute, the web's ability to mobilise so strong, that individuals quickly become online mobs, demanding apologies and resignations relating to issues they may not even care about. Twitter is often like a saloon bar in the Wild West, the entire place one spilt drink away from kicking off.
On the perils of Twitter...
"Oh, it's terrible. Sometimes I'll reply with, Can you help this twat with his unfollow button?" he says, regarding people who complain about his tweets. "It's ridiculous. Just don't follow me. It's a big toilet wall where everyone's saying, I was here. And like on toilet walls, some people quote Nietzsche, some people say, Meet me here tomorrow for cock."
Who are your heroes now?
"I suppose it's the people that have never really let me down. David Bowie certainly – he's fantastic. And that's an example of meeting your hero and he's normal. I thought I was meeting David Bowie, but I met David Jones. He didn't talk about space aliens. He said, [Bowie voice] Hello, Rick. There's a lovely pasta place down there. It's family-run. Great ravioli. He's a normal, intelligent man who got good at something and that's the way it should be. So for David Bowie to be on Britain's Got Talent, it would be a tragic waste of talent."
On the criticisms he took for the character of Derek...
"It's strange that people are worried about Derek but they don't worry about Father Dougal, or Mr Bean, or Baldrick," he adds. "They don't worry about Frank Spencer, and I mean, f**k me, what's his problem? Derek is a fictional creation of mine. If I say he's not meant to be autistic, or Down's Syndrome, then he's not. That's the end of the argument, as far as I'm concerned. I love Derek, by the way," he says at one point. "I love him."
This month's Q magazine is on sale now.