Here at Huffington Post UK Comedy, we're not ashamed to say that the London Olympic mascots Wenlock and Mandeville scare the s*** out of us, and we're not even children.
And the only thing scarier than Wenlock or Mandeville? One of Wenlock or Mandeville dressed up as a policeman: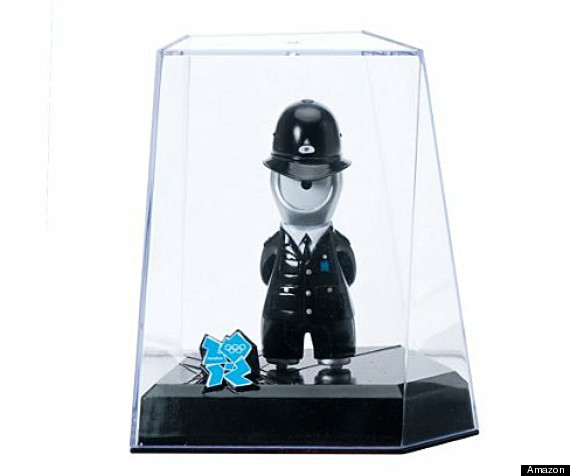 Yes, the Olympic Wenlock policeman figurine is on sale on Amazon - and it's prompting some very, very funny reviews indeed.
We've picked out some of our favourite quotes from the reviews below - along with some pictures of Wenlock and Mandeville or Wenlock or Mandeville or Hang On Which Is Which Who Cares They're Both Terrifying Oh God We've Lost The Will To Live. To read more reviews, check them out on the Amazon site here.
Amazon Reviews Of Wenlock Souvenir
"This is a very frightening, disturbing thing... Do not give a thing like this to children unless you want them to wake up crying for the next five years." - Zeno

"Like a nightmare, this evil eyed monster stares straight into your soul looking for the slightest weakness." - Mr Nicholas Shearer

"What better way to celebrate London(tm) hosting the 2012(tm) Olympics(tm), than this menacing, cycloptic Olympic(tm) Policeman(tm)." - Finger Jockey

"Great item but only given 4 stars because you need at least 200 of these for a realistic reproduction of the Olympics. To add further authenticity to your home Olympics diorama also purchase this authentic Olympic style USB Missile Launcher." - Mr Christopher Brind 'Brindy'

"I bought this product admist my ever so keenness for the Games of the XXX Olympiad. However when it arrived it knocked down the door in a raid, pinned me down and falsely arrested me for conspiring a bomb plot for mass murder during this summer's sporting events." - Sam Ahmed

"This is supposed to be a toy? I'd rather my 2 year old choke themselves to death on one of these rather than purchase one myself. My country weeps." - Pen Name

"Ever since getting this figurine I have heard strange noises from the cellar. I daren't go down there for fear of a fatal kettling." - Mungbean

"I bought this in anticipation of stopping crime on my street... I put it in my window and it hardly had an impact. I mean, it's less than 3" tall. Fortunately, John Terry came around dressed in full policemans' uniform and scared potential criminals away. He's a hero." - Marie Hughes

"I bought this toy to take on my Olympic Journey as suggested by the technical details. Imagine my surprise when I woke up the next morning to find that it had left its case, called in reinforcements and kettled me in my bed. I'm just glad I didn't buy the water cannon or Long Range Acoustic Device accessories." - Olympiad Spectacle

"Wenlock pushed my nephews down some stairs for wearing a football strip with a non approved sponsors' logo and then threw a burning Scotland flag on him. He's only six." - Indignant of Tayside

"This toy is worse than masturbating to a picture of Lord Coe, official overlord of the 2012 Olympics. And believe me, I've tried." - peculiar "andrew eccentric"


All images except 3: Press Association
Image 3: Greater London Authority