Apple has unveiled the next generation of its mobile operating system at the Worldwide Developers' Conference (WWDC) 2012.
Apple CEO Tim Cook took to the stage of the Moscone Center in San Francisco to show off what the company has in store for the next twelve months.
iOS 6 will be released in the Autumn and will include more than 200 new features.
Among the major new features are:
Maps: an all-new Apple designed maps application, including free GPS turn-by-turn navigation and 3D mapping of cities.
Facebook integration: users can now share photos and videos straight into Facebook, as well as updates from all other apps and services.
Siri: the new version of Siri will enable local searching in the UK, as well as sports updates, new languages, integration with movie theatres and an "eyes free" mode for while you're driving.
Phone updates: with iOS 6 you can decide to take a call, call back later, or have your phone remind you about the call when you leave a certain location. A new 'do not disturb' mode will also turn off all or selected calls and alerts while you sleep or work.
Guided Access: a new accessibility feature allowing users to turn off certain parts of the screen and the home button promises to make the iPad more useful to children with autism and education users.
iOS 6 will be a free update for iPhone users (3GS and above) and iPad users with an iPad 2 or newer.
Apple also used the event to announce new features for its next Mac operating system, Mountain Lion, including a new notification software and dictation.
New laptops - including a radically thin Macbook Pro - were also announced at the developers conference.
Take a look at all of the announcements as they happened, below.
11/06/2012 19:51 BST
IOS 6: Only iPhone 3GS and iPad 2+ Supported
iPhones older than the 3GS and the iPad 2 will not support iOS 6.
11/06/2012 19:48 BST
iOS 6: Other Updates
Other updates include better privacy controls, new features for Game Centre, a redesigned App Store, signatures for different mail accounts.
In all there are around 200 new features.
11/06/2012 19:41 BST
iOS 6: Maps
Apple has announced an all-new mapping solution.
The global maps will remove Google's mapping service from its devices.
The maps are integrated with Yelp for Local Search, have a traffic service, and have notifications for incidents. Anonymous notifications help create a crowd-sourced map of traffic.
Turn-by-turn navigation will also be integrated. The GPS turn-by-turn solution looks very nice. It will also work when your phone is locked, will update when it finds traffic, and will integrate with Siri.
Plus kids can ask "are we nearly there yet" - and Siri will respond.
The Maps app will also include 3D overhead models of major cities called 'Flyover'. The app looks very visually impressive, with live rendering of cities and landscapes.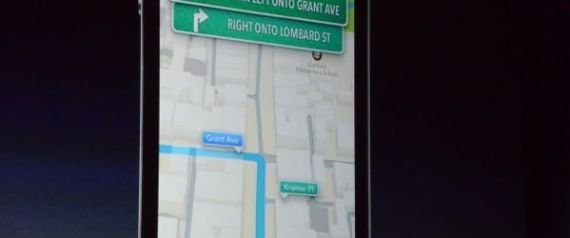 11/06/2012 19:39 BST
iOS 6: Guided Access
A new feature for iOS called 'Guided Access" wil help children with autism to use iPads by isolating certain controls, locking an App so that the home button doesn't work. Nice.
11/06/2012 19:33 BST
@ michaelrundle :

Photo upload in Mobile Safari means HuffPost eds can finally work on an iPad. Amazing.
11/06/2012 19:31 BST
iOS 6: Safari, Photo Stream, Mail, Passbook
With Safari, Apple's mobile browser (which is used for 2/3 of all mobile traffic) will have offline reading lists, and can upload images to your website from the browser (handy for HuffPost editors on the move).
Photo Stream, which is Apple's way to share photos between your devices over iCloud, can now be shared between different people.
Mail: a new way to upload images directly into emails is among the updates to mail.
A new app called "Passbook" is a way to collect boarding passes, store cards and mobile tickets into one place. "We've created templates to make this easy for devs."
11/06/2012 19:27 BST
iOS 6: Phone Updates, Do Not Disturb, Facetime
When you receive a call in iOS 6, you can choose to reply with a message or be reminded in an hour - or when you leave your current location.
Another new mode - Do Not Disturb - means you won't be annoyed by texts and updates during the middle of the night. You can also choose to receive certain phone numbers. If someone is really trying to get hold of you and calls back within three minutes, the phone will take the call.
Facetime now works over cellular data. You can answer phone calls on your Mac or your iPad.
11/06/2012 19:23 BST
iOS 6: Facebook Integration
Apple has announced new, much closer integration with Facebook into its mobile OS.
The features include image sharing, video sharing, Siri integration and a public API so other Apps can work with the social network.
Facebook is also built into the App Store and music store - so you can recommend and see recommendations.
11/06/2012 19:10 BST
Apple Announces iOS 6: Siri Updates
First some stats.
Scott Forstall, head of iOS, says that 365m iOS devices have been sold and that the majority are running the latest version - many more than those running the latest version of Android (only 7%).
Apple has sent 1.5tn push notifications since iOS was launched - that's 7bn a day.
It's also sending more than 1bn iMessages a day. There are alo 130m GameCenter accounts and 67/100 of the top games use it.
iOS 6 has more than 200 new features.
Siri
App Launching: Siri can now launch apps. If you ask 'play "Temple Run" and it will launch it.
Sports updates - you can ask Siri how various games have gone and how players are performing. Includes the English Premier League.
Restaurants. Siri also knows more about restaurants and their ranking, menus and locations.
Movies. Siri can tell you what movies are playing where.
Eyes Free. Apple is working with car manufacturers to bring up Siri with a button press. Includes several big car makers - BMW, GM, Jaguar, Audi.
Languages: new Siri versions for China, Spain, Italy, Canada and several other countries.
Local search: now you can search local areas in the UK, previously not available.
iPad: Siri now available on the iPad.
SUBSCRIBE TO & FOLLOW UK DAILY BRIEF