Artists have always been fascinated by capturing landscapes, but it is not often they get the chance to build their own.
But in a public garden in Pennsylvania, Wiltshire-based installation artist Bruce Munro has done just that, creating a land of vibrant technicolor lights using 20,000 illuminated stems, a pool strewn with CD "waterlilies" and the hillside stream flowing with LEDs.
It's rare for art to be best viewed at night and with this unusual after-dark exhibition in Longwood Gardens, Munro is certainly covering some unfamiliar ground - 23 acres of it in fact, encompassing 6 outdoor installations, 2 large indoor installations and small sculptures in the venue's music room.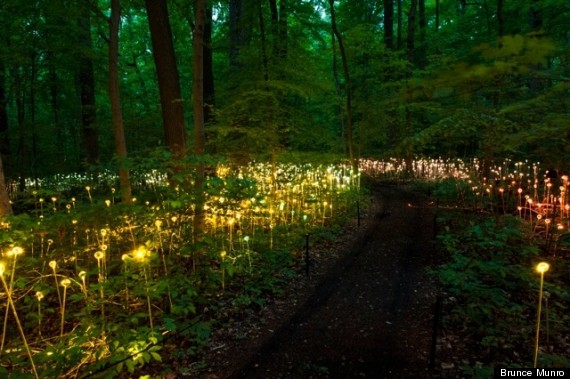 One section of Bruce Munro's illuminated installation

"My aim was to express, through the medium of light, simple fleeting moments of clarity, experiences of connection with the world." Munro told us via email, as his first ever one-man show opens across the Atlantic.
"Being given the opportunity to exhibit my work at Longwood Gardens could be described as a dream come true. I remember my first visit very well because although I had done some research before arriving, the actual physical experience of the landscape overwhelmed me."
For Munro, the ideas for this garden exhibition were sown 29 years ago when he made his first illuminated sculptural prototype, on the floor of his flat in Sydney.
"Since I was sixteen I have kept sketch books [where] I have recorded waffle, doodles and many daft ideas. At forty, just after my father died, I realised that the time had arrived for me to create my own work, and I felt I had just about enough experience to give it a go.
"My installations in the landscape at Longwood Gardens are simply my sketchbook jottings, realised.
"When I started making installations I used discarded materials to save on costs. But soon material choices also became the subject matter of the installations."
Brunce has been overwhelmed by the response to the show: "It completes the circle - two years of planning, making, and nine weeks of installation. Hundreds of people have been involved."
So is it worth flying to America for? Or do you prefer to keep your nature natural?
Loading Slideshow