Mother-to-be Christine Langham said she did not have a clue her boyfriend would propose to her as he carried the Olympic Torch. David State got down on one knee in the Cleveland town of Loftus in front of crowds of people early on Monday.
"I didn't have a clue," said Langham, 27. "It was shocking, surprising. I wondered what he was doing."
She said: "It was just a complete shock. There were just so many people there. And he had the rest of that hill to run up, too."
Langham is due to give birth to the couple's first child in three weeks time.
"He was taking a chance I didn't give birth there and then, really," she said.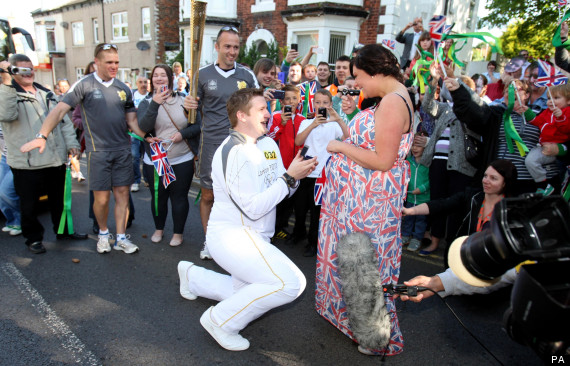 The proposal
State said: "I ran 300m with the Olympic flame, got down on one knee and proposed to my lovely girlfriend and then, about two seconds after, ran another 300m with the Olympic flame.
"So I left her in a spate of tears."
The couple work for Virgin Media in Stockton-On-Tees and have been together for just under two years. They live in Redcar, Cleveland.
State was nominated by his firm through LloydsTSB, mainly for his work in the community. He has been involved in the Scouting movement since he was young; he volunteers for the British Red Cross and is a special constable with Cleveland Police.
State, 25, said he has been planning the stunt since March with the help of relay organisers LOCOG and LloydsTSB. He said he thought the organisers were more excited than him at some points.
"My parents knew, Christine's mum knew as well and one or two other people did, so there are a couple of shocked faces on the video."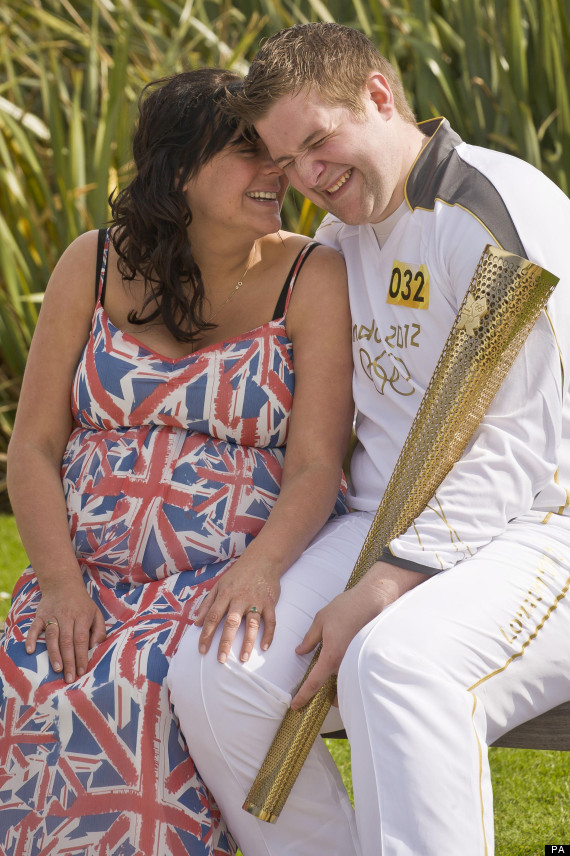 The happy couple
Asked about wedding plans, State said: "We haven't even had chance. It's just been amazing."
His grandmother Ann Colquhoun said: "David was just running and he stopped and gave the torch to someone. Christine was just wondering what was going on. He went down on one knee and it was wonderful. We knew it was going to happen but we were still crying.
"She did say yes, which was lovely. She's a lovely girl. We love her to bits."

Loading Slideshow