A sizeable 5.5 magnitude earthquake hit Melbourne on Tuesday with tremors felt all over the state of Victoria.
It struck just before 9pm local time about six miles south-west of Moe and at a depth of three miles, according to news website 3aw.
It lasted for around 30 to 40 seconds.
However, despite the quake being the biggest in the area for 109 years, local residents didn't seem too shaken by it, with many taking to Twitter to make jokes and post humorous pictures mocking the quake's apparent feebleness.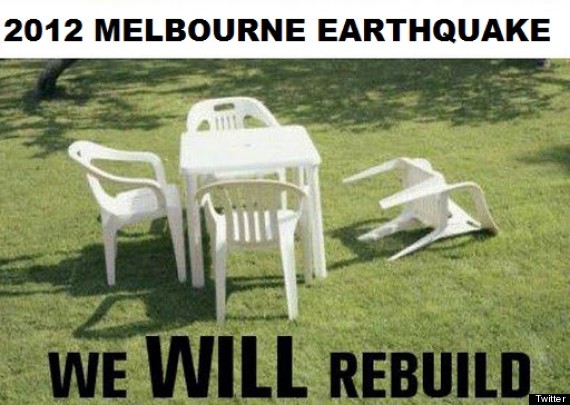 Victoria state residents saw the funny side of the quake
One of the most popular pictures doing the rounds was of a garden furniture set all in place aside from one chair knocked over on its side.
"We will rebuild," reads the caption.
Well-known Australian comedian and creator of Summer Heights High Chris Lilley posted his own amusing picture - a Logi TV award that had been shaken on to its side.
User Adam Rozenbachs, meanwhile, tweeted: "Earthquake update: Tsunami alert has been issued for those standing one centimetre from shoreline."
@StephenFenech

Stephen Fenech
Apparently Gina Rinehart dropped her purse in Melbourne......
#melbquake
Another cheeky user posted a message surmising that the geological event was caused by mining magnate and world's richest woman Gina Rinehart dropping her purse.
Scott Dooley pleaded with users to visit his website, where he claimed to be selling T-shirts emblazoned with "I survived the big one in 2012".
@arozenbachs

adam rozenbachs
EARTHQUAKE UPDATE: Tsunami alert has been issued for those standing one centimetre from shoreline.
#MelbQuake
#Earthquake
In contrast, Victorian MP Bruce Billson told the federal parliament that many people had in fact been quite frightened by the earthquake, according to AAP.
He said: "There are plenty of people with shaken nerves, wondering what was going on."
No injuries or deaths have been reported.
@pjhelliar

PETER HELLIAR
I plea 4 Melbournians not to dessert. It'll take time but I think we can get those cans of soup back on the supermarket shelves
#earthquake