With bloodshot eyes, wiry whiskers and dribbling jowls, some of the world's most monstrous mutts waddled, scurried and limped to California this week for the ugliest dogs competition.
Judges at the unique beauty pageant keep their eyes peeled for "natural ugliness in both pedigree and mutt classes."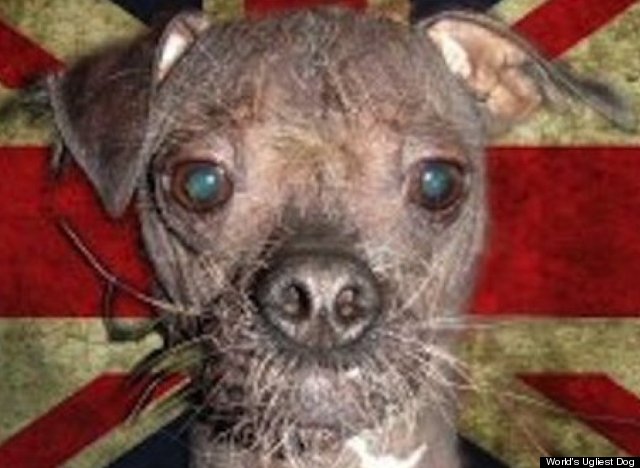 Mugly, 2012's winner, is a Chinese crested dog
And this year's reigning champ was a Peterborough pooch, though winner Mugly, a Chinese crested dog, clearly also had oriental roots.
He may be a scrawny, bug-eyed rescue dog, but 8-year-old Mugly is no stranger to the media. Named Britain's ugliest dog in 2005, the revolting-looking specimen of dogginess has now gone on to claim international glory. It is usually the British public treated to Mugly's, ahem, unique, face
Owner Bev Nicholson was thrilled to discover Mugly had beaten off competition from 28 other dogs to claim the $1,000 prize.
"I didn't know which way to look. I was shaking as much as the dog" Nicholson told the Associated Press News Agency.
Check out this year's contestants, and some of the other adorably awful-looking pooches from years gone by below. Is Mugly REALLY the ugliest?
Loading Slideshow
This year's contestants:

Loading Slideshow
Harley

Harley is a two year old rescue dog from Lodi.

Rue

Rue is a 2 year old dog from Petaluma with a mohawk.

Monkey

Monkey is a one year old Chinese Crested/Brussels Griffon mix.

Mugly

Mugly is a 8 year old Chinese Crested who was rescued after being attacked in a park by thugs a couple years ago.

Rascal

Rascal is the original 2002 World's Ugliest Dog Winner from Sunnyvale.

Icky

Icky is a 2 year old rescue dog from Butte County.

Josie

Josie is a 3 year old Chinese Crested, who was rescued from a puppy mill.
Photos courtesy of the World's Ugliest Dog ® Contest, Sonoma-Marin Fair, Petaluma, California.