Huff Post Celeb readers, meet Amy Childs new boobs, Amy Childs' new boobs meet the Huff Post Celeb readers. The former TOWIE star is probably going to be flaunting them a lot more to you all now she's had them boosted from a 32C to a 32DD, so get used to seeing each other. Amy was showing off the results of her latest procedure as she had her hair extensions redone at a London salon yesterday.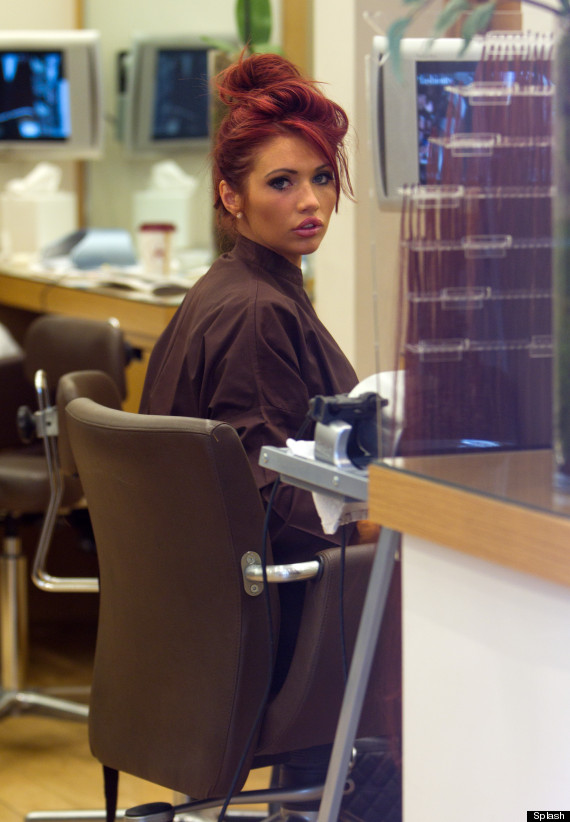 It is the second boob job for the star - who is naturally a 32A - after she complained her old implants had become "saggy".
Earlier this week she told of how pleased she was with her new bosom.
"I've been in a lot of pain but I absolutely love them," she wrote in her New magazine column.
"I've had the implants placed behind the muscle this time, so they hurt so much more than they did the first time I had them done.
"I feel like an elephant is sitting on my chest! But I know this pain will be worth it in the end."
The star recently revealed she was approached to become a judge on Britain's Got Talent.
> IN PICS: SURGERY CELEBS

Loading Slideshow
Surgery Celebs

Pete Burns (Pic: WENN)

Surgery Celebs

Lesley Ash (Pic: WENN)

Surgery Celebs

Jackie Stallone (Pic: WENN)

Surgery Celebs

Dannii Minogue (Pic: WENN)

Surgery Celebs

Janice Dickinson (Pic: WENN)

Surgery Celebs

Jocelyn Wildenstein (Pic: WENN)

Surgery Celebs

Katie Price (Pic: WENN)

Surgery Celebs

Joan Van Ark(Pic: WENN)

Surgery Celebs

Megan Fox (Pic: WENN)

Surgery Celebs

Dontella Versace (Pic: WENN)

Surgery Celebs

Nicole Kidman (Pic: WENN)

Surgery Celebs

Joan Rivers (Pic: WENN)

Surgery Celebs

Caprice (Pic: WENN)

Surgery Celebs

Fergie (Pic: WENN)

Surgery Celebs

Meg Ryan (Pic: WENN)

Surgery Celebs

Barry Manilow(Pic: WENN)

Surgery Celebs

Sarah Harding (Pic: WENN)

Surgery Celebs

Lisa Marie Presley (Pic: WENN)

Surgery Celebs

Heidi Montag (Pic: WENN)

Surgery Celebs

LaToya Jackson (Pic: WENN)

Surgery Celebs

Melanie Griffith (Pic: WENN)

Surgery Celebs

Kylie Minogue (Pic: WENN)

Surgery Celebs

Liza Minelli (Pic: WENN)

Surgery Celebs

Pamela Anderson (Pic: WENN)

Surgery Celebs

Sharon Osbourne (Pic: WENN)

Surgery Celebs

Calista Flockhart (Pic: WENN)

Surgery Celebs

David Guest (Pic: WENN)

Surgery Celebs

Bette Midler (Pic: WENN)

Surgery Celebs

The Olsen Twins (Pic: WENN)

Surgery Celebs

Michael Jackson (Pic: WENN)

Surgery Celebs

Lindsay Lohan (Pic: WENN)

Surgery Celebs

Chloe Sims (Pic: WENN)

Surgery Celebs

Lana Del Ray (Pic: WENN)

Surgery Celebs

Courtney Love (Pic: WENN)

Surgery Celebs

Mickey Rourke (Pic: WENN)

Surgery Celebs

Jodie Marsh (Pic: WENN)

Surgery Celebs

Alicia Douval (Pic: WENN)

Surgery Celebs

Britt Ekland (Pic: WENN)

Surgery Celebs

Glenn Close (Pic: WENN)
Also on HuffPost: