Katie Waissel, remember her? That gal from The X Factor a few years ago? Well she's engaged.
Her and finance Brad Alphonso took to Twitter to make their big announcement, uploading pics of matching heart tattoos on their wedding ring fingers.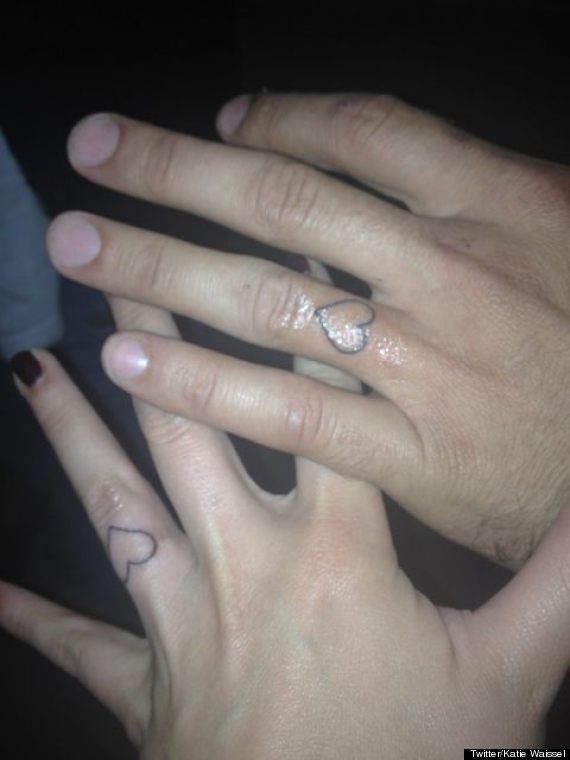 The tats
It's what some might call a whirlwind romance, us being among that group.
Only in back May, Katie was dating Capital FM DJ Greg Burns, and now look at her in the arms of a US model. Well, we don't blame her...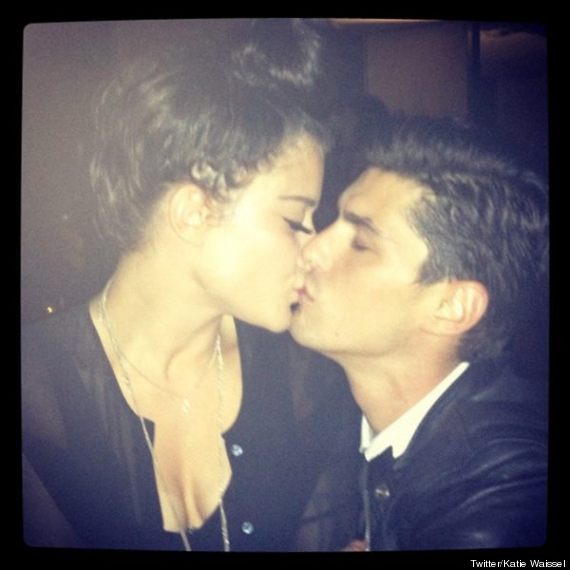 Katie and her fiance, Brad
So back to the tattoos. It would be kinda romantic if it wasn't such a stupid idea. Not to rain on their love parade and mention the D word, but what happens if it all goes to pot?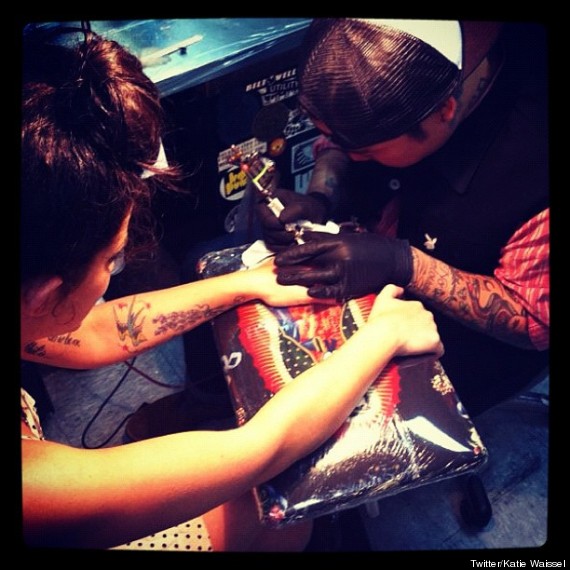 Love hurts, apparently
We really hope the decision to ditch rings for ink doesn't come back to bite her in the Waissel. Anyone remember Peter Andre's bright idea to get 'Katie' tattooed on his finger? We all know how that fairytale ended...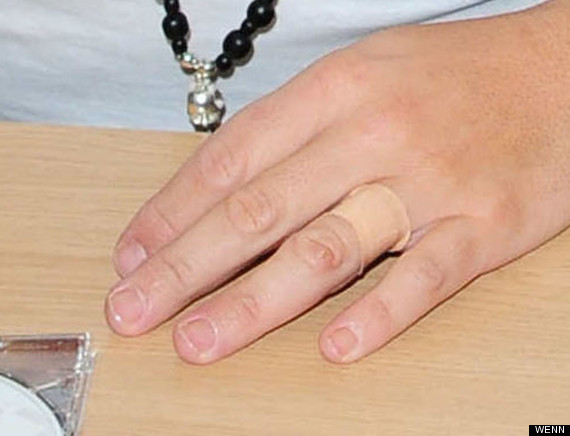 Pete post-Katie, :(
Laser removal, that's how.
> PIC QUIZ: WHOSE TAT IS THAT?

Loading Slideshow
Whose Tat is That?

Sunshine n' showers? Only at the weekend...

Whose Tat is That?

Frankie Sandford

Whose Tat is That?

The owner of these wings hasn't always been angelic...

Whose Tat is That?

Kelly Osbourne

Whose Tat is That?

Well she's definitely a star - and that blonde hair might be a bit of a giveaway...

Whose Tat is That?

Sienna Miller

Whose Tat is That?

We wont be putting this body art through to the next round. Sorry pet.

Whose Tat is That?

Cheryl Cole

Whose Tat is That?

This leading lady has more tats than kids - and that's saying something!

Whose Tat is That?

Angelina Jolie

Whose Tat is That?

That'll be 'Rebel Flower' then. Quite appropriate we reckon.

Whose Tat is That?

Rihanna

Whose Tat is That?

Her tats are nowhere near as sweet as her name...

Whose Tat is That?

Peaches Geldof

Whose Tat is That?

This lady wasn't allowed a tattoo when she was younger...

Whose Tat is That?

Sarah Harding

Whose Tat is That?

These tattoos aren't the only way she's changed her appearance recently...

Whose Tat is That?

Jodie Marsh

Whose Tat is That?

This lady has a well known bad side...

Whose Tat is That?

Kate Moss

Whose Tat is That?

This fashionista has almost as many tats as her footballing hubby...

Whose Tat is That?

Victoria Beckham

Whose Tat is That?

Surely you'd recognise that inked up bod anywhere...

Whose Tat is That?

David Beckham

Whose Tat is That?

Bet she didn't have that when she was in ET...

Whose Tat is That?

Drew Barrymore