Tom Cruise is continuing to plough on with his arduous work schedule, despite the small matter of a divorce case being watched by the rest of the world.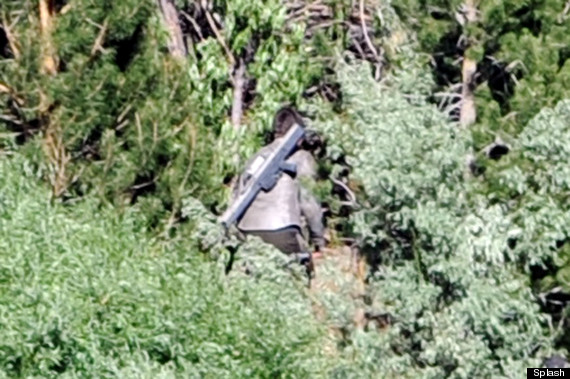 Tom Cruise in action, with a gun strapped to his back
The actor has been photographed on set in Mammoth, California, where he is currently filming sci-fi epic, Oblivion.
He was seen creeping through bushes, dressed in a grey motorcycle jacket, with body armour and a large gun strapped to his back.
The actor had been photographed in recent days enjoying the luxury of his Silver Screen bus, believed to be a present from his Scientology friends, committed to making sure he is as comfortable as possible on set.
Cruise had previously filmed scenes for the film in Iceland, which is where he was staying when his estranged wife Katie Holmes filed divorce papers in New York.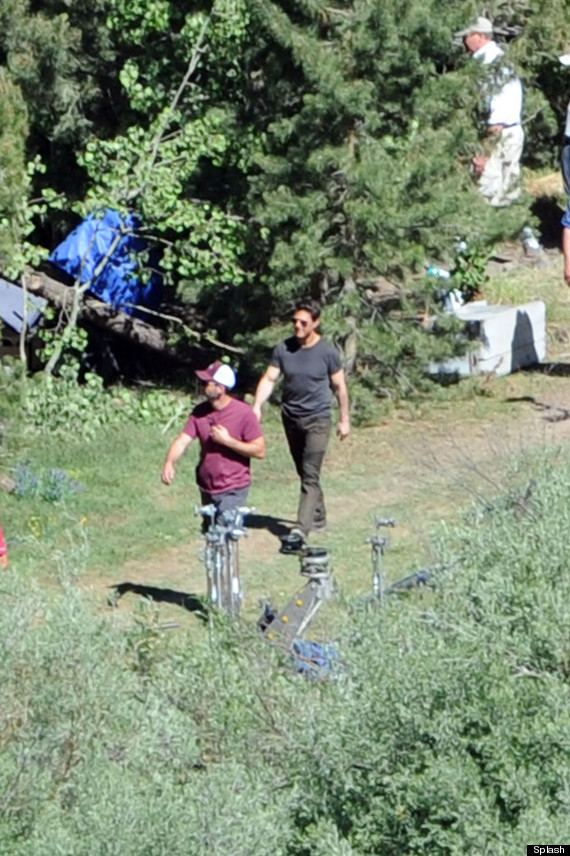 Tom Cruise has been ploughing on with work since his divorce was announced
The actor, who celebrated his 50th birthday last week, continues to plough through a workload that would shame a younger man. As well as Oblivion, he recently completed playing the role of Jack Reacher of Lee Child's novels, and was in London a month ago promoting Rock of Ages, where he took the role of rock star Stacee Jaxx.
Katie Holmes continues to stay in New York with the couple's daughter Suri.
>In pictures: Tom and Katie's romance

Loading Slideshow
Tom Cruise & Katie Holmes

Photos from their relationship: 2005-2012

Tom Cruise & Katie Holmes

Photos from their relationship: 2005-2012

Tom Cruise

Photos from their relationship: 2005-2012

Tom Cruise & Katie Holmes

Photos from their relationship: 2005-2012

Tom Cruise & Katie Holmes

Photos from their relationship: 2005-2012

Tom Cruise & Katie Holmes

Photos from their relationship: 2005-2012

Tom Cruise & Katie Holmes

Photos from their relationship: 2005-2012

Tom Cruise & Katie Holmes

Photos from their relationship: 2005-2012

Tom Cruise & Katie Holmes

Photos from their relationship: 2005-2012

Tom Cruise & Katie Holmes

Photos from their relationship: 2005-2012

Tom Cruise & Katie Holmes

Photos from their relationship: 2005-2012

Tom Cruise & Katie Holmes

Photos from their relationship: 2005-2012

Tom Cruise & Katie Holmes

Photos from their relationship: 2005-2012

Tom Cruise & Katie Holmes

Photos from their relationship: 2005-2012

Tom Cruise & Katie Holmes

Photos from their relationship: 2005-2012

Tom Cruise & Katie Holmes

Photos from their relationship: 2005-2012

Tom Cruise & Katie Holmes

Photos from their relationship: 2005-2012

Tom Cruise & Katie Holmes

Photos from their relationship: 2005-2012

Tom Cruise & Katie Holmes

Photos from their relationship: 2005-2012

Tom Cruise & Katie Holmes

Photos from their relationship: 2005-2012

Tom Cruise & Katie Holmes

Photos from their relationship: 2005-2012

Tom Cruise & Katie Holmes

Photos from their relationship: 2005-2012

Tom Cruise & Katie Holmes

Photos from their relationship: 2005-2012

Tom Cruise & Katie Holmes

Photos from their relationship: 2005-2012

Tom Cruise & Katie Holmes

Photos from their relationship: 2005-2012

Tom Cruise & Katie Holmes

Photos from their relationship: 2005-2012

Tom Cruise & Katie Holmes

Photos from their relationship: 2005-2012

Tom Cruise & Katie Holmes

Photos from their relationship: 2005-2012

Tom Cruise & Katie Holmes

Photos from their relationship: 2005-2012

Tom Cruise & Katie Holmes

Photos from their relationship: 2005-2012

Tom Cruise & Katie Holmes

Photos from their relationship: 2005-2012

Tom Cruise & Katie Holmes

Photos from their relationship: 2005-2012

Tom Cruise & Katie Holmes

Photos from their relationship: 2005-2012

Tom Cruise & Katie Holmes

Photos from their relationship: 2005-2012

Tom Cruise & Katie Holmes

Photos from their relationship: 2005-2012

Tom Cruise & Katie Holmes

Photos from their relationship: 2005-2012

Tom Cruise & Katie Holmes

Photos from their relationship: 2005-2012

Tom Cruise & Katie Holmes

Photos from their relationship: 2005-2012

Tom Cruise & Katie Holmes

Photos from their relationship: 2005-2012

Tom Cruise & Katie Holmes

Photos from their relationship: 2005-2012

Tom Cruise & Katie Holmes

Photos from their relationship: 2005-2012