Flamingos gathering in the shape of a heart made this a once in a lifetime shot for one lucky photographer flying over Yucatan, Mexico.
Klaus Nigge was trailing a flock of flamingos from a chartered plane when they suddenly converged.
The 55-year-old said: "The one thing I love about flamingos is they are incredibly pretty. They are very elegant birds, when they fly they start running on shallow water and then crane their necks before taking flight. It's like a jet taking off."

The photographer from Dortmund, Germany, had made numerous expeditions to the region to capture the different stages of the colourful birds' lives from mating season to the day the chicks fly the nest.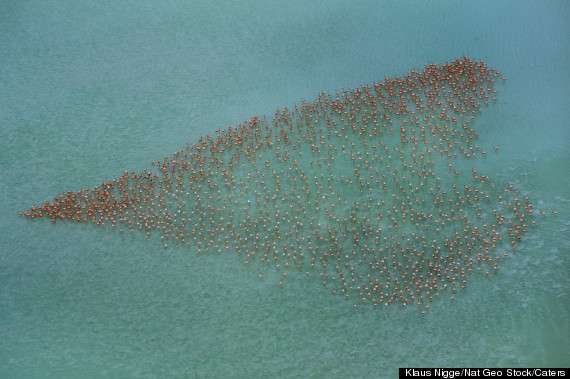 Pink heart: The flamingos gather in a striking formation

He added: "Taking pictures of flamingos is incredibly easy as a photographer, particularly in the Yucatan as the birds aren't shy at all."

But he never anticipated capturing the birds in the shape of a heart, and remarkably the stunning shot went unnoticed by Klaus until almost a year later.

He said: "Flamingos always move in a flock, they do everything in unison, if they feel the flock is moving in a certain direction they join the movement.

"And there's no better way to see the flamingos in unison than from the air.
SEE ALSO: Devoted Farmer Creates Heart-Shaped Meadow Tribute To Late Wife (PICTURES)
"But I didn't realise the flamingos were in the shape of a heart at first.

"When you're taking photos of them from a plane, you do not think much about composition, it's so bumpy and you're moving by so fast you just try to take as many images as possible.

"I tried to get the compositions, but I was mostly trying to get the whole flock in the same frame, I didn't even notice they were in a heart shape.

"If I'd have known what shape the flamingos had created, I would have asked the pilot to go round one more time so I could get a few more shots of it.

"To have something in the shape of a heart is very special."