One Direction stars Louis Tomlinson and Liam Payne have scored major brownie points with their girlfriends after surprising them with brand new cars.
Clearly on a mission to be the Best Boyfriends Ever, the pop stars have splashed out on new wheels for their other halves.
Louis bought Eleanor Calder, a politics student at Manchester University, a Mini One D to celebrate her 20th birthday on Monday.
Louis and his girlfriend Eleanor Calder
And his bandmate Liam followed suit by handing professional dancer Danielle Peazer the keys to an Audi TT.
SEE ALSO: One Direction Celebrate Nelson Mandela's 94th Birthday With Pledge For Global Good
A source told The Sun: "The lads have plenty of dosh and are very generous with it. They love their girlfriends to bits, so they surprised them with new motors.
"The girls are obviously delighted. They were never expecting such lavish gifts."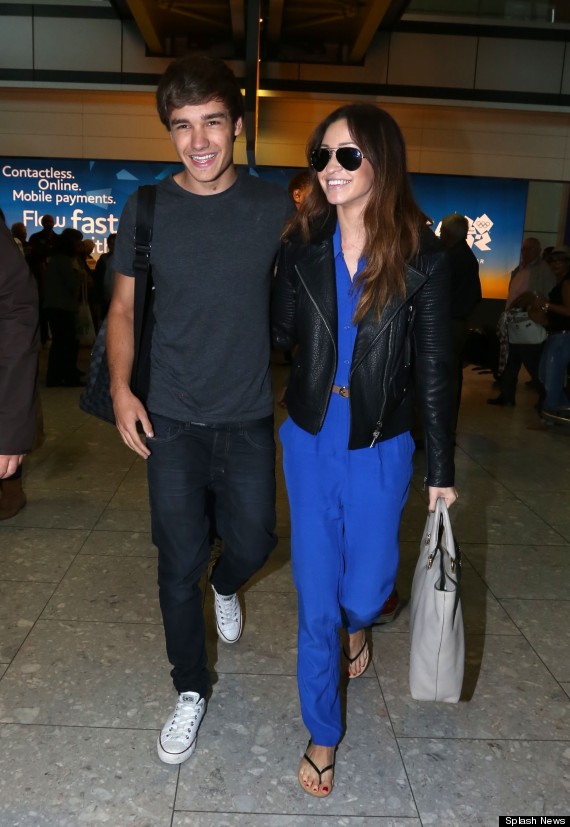 Liam and his girlfriend Danielle Peazer
Louis didn't stop at a car for Eleanor's big day - he also ordered her a custom-made Disneyland birthday cake and even convinced Rihanna to sing to his missus.
RiRi took a break from partying in the Mediterranean to film a video of herself belting out Happy Birthday to Eleanor and posted it on YouTube.
Louis later tweeted, "Rihanna Thank you so so much for doing the birthday message for Eleanor!! Take care X"
> WATCH RIHANNA'S BIRTHDAY VIDEO BELOW

> IN PICS: ONE DIRECTION'S ROAD TO WORLD DOMINATION

Loading Slideshow
One Direction: The Road To World Domination

(Pic: WENN)

One Direction: The Road To World Domination

(Pic: WENN)

One Direction: The Road To World Domination

(Pic: WENN)

One Direction: The Road To World Domination

(Pic: WENN)

One Direction: The Road To World Domination

(Pic: WENN)

One Direction: The Road To World Domination

(Pic: WENN)

One Direction: The Road To World Domination

(Pic: WENN)

One Direction: The Road To World Domination

(Pic: WENN)

One Direction: The Road To World Domination

(Pic: WENN)

One Direction: The Road To World Domination

(Pic: WENN)

One Direction: The Road To World Domination

(Pic: WENN)

One Direction: The Road To World Domination

(Pic: WENN)

One Direction: The Road To World Domination

(Pic: WENN)

One Direction: The Road To World Domination

(Pic: WENN)

One Direction: The Road To World Domination

(Pic: WENN)

One Direction: The Road To World Domination

(Pic: WENN)

One Direction: The Road To World Domination

(Pic: WENN)

One Direction: The Road To World Domination

(Pic: WENN)

One Direction: The Road To World Domination

(Pic: WENN)

One Direction: The Road To World Domination

(Pic: WENN)

One Direction: The Road To World Domination

(Pic: WENN)

One Direction: The Road To World Domination

(Pic: WENN)

One Direction: The Road To World Domination

(Pic: WENN)

One Direction: The Road To World Domination

(Pic: WENN)

One Direction: The Road To World Domination

(Pic: WENN)

One Direction: The Road To World Domination

(Pic: WENN)

One Direction: The Road To World Domination

(Pic: WENN)

One Direction: The Road To World Domination

(Pic: WENN)

One Direction: The Road To World Domination

(Pic: WENN)

One Direction: The Road To World Domination

(Pic: WENN)

One Direction: The Road To World Domination

(Pic: WENN)

One Direction: The Road To World Domination

(Pic: WENN)

One Direction: The Road To World Domination

(Pic: WENN)

One Direction: The Road To World Domination

(Pic: WENN)

One Direction: The Road To World Domination

(Pic: WENN)

One Direction: The Road To World Domination

(Pic: WENN)

One Direction: The Road To World Domination

(Pic: WENN)

One Direction: The Road To World Domination

(Pic: WENN)

One Direction: The Road To World Domination

(Pic: WENN)

One Direction: The Road To World Domination

(Pic: WENN)

One Direction: The Road To World Domination

(Pic: WENN)

One Direction: The Road To World Domination

(Pic: WENN)

One Direction: The Road To World Domination

(Pic: WENN)

One Direction: The Road To World Domination

(Pic: WENN)

One Direction: The Road To World Domination

(Pic: WENN)

One Direction: The Road To World Domination

(Pic: WENN)

One Direction: The Road To World Domination

(Pic: WENN)

One Direction: The Road To World Domination

(Pic: WENN)

One Direction: The Road To World Domination

(Pic: WENN)

One Direction: The Road To World Domination

(Pic: WENN)

One Direction: The Road To World Domination

(Pic: WENN)