Rihanna has taken some time out from sunning herself and tweeting instagram photos from her holiday to wish Louis Tomlinson's girlfriend, Eleanor Calder, a very happy birthday.
Now if that isn't the best birthday present in the world we don't know what is - round of applause for the One Direction lad.
*claps*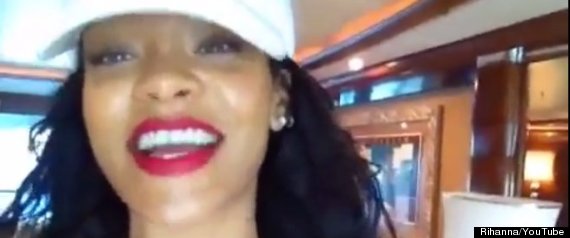 Rihanna sings happy birthday
Wearing a white hat with "supreme b****" emblazoned in red across the front, the star held the camera and sang Happy Birthday before blowing a big kiss at the end.
When she wasn't wishing happy birthdays or lounging about on her luxury yacht, Rihanna managed to squeeze in a spot of shopping.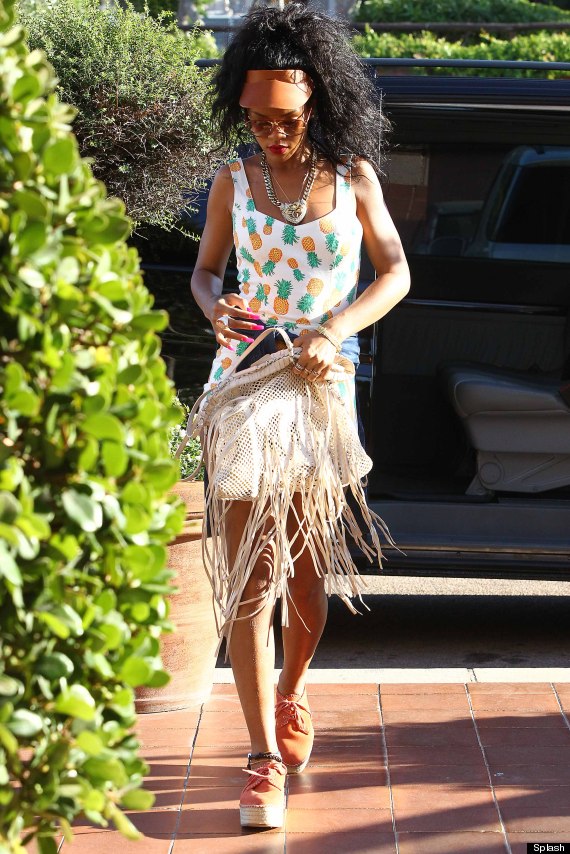 En route to the shops
The singer looked effortlessly cool in a pineapple print playsuit with orange shoes and matching visor as she hit the shops of Porto Cervo, Sardinia.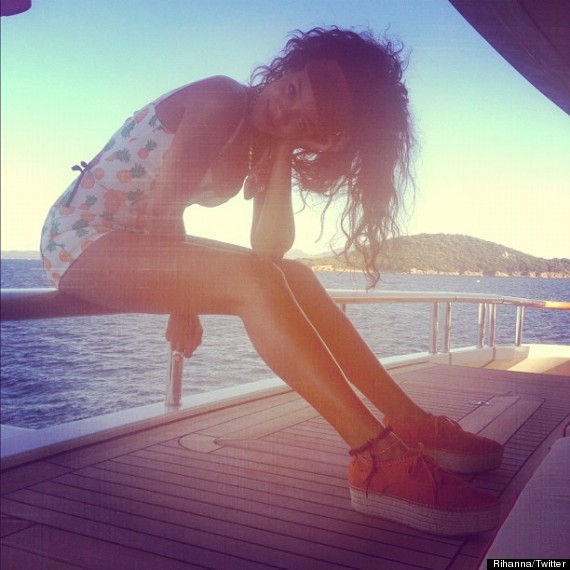 We'll try and act like we're not jealous...
>IN PICS: RIRI'S HOLIDAY

Loading Slideshow
Rihanna wearing a pineapple printed playsuit and visor goes shopping in Porto Cervo. Porto Cervo, Sardinia - 17.07.12 Mandatory Credit: News Pictures/WENN.com

Rihanna wearing a pineapple printed playsuit and visor goes shopping in Porto Cervo. Porto Cervo, Sardinia - 17.07.12 Mandatory Credit: News Pictures/WENN.com

Rihanna wearing a pineapple printed playsuit and visor goes shopping in Porto Cervo. Porto Cervo, Sardinia - 17.07.12 Mandatory Credit: News Pictures/WENN.com

Rihanna wearing a pineapple printed playsuit and visor goes shopping in Porto Cervo. Porto Cervo, Sardinia - 17.07.12 Mandatory Credit: News Pictures/WENN.com

Rihanna wearing a pineapple printed playsuit and visor goes shopping in Porto Cervo. Porto Cervo, Sardinia - 17.07.12 Mandatory Credit: News Pictures/WENN.com

Rihanna wearing a pineapple printed playsuit and visor goes shopping in Porto Cervo. Porto Cervo, Sardinia - 17.07.12 Mandatory Credit: News Pictures/WENN.com

Rihanna wearing a pineapple printed playsuit and visor goes shopping in Porto Cervo. Porto Cervo, Sardinia - 17.07.12 Mandatory Credit: News Pictures/WENN.com

Rihanna wearing a pineapple printed playsuit and visor goes shopping in Porto Cervo. Porto Cervo, Sardinia - 17.07.12 Mandatory Credit: News Pictures/WENN.com

Rihanna wearing a pineapple printed playsuit and visor goes shopping in Porto Cervo. Porto Cervo, Sardinia - 17.07.12 Mandatory Credit: News Pictures/WENN.com

Rihanna wearing a pineapple printed playsuit and visor goes shopping in Porto Cervo. Porto Cervo, Sardinia - 17.07.12 Mandatory Credit: News Pictures/WENN.com

Rihanna wearing a pineapple printed playsuit and visor goes shopping in Porto Cervo. Porto Cervo, Sardinia - 17.07.12 Mandatory Credit: News Pictures/WENN.com

Rihanna wearing a pineapple printed playsuit and visor goes shopping in Porto Cervo. Porto Cervo, Sardinia - 17.07.12 Mandatory Credit: News Pictures/WENN.com

Rihanna wearing a pineapple printed playsuit and visor goes shopping in Porto Cervo. Porto Cervo, Sardinia - 17.07.12 Mandatory Credit: News Pictures/WENN.com

Rihanna wearing a pineapple printed playsuit and visor goes shopping in Porto Cervo. Porto Cervo, Sardinia - 17.07.12 Mandatory Credit: News Pictures/WENN.com

Rihanna wearing a pineapple printed playsuit and visor goes shopping in Porto Cervo. Porto Cervo, Sardinia - 17.07.12 Mandatory Credit: News Pictures/WENN.com

Rihanna wearing a pineapple printed playsuit and visor goes shopping in Porto Cervo. Porto Cervo, Sardinia - 17.07.12 Mandatory Credit: News Pictures/WENN.com

Rihanna wearing a pineapple printed playsuit and visor goes shopping in Porto Cervo. Porto Cervo, Sardinia - 17.07.12 Mandatory Credit: News Pictures/WENN.com

Rihanna wearing a pineapple printed playsuit and visor goes shopping in Porto Cervo. Porto Cervo, Sardinia - 17.07.12 Mandatory Credit: News Pictures/WENN.com

Rihanna wearing a pineapple printed playsuit and visor goes shopping in Porto Cervo. Porto Cervo, Sardinia - 17.07.12 Mandatory Credit: News Pictures/WENN.com

Rihanna wearing a pineapple printed playsuit and visor goes shopping in Porto Cervo. Porto Cervo, Sardinia - 17.07.12 Mandatory Credit: News Pictures/WENN.com
Also on HuffPost: