Alanis Morissette is back and sounding as distinctive as ever.
The Canadian singer with 60 million record sales to her name, including the record-breaking album Jagged Little Pill in 1995, debuts the video above - a HuffPostUK exclusive - for Guardian, the first single from her eighth studio album Havoc and Bright Lights.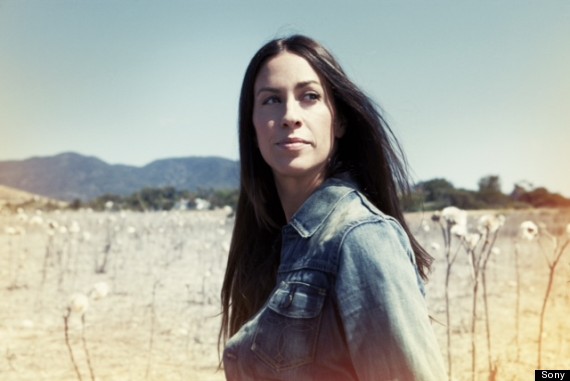 Alanis Morissette is back with new single Guardian

The album is due for release at the end of August, and it is clear from the first listen that Morissette's lyrics remain as personal and cathartic as fans are used to.
Havoc and Bright Lights is the first album she's released since she became a wife and mother - she married Mario "MC Souleye" Treadway in May 2010 and gave birth to a son Ever Imre the following December - and a sense of protectiveness to these people has replaced a lot of the anger she was known for previously...
In Alanis' own words about Guardian...
"This video is a tip of the hat to Wim Wenders' Wings of Desire (it is the 25th anniversary of the film having been released). the full circle poetry of my having written 'uninivited' for its remake, combined with my love of the original movie, combined with my love of Germany, having lived there for three years as a child (by the Black Forest) combined most importantly with how this video is such a visual extension of the song 'guardian', which is so close to my heart....it was so much fun to make it in Berlin!

I think it really shows how the parent/guardian angel role are linked....how, ultimately, a powerful inner parent calls upon spirit to guide her/his choices on the loved ones' behalf...whether it is for a child, a friend, or an inner child...this love and this grace is available to everyone."
But it wouldn't be Alanis Morissette without a few pokes, and fans will be relieved to know that the fire hasn't died out, with the album also containing a self-explanatory rant - it's called Celebrity, no explanation needed.
Havoc and Bright Lights is released on 27 August, same day as the single - you can pre-order on iTunes, and Amazon (Deluxe album feats live tracks including Ironic and You Oughta Know).
And, just for the fans, here's a reminder of Hand in My Pocket from that first ground-breaking album...