Keira Knightley has opened up about working on Anna Karenina with co-stars Jude Law and Aaron Johnson.
The 25-year-old actress channeled gothic chic in a recent photo shoot, dressed in black with statement lipstick.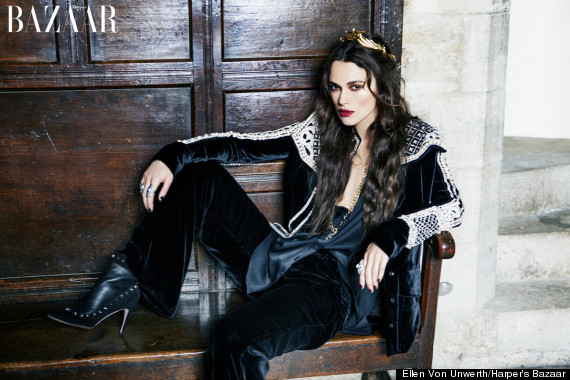 Keira plays Anna Karenina in upcoming film
The film is an adaptation of the famed Russian tragedy, following Anna (Keira Knightley) as she falls for cavalry soldier (Aaron Johnson) while still married to her husband (Jude Law), who is 20 years her senior.
Speaking about Jude Law's unflattering costume Knightley said:
"No wonder he kept that hat on... [the make-up and wig] were the worst. Poor f***er. I'd get to the end of the day, take my make-up and wig off, and I'd look shit. He'd take the make-up and wig off and look f***ing brilliant. And everyone would say, 'Oh yeah! Good-looking man underneath!"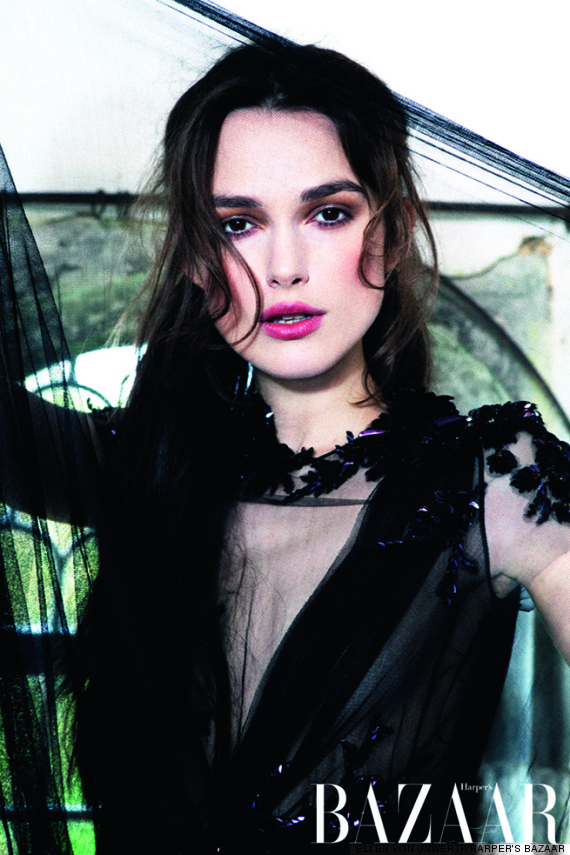 The star also opened up about her talented on screen love-interest, rising star 22-year-old Johnson.
"He is very confident. But he's also got whatever it is, and I'm never sure quite what it is that makes an actor good, but he's got it," she said. "He's a total wing-it, but he absolutely pulls it off."
Speaking to Empire Magazine recently the star spoke of her future film plans.
"It comes to a point where you think, "What kind of film can I make that will allow me to live a proper life?" And those tentpole movies make it difficult."
Knightley revealed that she is unsure whether her character is a heroine or anti-heroine: "It felt a bit like Tolstoy hates her, that he's condemning her. It's interesting playing that balance in the character. You don't want her to be this victimised girl. You want to play someone with all the facets he put in her."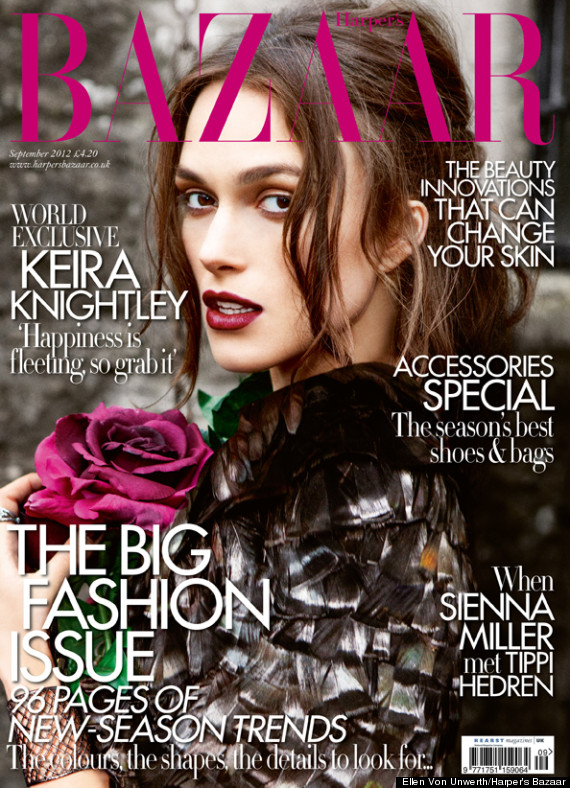 The cover star of Harper's Bazaar UK
For the full interview pick up the September issue of Harper's Bazaar on sale Thursday 2nd August. Also available as digital edition.
MORE:
Keira Knightley Tells Empire: 'What Kind Of Film Can I Make To Allow Me A Proper Life?'
'Anna Karenina' Clip: Keira Knightley & Aaron Johnson Get Close, Jude Law Isn't Happy About It (VIDEO)
The UK premiere of Bridget Jones's Diary in London, 2001 Eek - Keira's early premiere fashion leaves something to be desired, namely, another layer or two of clothing. Her sheer lace top, lace bra and leather trousers may flaunt her toned tum, but they also show she's a young star in serious need of some styling tips.

Bend It Like Beckham premiere, London, 2002 Bend It Like Beckham put the actress on the map; styling-wise, she's still showing too much skin and going the sheer route.

Pirates of the Caribbean: The Curse of the Black Pearl premiere in Disneyland, 2003 In one of her most infamous red carpet appearances, the star showed off abs that can grate cheese... accompanied by a serious lack of style-savvy.

The 8th Annual Hollywood Film Festival's Hollywood Awards, 2004 Keira debuts an edgy blonde pixie cut in 2004 and shows off her toned upper body in a plunge-neck dress.

King Arthur European premiere in London, 2004 For the King Arthur premiere in 2004, Keira went sheer - but this time had the sense to pick a dress with a slip. Sign of improvement to come?

Pride and Prejudice premiere, New York, 2005 Keira shows off a glam look at the Pride and Prejudice premiere in a strapless silk dress by Calvin Klein and fur stole.

Pride and Prejudice premiere, Toronto International Film Festival, 2005 Keira opts for a ladylike look and long waves at the Pride and Prejudice premiere in Toronto.

63rd Annual Golden Globe Awards, 2006 Keira showed some grown-up glamour at the Globes in 2006 in this strapless white Valentino dress and Tod's clutch. The transformation into style icon begins...

78th Annual Academy Awards, 2006 She didn't take home the Oscar for Best Actress for her work in Pride and Prejudice, but her wine-red Vera Wang gown got her on every best dressed list and remains one of the most iconic red carpet dresses.

64th Venice Film Festival, 2007 At the photocall for her film Atonement, Keira looked stunning in this gorgeous two-tone Chanel halter dress - looks like she finally mastered how to do sheer the classy way.

Atonement London premiere, 2007 We'll forgive Keira for exposing her abs (yet again) in this ethereal Rodarte frock because the dress is simply gorgeous and Keira's fairy look is picture-perfect.

Atonement L.A. premiere, 2007 Keira debuts a fringed hairdo at the Atonement premiere in L.A. and continues her romantic streak in another revealing-yet-artsy Rodarte creation.

Silk premiere,Toronto International Film Festival, 2007 Keira starts championing British design talent in this lovely appliqued dress by London-based designer Erdem.

Orange British Academy Film Awards, 2008 Leading Actress nominee Keira looks stunning as she hits the BAFTAs red carpet in this shimmering, tiered Valentino dress.

Elle Style Awards, London, 2008 Wearing a strappy black Chanel dress, Keira scoops the Best Actress gong at the Elle Style Awards in 2008.

Edinburgh International Film Festival, 2008 Keira hits the red carpet looking chic and spectacular in a cream Chanel all-in-one jumpsuit with her Edge of Love co-star Sienna Miller.

The Duchess world premiere, London, 2008 Keira starts getting a little bit riskier on the red carpet, opting for a super-feminine, embellished Alexis Mabille Haute Couture frock with tulle detail.

The Duchess screening, New York, 2008 The Chanel face sparkles in a bejeweled couture frock from the fashion house at the New York screening of her film, The Duchess.

Chanel Spring-Summer 2009 Haute-Couture collection show, Paris, 2009 You can see why Karl Lagerfeld picked the star as the face of Chanel's Coco Mademoiselle fragrance - she captures the feminine-yet-free spirit that Chanel embodies. Just look how she mixes a quilted leather bag (total rock chick vibe) with a streamlined elegant cardi and pencil skirt for a funky take on ladylike dressing.

Cheri premiere, 59th Berlin Film Festival, 2009 The star makes a (now rare) fashion misstep in this unflattering Chloe pantsuit at the Cheri premiere in Berlin.

Laurence Olivier Awards Nominations Luncheon, London, 2010 The star hit her fashion stride at the Olivier Awards luncheon in 2010 (she was nominated for Best Actress in a Supporting Role for The Misanthrope) as she rocked this quirky-cute patterned Miu Miu blouse and skirt with eye-grabbing naked lady print.

The Laurence Olivier Awards, London, 2010 The star makes a colourful statement in a floor-sweeping floral Erdem dress at the Olivier Awards in 2010.

54th BFI London Film Festival, London, 2010 The star showed off a funky new bob and embraced her now-signature feminine retro style in an embellished blouse and patterned skirt by Rodarte.

Never Let Me Go premiere, London Film Festival, 2010 The star masters the art of the sexy reveal by 2010 in this gorgeously beaded Chanel frock with cutout side and back detail.

Last Night premiere, 5th International Rome Film Festival, 2010 Keira goes frothy and fabulous in tulle Valentino for the premiere of her film Last Night in Rome in 2010.

Leaving the Comedy Theatre, London, 2011 Keira adds some funky accessories to her androgynous street style look like suede brogues and a colourful scarf as she exits the Comedy Theatre after performing in The Children's Hour, alongside Elisabeth Moss.

A Dangerous Method photocall, 68th Venice International Film Festival, 2011 Keira gets colourful (and champions another British-based designer) in this Mary Katrantzou creation. With her sleek bob, she looks like she's channelling US Vogue editrix Anna Wintour.

A Dangerous Method premiere, 68th Venice International Film Festival, 2011 Keira looks like a medieval princess in this gilded Valentino gown and Heidi braid hairstyle at the premiere of A Dangerous Method in Venice in 2011.

BFI London Film Festival Screening of A Dangerous Method, 2011 The star stepped out in this Roksanda Ilincic dress for the London premiere of A Dangerous Method; while the criss-crossed front and exposed bit of stomach is pure sex appeal, the calf length hemline keeps it discreet - signature Keira.

National Board of Review Awards Gala, New York, 2012 By 2012, Keira's mastered her classic formula of chic, sexy and restrained at once: She shows off some front in this lace Nina Ricci dress but unlike her earlier days of red carpet over-exposure, now she looks tasteful and sophisticated.