Robert Pattinson put on a brave face in the wake of Kristen Stewart's affair as he made a return to the spotlight at the premiere of his new film Cosmopolis last night. R-Patz was all smiles as he posed for the cameras during his first public appearance since it was revealed his girlfriend and Twilight co-star Kristen had cheated on him with married director Rupert Sanders while filming Snow White And The Huntsman.
Dressed in a very dapper blue Gucci suit, there was no sign of his heartache as he walked the red carpet at the Museum of Modern Art in New York . Fans had camped outside the cinema for hours in support of their idol and Rob was only too pleased to greet them. He even chatted to reporters but questions about his ex were strictly off limits. He'd earlier appeared on The Daily Show where host Jon Stewart had hoped to prise details of his relationship breakdown out of him.
However, Rob remained tight-lipped over the situation, but couldn't help but laugh when Jon joked he should "kick (Kristen) to the curb".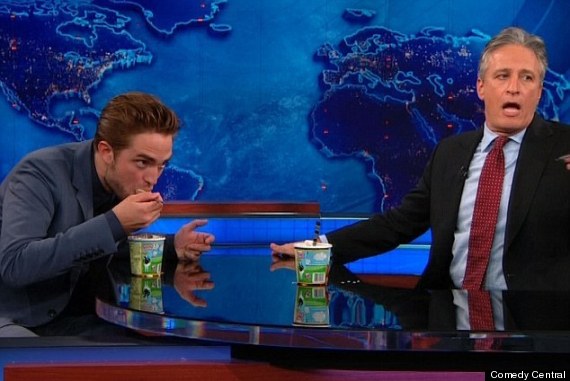 As the pair settled down to chat following some friendly banter, he said: "So what are we doing here? I'm worried about you. Are you alright?"
Rob replied: "I literally don't know how to approach this now.
"This is the weird thing about these interviews, and now I'm going to sound like an idiot, but my biggest problem in my life is that I'm cheap," he continued.
"I didn't hire a publicist and every awkward interview... most actors have things scripted. I'm going to hire a publicist."
As Jon then tried to bring it back to Kristen's indiscretion, he joked about being there for the star, before adding: "Boy, you are better off without... so kick her to the curb!", to which Rob let out a wry giggle.
Suggest a correction