Manchester United manager Sir Alex Ferguson believes the imminent arrival of Robin van Persie can see the team's new strikeforce emulate the 1998/99 Treble-winning quartet.
Twelve years ago, Ferguson signed Dwight Yorke for a then club record £12.6m from Aston Villa to complement Andrew Cole, Ole Gunnar Solskjaer and Teddy Sheringham.
Cole and Yorke scored 55 goals between them during a telepathic partnership while Sheringham and Solskjaer scored one apiece in the 2-1 Champions League final win against Bayern Munich. Sheringham also scored and gave a man of the match display in the FA Cup final victory against Newcastle United four days prior to the Barcelona-held final.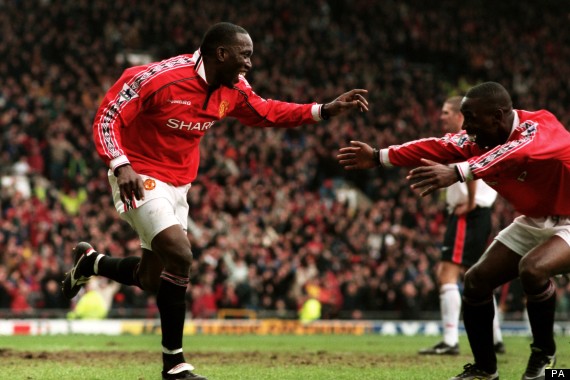 Cole (right) and Yorke combine for an 88th minute equaliser against Liverpool in the FA Cup
Now Ferguson is optimistic the signing of Van Persie, expected to be confirmed Thursday evening, gives United the impetus to mimic one of the club's greatest sides as he joins Wayne Rooney, Danny Welbeck and Javier Hernández in the striking ranks.
"They're two fantastic players and it's great to have them both," the Scot said when asked about the prospect of Rooney and Van Persie being paired together at a Thursday press conference.
"But what gives us even more strength is the different combinations I have now. If you go back to the '99 season, I had Cole and Yorke and also Teddy and Ole Gunnar - I had the four best strikers in Europe. Now I've got Wayne, Robin, Danny Welbeck, Chicharito, [Shinji] Kagawa - it's a fantastic collection of players and hopefully I can pick the right combinations!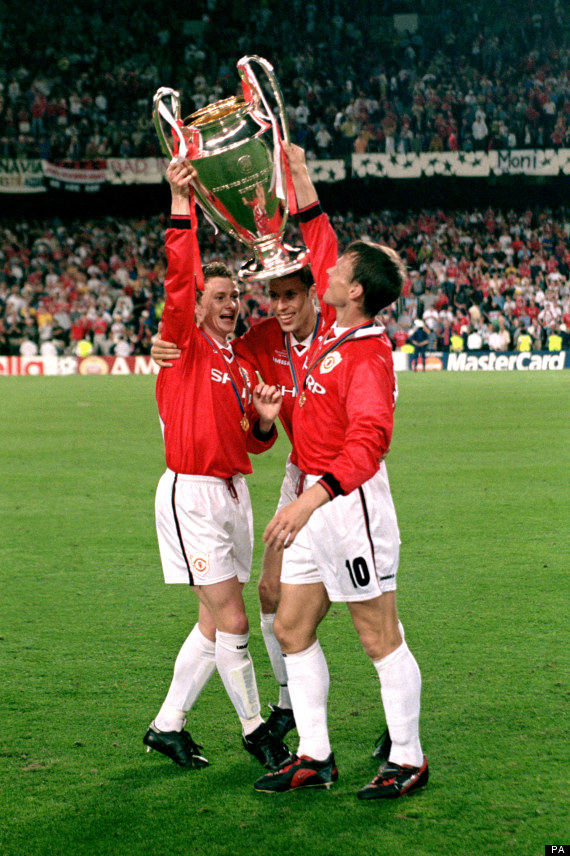 Solskjaer and Sheringham clutch the European Cup in 1999
"It's great to have a player of van Persie's quality coming into our squad. I'm really pleased."
How Rooney fares alongside the Holland international shall be interesting since the former Everton forward has excelled more as a lone frontman rather than with a partner.
Ferguson previously boasted an impressive quartet of Ruud van Nistelrooy, Louis Saha, Alan Smith and Rooney in 2004, but injuries affected the former duo and United were uncharacteristically profligate during the miserable 2004/05 campaign.
Smith was then downgraded to a midfielder the following year before breaking his ankle at Anfield in February 2006 and Van Nistelrooy was sold to Real Madrid five months later.
Cole and Yorke have become the de facto benchmark for strike partnerships at United since their Treble hegemony at the end of the 20th century.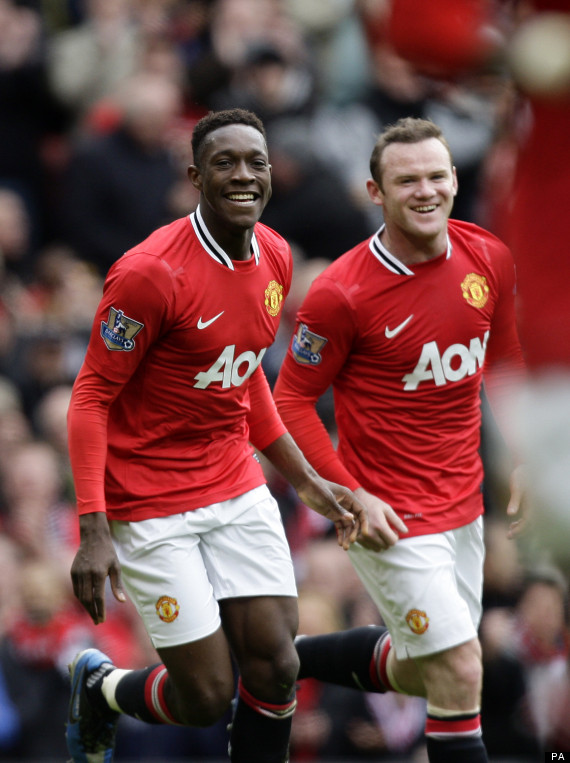 Rooney and Welbeck collaborated well last season
Ferguson's failure to namecheck Dimitar Berbatov further suggests that, although the Bulgarian was expected to have moved on by now, his departure from M16 ORA should come before the month's transfer window.
HOW UNITED'S QUARTETS COMPARE (EXCLUDING VAN PERSIE)
PAST
Andrew Cole, £7.5m (1995-2001) 275 games 121 goals
Ole Gunnar Solskjaer, £1.5m (1996-2007) 366 games 126 goals
Teddy Sheringham, £3.5m (1997-2001) 153 games 46 goals
Dwight Yorke, £12.6m (1998-2002) 152 games 66 goals
PRESENT
Wayne Rooney, £28m (2004-) 365 games 181 goals
Danny Welbeck (2008-) 63 games 17 goals
Javier Hernández, £6m (2010-) 81 games 32 goals