Rhian Sugden has already used her time in the Celebrity Big Brother house to defend herself from accusations that she nearly broke up a famous marriage with her 'sex texts'.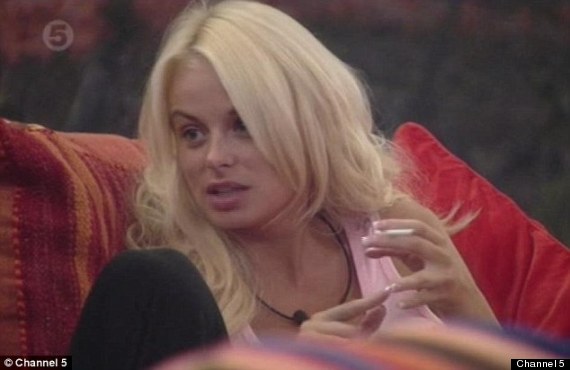 Rhian Sugden has only been in the house five minutes, and already her side of the story is out
Talking to Jasmine Lennard late at night in the smoking area of the house, Rhian spoke out, saying, "I never sent a sex text. I never sold a story."
Rhian's name hit the papers 18 months ago when presenter Vernon Kay's marriage to Tess Daly was put under the spotlight, following reports he had been exchanging text pleasantries with the glamour model from his same home town.
Rhian told Jasmine that any quotes appearing in newspapers, allegedly made by her, were in fact taken from a Twitter account not actually hers. More below...
Loading Slideshow
While the pair debated whether it was acceptable to text a married man, Jasmine wasn't letting Rhian have an easy time of it, saying: "It was your fault at the point you knew he was attracted to you. People are not going to feel sorry for you. They will feel sorry for her."
Rhian also confessed she was worried about another two of the CBB inhabitants - Samantha Brick, who had written against her in the paper, and Coleen Nolan, a close friend of Tess Daley - and found the situation "awkward".
And she said she had never been after Kay - he was too old for her.
All this on Day One - what else is going to come out in the confines of the compound over the next few weeks?
Who do you think will win from this lot?

Loading Slideshow
Coleen Nolan

Ashley McKenzie

Cheryl Fergison

Danica Thrall

Jasmine Lennard

Julian Clary

Julie Goodyear

Martin Kemp

MC Harvey

Mike Sorrentino

Prinze Lorenzo Borghese

Rhian Sugden

Samantha Brick

The full gang