For the record-breaking crowds who lined up to see Avengers Assemble, there is good news... sort of.
Disney Studios has confirmed its badly-kept secret of a release date for the sequel to its super hero blockbuster, which is currently the third highest-grossing film of all time.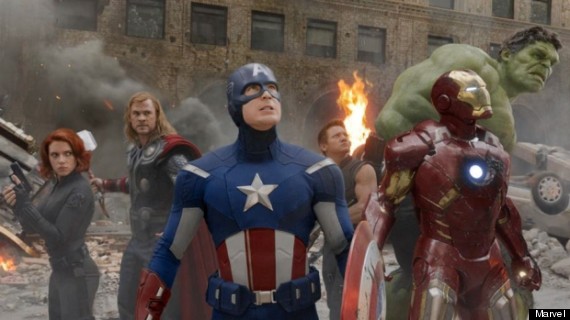 They're coming back for more, confirmed
Avengers 2 will be with us... confirmed. Good. And Joss Whedon, who steered these separate heroes to such ensemble success will be back at the director's wheel for the sequel. Even better. And it will be in our cinemas on 1 May 2015. Oh.
There isn't yet a title for what will no doubt be a lucrative follow-up, which is perhaps a wise move considering the shenanigans around the first film - adding the word 'Assemble' at the last minute.
The first film saw the combined adventures of Thor and Loki, Hulk, Hawkeye, Captain America, Black Widow and the scene-stealing Iron Man, so there will have been lots of lunches involved in lining up the talents of Chris Hemsworth, Tom Hiddleston, Mark Ruffalo, Jeremy Renner, Chris Evans, Scarlett Johansson and Robert Downey Jr once more - no word yet on whether all characters will be needed again, but obviously their fans will be hoping for a complete reunion.
Robert Downey Jr is currently nursing an injured ankle after a stunt went wrong on the set of Iron Man 3. Read more on that here...

The reason for such an extended time-frame is the schedule of stand-alone films that Marvel is set to complete before it sets to work on the ensemble piece once again.
MTV News reported that, "Marvel has a very set agenda of what they want to do, they are already kind of ahead of the game [on the sequel] because they've got the guy that did it before doing it again and something tells me Joss already has the template [for the film]."
"The beauty of The Avengers is that you've got so many people in this that even during the shoot if someone has to do another film they can just focus on [other characters]." Read more here...
Avengers Assemble stars on the red carpet in London... which of these do you want to see return?

Loading Slideshow
Stars on the red carpet for the European Premiere of Avengers Assemble. All pictures: PA