The Spice Girls reunion was the best thing about the Olympics Closing Ceremony, not just because we got to dance around to Spice Up Your Life like it was 1997 again, but because all five Spices had put aside their differences and come together.
However, Mel C has revealed just how bad her relationship with Mel B got during the band's heyday back in the 90s.
Sporty Spice has recalled how they ended up in a physical fight after a boozy night out. She told Fabulous magazine: "Me and Melanie had a fight once.
"We were too drunk. We got a bit pushy, shovey and Geri stepped in the middle to break it up and ended up getting punched in the face.
"Then Melanie went off to be sick, and because she'd been drinking too much port she accused me of making her bleed!"
Girl power indeed.
Meanwhile, it seems the girls have been making the most of their renewed love for each other as Mel B and Geri have been keeping in touch, despite Mel being thousands of miles away in Australia.
The pair enjoyed a Skyping session last night and as the pair chatted on the internet phone service, Mel tweeted a picture of Geri sat on her webcam.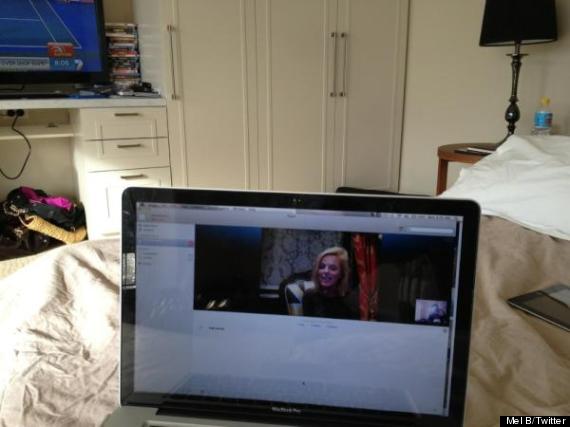 "@GeriHalliwell singing to me on Skype? Love you Geri!" she wrote.
We wonder what she sang to her?
> ENTER OUR COMPETITION TO WIN A NOKIA LUMIA 610 WINDOWS PHONE
> IN PICS: SPICE GIRLS AT THE OLYMPICS CLOSING CEREMONY

Loading Slideshow
(AFP photo)

(AFP photo)

(AFP photo)

(AFP photo)

(AFP photo)

(AFP photo)

(AFP photo)

(AFP photo)

(AFP photo)

(AFP photo)

(AFP photo)

(AFP photo)

(AFP photo)

(AFP photo)

(AFP photo)

(AFP photo)
Also on HuffPost: