Green Day proved they are still one of the world's hottest rock tickets, with an impromptu gig on the stage at Reading this weekend, that managed to cause chaos at the Festival.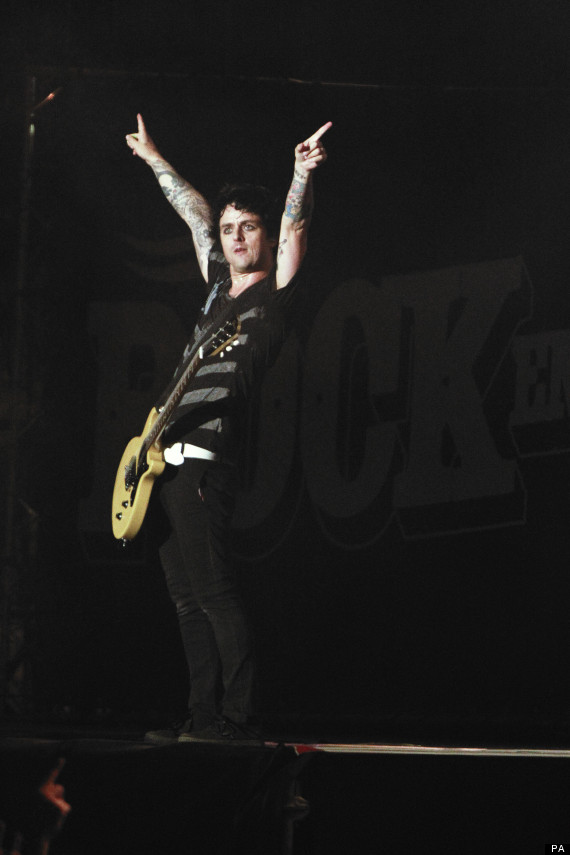 Green Day's frontman Billie Joe Armstrong accepts the love
The rockers appeared on the NME/Radio 1 Stage on Saturday at the annual music festival with frontman Billie Joe Armstrong confirming the show shortly before its start via Twitter.com.
The band was rumoured to be appearing at midday but instead began its set at 11am, with Armstrong writing on Twitter, "Green day - READING FESTIVAL CONFIRMED!! On stage in 45 minutes! In the NME / RADIO 1 tent. 11am!! Be there!"

Delighted revellers flocked to catch the unexpected gig, prompting bosses to close entrances to the tent, forcing people to watch on a large screen outside.
What's so special about Green Day that they can incite such chaos? Feel free to explain below...

The musicians played songs from various stages of their career including one new tune called Stay The Night from their forthcoming album Uno! - the first of a trilogy of albums Uno! Dos! and Tre! they have planned for release over the next five months.

The band, originally formed in 1987 in Berkeley, California, sold 10 million copies of their debut album Dookie, and have been credited with helping regenerate the rock punk scene in America.
To date, they have sold more than 65 million records, and won five Grammy Awards. American Idiot brought them a new generation of fans, while keeping hold of the early ones. And judging by the scenes at the weekend, their popularity has not begun to wane...
Green Day in action below, disproving the thesis that there are only so many ways you can hold a guitar

Loading Slideshow