As recent Clásicos go the Supercopa matches didn't live up to expectations in football violence stakes, but Real Madrid and Barcelona served up two treats for the purists with the Spanish champions winning via the away goals rule after Wednesday night's 2-1 victory.
Having drawn and lost their opening Primera Liga games despite taking the lead against Valencia and Getafe, José Mourinho hinted the Supercopa second leg would determine whether Madrid's start was a blip or not. It was.
Rarely have Barcelona, themselves unconvincing at Osasuna at the weekend, been so outplayed during a period of football. Madrid seldom ventured forward at Camp Nou last week and yet scored two goals, and the only surprise was they scored the same amount six days later.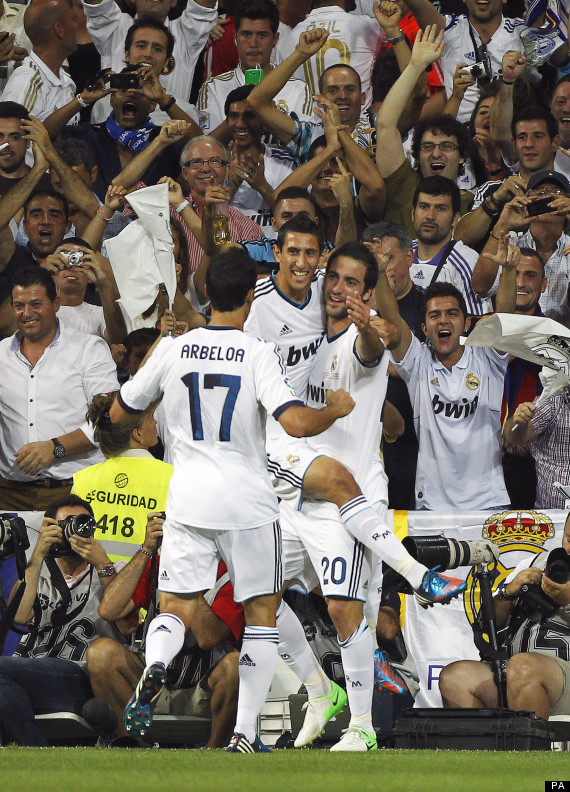 Gonzalo Higuaín is mobbed after his opener
Javier Mascherano, a makeshift centre-back, firstly misjudged a long ball which allowed Gonzalo Higuaín to score his third goal in three games. The Argentinian had already missed a one-on-one with Victor Valdés and would miss three more throughout the evening.
Then Cristiano Ronaldo took the stage to make it 2-0 on the night and 4-3 to Los Blancos on aggregate. Again a centre-back was caught napping - this time Gerard Piqué - and the Portuguese flicked the ball over his opponent's head with his heel to run on and squirm a shot underneath the flimsy Valdés.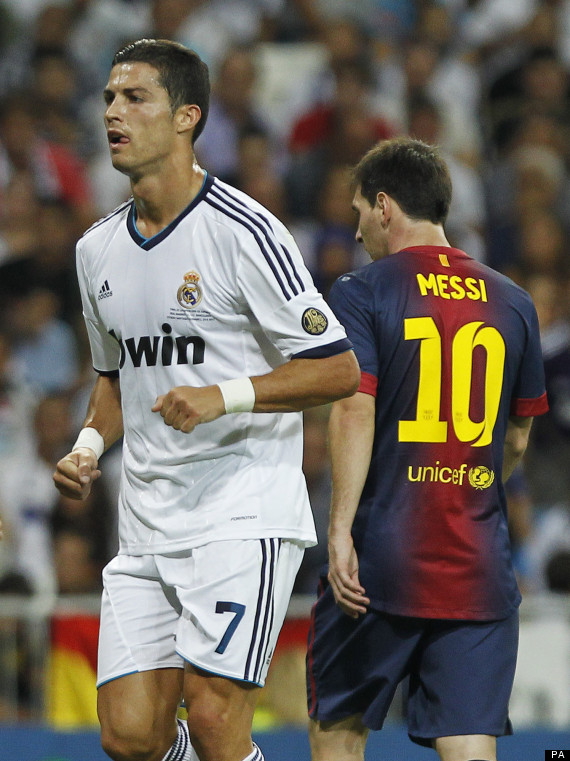 Ronaldo outshone Messi again
Adriano was soon red-carded for hauling Ronaldo down for denying him a goalscoring opportunity as Madrid eased off and had a goal dubiously disallowed. Lionel Messi punished them as he struck an exceptional free-kick just before half-time with the Blaugrana's first shot at goal to make it 4-4 on aggregate.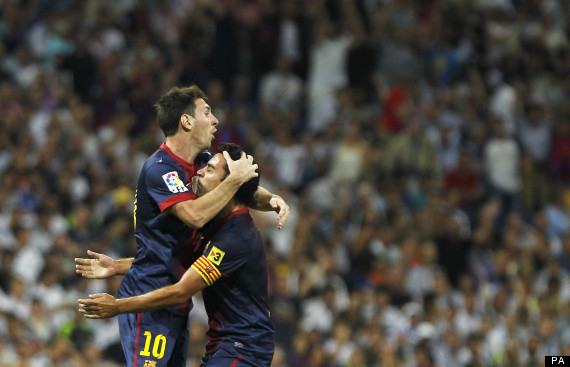 Xavi congratulates Messi on his set-piece
Whereas last week the first period was a slow-burner before bursting into life, this time it was the opposite. Luka Modrić arrived to make his debut and almost scored, while Messi almost won the cup but shot narrowly wide as the Madridistas revelled in their second win out of the last three Clásicos.