Julie Goodyear may have alienated her Celebrity Big Brother housemates with her fury at being nominated - "they can go to hell" - but she showed the caring side of her nature too when she was speaking with Martin Kemp.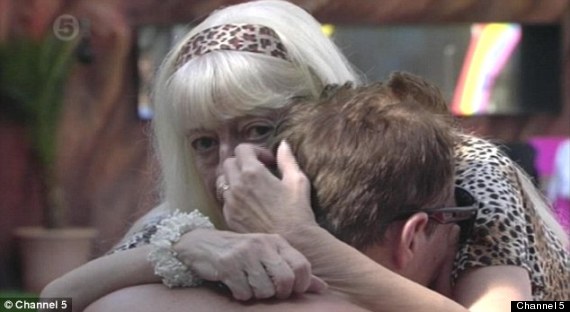 Julie comforts Martin as garden talk turns to parents
The former Spandau Ballet star was talking to Julie in the garden about his late parents, who died within days of each other in 2011. Martin became emotional as he spoke about them, and it was left to Julie to find words of comfort and give him a hug.
It is the first side Martin has shown his vulnerable side in the house, and it comes as housemates gear up for the final eviction before the finals. Two people are slated to be voted out of the house tonight, with only one of either Julie, Martin or Prince Lorenzo staying with the other housemates until the end of the week.
Julian, Coleen, The Situation, Ashley, Harvey are all safe until the finals. Julie confided in Julian last night that she thought Martin should stay in the house, but Julian thought it would be more fun if she did.
VOTE HERE For Who You Think Is Going To Be Crowned This Year's Celebrity Big Brother Champion?
Loading Slideshow
Girl power in the house ... Julie and Coleen may yet find they have something in common.

Julie's fortunes have swung enormously during her time in the house, here she is struggling with some gruel.

... but throughout all, Julian has stayed true.

Julie even moved to tears in the Diary Room. Being deprived of her leopard spots was a big blow.

Judas' kiss... Julie embraces The Situation, after nominating him. Confused??

If in doubt... take the plunge.

Guess who?

The Situation, fresh from the Naughty Step, attempts to cheer himself up by dying his hair. As you do.

NNow even Martin's getting wobbly, talking to Julie about his late parents.

HHe's going...

Yep, even Martin has succumbed to the succour of Nana's embrace. She ha a power, indeed.