Rihanna brought an international feel to a very British gig last night, arriving on a steampunk pirate ship to join Chris Martin and his Coldplay bandmates at the Paralympics Closing Ceremony.
Many on Twitter immediately asked what a non-Brit was doing celebrating the close of the London Games, particularly as every other performer chosen by Danny Boyle and Co all had UK passports.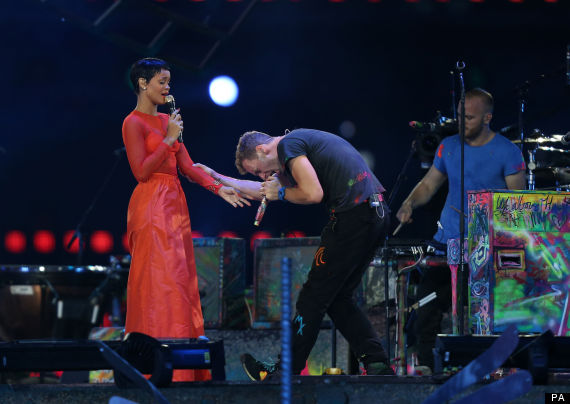 Rihanna was Coldplay's "special guest"
As well as joining Coldplay for their joint number Princess of China, she sang her own massive hit We Found Love, and then joined in with Jay-Z and Coldplay for an energetic rendition of Run This Town.
The Barbadian singer, as known for her raunchy image as for her singing skills, had the nouse, however, to cover up in a striking orange outfit, so that any chat of inappropriate dressage didn't overshadow the event, as had happened to her previously on X Factor and at the Brit Awards. Her freshly-cropped barnet also added to the overall look of a singer who wished to be taken more seriously than usual.
All in all, the star did nothing to dent her enormous fanbase, and may well have recruited some new converts with her display of stadium-sized charisma and ability to match some of the biggest stars in the world note for note.
What did you think of Rihanna's performance at the Closing Ceremony? Below is a round-up of some of the earliest feedback. Share yours in the Comments section too...
Rihanna At The Paralympics Closing Ceremony
Here's a round-up of some of the first feedback on Rihanna's big gig...
The Paralympic Closing Ceremony
SUBSCRIBE TO & FOLLOW UK ENTERTAINMENT