The Inbetweeners may have come, seen and conquered all before it at the domestic box office last year, when it enjoyed the biggest opening weekend of any comedy film in the UK, and went on to make a staggering £45 million.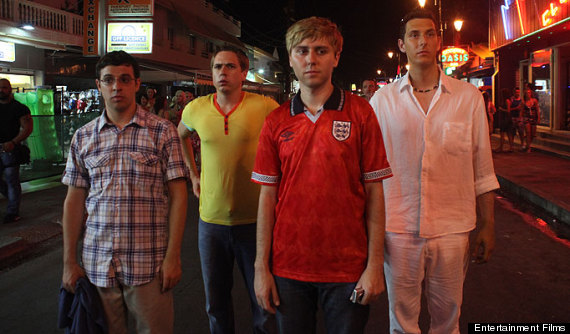 The Inbetweeners conquered the UK box office, but have more trouble stealing viewers' hearts stateside
However, it's been a different story in the States where it has, so far, taken only a meagre $36,000 at 10 screens.
Hopes were high for the US reception for the film telling the adventures of four hormonal boy-men taking a coming-of-age trip to Crete in the first heady weeks after leaving school. The four stars - Joe Thomas, Simon Bird, James Buckley and Blake Harris - even embarked on a coach trip across the States to pull in more audiences, but all to no avail, and, according to the Daily Mail, plans to widen the scope of cinemas taking the film have been aborted. Read more here...
The series co-creator Iain Morris blames that old chestnut, the language barrier, saying he's married to an American lady, who "thinks she understands about 60% of what I say".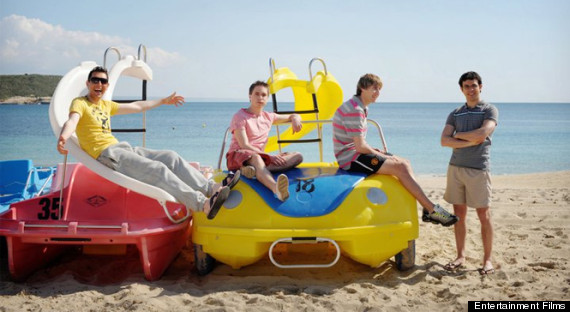 The Inbetweeners Movie takes the boys to Crete for a coming-of-age tale
He also reported that studio bosses who first jumped at the chance to distribute the UK hit later decided they weren't sure whether American audiences would get it, so opted for a cinema release on a much smaller scale - "'But at the same time it's not really an art house release. We're caught between two stools."
Morris needn't worry too much about the impact on his wallet. He and co-writer Damon Beesley have got a Gervais-esque type slice of the US version of the TV series, which recently launched in the States - to mixed reviews. The first series aped all the story arcs - virtually gag for gag - as the successful UK original, but promises to branch off on its own, come the second series.
And there's even talk of a US version of The Inbetweeners Movie being made - wouldn't that just be American Pie?
The Inbetweeners isn't the first UK show to find a hard landing on US soil. Here are some others with mixed fortunes - does it ever really work?
UK TV Remakes The US Got Right
Original UK Series: "Till Death Us Do Part" The show that introduced the world to "lovable bigot" Archie Bunker, "All in the Family" was the first series to spend five consecutive years on top of the Nielsen ratings. Produced by Norman Lear and Bud Yorkin (who also adapted "Sanford and Son" from its UK predecessor) the sitcom was notable for its decision to tackle social issues that other network comedies of the time had never touched, such as homosexuality, racism, rape, abortion, breast cancer and the Vietnam war.

Original UK Series: "Steptoe and Son" This iconic NBC sitcom, which aired from 1972 until 1977, was one of the highest rated shows of its time, peaking at number 2 in the ratings behind only "All in the Family." It is considered groundbreaking for its portrayal of race, and is thought to have paved the way for "The Cosby Show" and other sitcoms centered around African American families. (Although the British original was groundbreaking in different ways, notably for its elements of social realism, it featured Caucasian leads.)

Original UK Series: "Dragon's Den" A hit in both the UK and Canada, "Dragon's Den" embodies all the elements of a hit reality show: Judges with attitude, random wackiness, and average Joes who either make money or fools of themselves. "Shark Tank" works because it didn't meddle with the winning formula -- it's harsh, cruel and blunt; it even uses two of the same "Sharks" that appear on the Canadian version.

Original UK Series: "Hell's Kitchen" The thread that ties these two together is Gordon Ramsay. Without his acerbic, curse-laden diatribes, this show would not work on either continent. There's something almost cathartic about watching "Hell's Kitchen," which might be why it works so well -- you instantly feel better about your own cooking, and you can release a bit of anger every time Ramsay yells at one of the contestants.

Original UK Series: "Shameless" Showtime's American adaptation of "Shameless" has worked for a few reasons. Most importantly, its central story of a dysfunctional family struggling to make ends meet resonated with audiences during the recession. The show also hit home runs with its casting: William H. Macy plays a great drunk, and Emmy Rossum has emerged as the show's tough, sexy breakout star.

Original UK Series: "Who Wants To Be A Millionaire?" There are a two very simple reasons "Who Wants To Be A Millionaire?" took off in the US. Number one: Every single American TV viewer would like to be a millionaire. Number two: Regis Philbin and his monochromatic shirt/tie combinations were awesome.

Original UK Series: "The Office" Ricky Gervais' British sitcom "The Office" premiered in 2001 and followed the employees of the fictional Wernham Hogg Paper Company. Though it only lasted two seasons in the UK, it lives on in the US. The American version starred Steve Carell and made him a highly-coveted film actor, and did the same for John Krasinski, Jenna Fischer and more of its stars. Now going into its ninth season, the dry humor and mockumentary-style series about the Dunder Mifflin Paper Company employees set the tone for many more comedies to come (i.e. "Modern Family").

Original UK Series: "What Not to Wear" The BAFTA-nominated original UK series "What Not To Wear" had Trinny Woodall and Susannah Constantine makeover some of the UK's most awfully dressed Brits for five seasons (before they left and Lisa Butcher and Mica Paris took over for the show's sixth and seventh seasons). Though the US installment of "What Not to Wear" premiered shortly thereafter with a bit of a rough start with Wayne Scot Lukas, the American version found its footing in Season 2. The dynamic between Stacy London and Clinton Kelly has helped the show last for nine seasons and counting.

Original UK Series: "Queer as Folk" The UK's original "Queer as Folk" made its debut in 1999 and broke gay stereotypes throughout its two seasons, as did the US remake. "Queer as Folk" premiered on Showtime stateside in 2000 and made a splash as the first hour-long drama on American television to portray the lives of gay men and women. The series covered homophobia, late-in-life gay characters, coming out, gay adoption, HIV and many more taboo subjects. "Queer as Folk" broke down cultural barriers, paving the way for series like "The L Word" to make their debut and for acceptance of the gay community at large.

Original UK Series: "Man About The House" The UK original lasted six seasons in the early-to-mid-'70s, but the US version produced more than four times as many episodes (172 in total) over its eight seasons on the air, mainly due to a hilarious cast led by the late John Ritter.

Original UK Series: "Strictly Come Dancing" Before there was Pam Anderson, Drew Lachey and Bristol Palin (just three of the U.S. version's "All Stars" for Season 15), there was the UK's "Strictly Come Dancing," which premiered in 2004 and immediately spawned international spin-offs in 32 other countries and counting.

Original UK Series: "Pop Idol" "American Idol" is a ratings juggernaut, and it's not showing many signs of slowing down. With a revolving panel of music icons as celebrity judges and a fanbase that not only votes each week for their favorite singers, but buys their music and follows the contestants on tour, this is the reality competition to beat in the ratings.

Original UK Series: "Changing Rooms" It's not easy to find designers who are personable, talented and able to deal with the demands of a microbudget, time-crunched renovation, but both of these shows managed to do that, which is why they were both long-running hits in their respective countries. On both shows, viewers got crash courses in how to remake a room for very little dough, and even if we ultimately preferred the mildly acerbic British designers, both shows were the best kind of how-to program: They made you actually think you might be able to accomplish something similar (if you got off your couch, that is).

Original UK series: "Prime Suspect" We know, we know, the Helen Mirren original is a classic character-driven cop drama and the NBC show never quite rose to the heights that the UK series did. Having said that, NBC's version of the cop show evolved into an enjoyably meaty, well-acted ensemble drama that made great use of its versatile, talented cast and a committed performance from star Maria Bello. We were all ready to doubt the US version of the show, but her Jane Timoney made believers of us during "Prime Suspect's" brief run on the Peacock network.

Original UK Series: "The Inbetweeners" Though time will tell if the MTV adaptation will be able to rival the cult appeal of the original, the first three episodes of the new comedy prove just as charming as the British show, albeit in distinctly American ways. British humor may be dry and acerbic, but the new cast has undeniable chemistry and comic timing, and it will be interesting to see where the show goes when it starts utilizing its original material, rather than the six episodes it based on the UK series.
What's your favourite US adaptation of a UK show? Weigh in below!