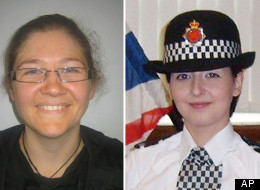 The murder of policewomen Fiona Bone and Nicola Hughes has led to increasing calls for officers to be armed as routine - despite senior officers saying the move would not help.
The chief constable of Greater Manchester Police, Sir Peter Fahy, has said his force believed "passionately" that police should remain unarmed, despite the tragedy.
But the widower of murdered police woman, Paul Beshenivsky, has called for police to be armed, comments echoed by relatives of Pc David Rathband, who was shot and blinded by fugitive Raoul Moat
What do you think? See if our bloggers can change your mind.
Step


1
Pre-debate poll:
Tell us your opinion before the debate starts to set the starting line
Police officers should be armed
Agree - Thanks for voting! Please proceed to read the debate below
Please vote to proceed to the debate
Step


2
Who makes the better argument?
The romantic image of the unarmed British Bobby must sadly be consigned to the history books. Not because of the tragic assassination of two brave police officers, but because Britain's streets today has terrorists, robbers and drug dealers who are armed to the teeth, and teenagers who regularly carry knives.
None of these dangerous individuals have any fear and most of them do not value life. They will not think twice about shooting or stabbing a police officer who gets in their way, let alone an innocent member of the public.
In the main, it is left to the front-line, unarmed officers to tackle these dangerous criminals on behalf of law-abiding citizens. The fact they are forced to do this with little protection is a terrible indictment of our criminal justice system and also of our society in general. Britain is one of only two countries in Europe - the other being the Republic of Ireland - that does not arm its front-line police officers.
A commissioner said a few years ago that the arming of the police service will be event driven. How many more police officers being assassinated do we need to wake up to the reality that our police service needs to be armed?
Whilst on duty as a police officer in 1985, I was stabbed and almost killed by an armed burglar. It brought home to me the very real dangers faced by those in my profession every day of their careers. I started a campaign called Protect the Protectors which pushed for better protection for officers and I have fought tirelessly for this cause for the past 20 years.
Protect the Protectors was instrumental in the introduction of side-handled batons, CS spray and stab-resistant vests. However, none of these will protect a police officer against a bullet. It is simple: front-line officers are being out-gunned.
There are arguments against arming the police, such as doing so will encourage criminals to arm themselves more regularly. However, there is no evidence to prove this and our stringent firearms laws will still be in place regardless of what protection we afford our police officers.
Another argument is that it will increase the number of controversial shootings by the police. In the past, when all the evidence of these types of shootings is examined, the police officers involved are almost always exonerated. Of course, we would need to trust the police and ensure the right type of person is recruited to the force, but we also know it is extremely rare for an officer to fire their weapon and even rarer that they get it wrong.
Police officers have the right to be afforded any and every protection they need to take on dangerous criminals so when faced by dangerous individuals they have a chance to protect the public and themselves, and go home to their families at the end of each shift.
Police officers do not want to carry guns, but many know they need to be to armed in order to carry out their duties in 21st century Britain. I am not passionate about arming the police, but sadly I know it has long been a necessity.
The tragic deaths of two unarmed policewomen in Manchester yesterday will inevitably lead to calls from some quarters for on-duty police in the UK to be armed. But before we pursue such a course of action, we need a proper examination of the facts.
We should listen to those who know best - the police themselves. A 2006 Police Federation survey showed an overwhelming majority (82%) of police opposed the routine arming of on-duty police officers. Despite a rise in terrorism and gun-related crime since similar surveys in 2003 and 1995, officers questioned remained steadfast in their opposition to armed policing.
Interestingly when asked if a decision were made to train and arm all police officers whilst on duty, out of the 13.8% who said they would never carry a firearm on duty, an incredible 56% claimed that they would resign from the force rather than accept an order to carry a firearm. That would have a dreadful impact on the ability of the Metropolitan Police to serve Londoners.
It is also worth looking to examples from other police forces around the world to see if arming the police would keep them safer. In the United States 511 police officers were killed between 2000 and September 2010. Of those officers killed 51 were slain when they own gun was turned against them.
Male or female, armed or not armed it would not have made a difference in this situation. Tragically these two dedicated officers were deliberately lured into a trap. This awful event should not be used to devalue the many occasions on which we have seen female officers outperform their male counterparts in their ability to defuse tense standoffs and persuade agitated individuals to act reasonably.
We should resist pressure at these incredibly difficult times to arm the police when it could in fact put our officers in more danger.
Arming the police would be a step in the wrong direction and would go against policing by consent and the history of unarmed policing in this country. I hope the Mayor & other politicians will resist pressure on this.
Rather than dwelling on the idea police with weapons or the fact that the officers killed were female, we should focus on what officers need: on risk assessment, training and when needed specialist backup. Let us not forget in this debate that the Met and other forces already have well trained specialist backup squads who are armed with guns and taser who should be called upon in potentially fatal shootings.
Step
3
POST DEBATE POLL
Did one of the arguments change your mind?
Police officers should be armed
VIEW DEBATE ROUND 1 RESULTS
Agree - Thanks for voting again! Here are the results:
moreless AgreeDisagreeUndecided
Norman BrennanJenny Jones AMNeither argumenthas changed the most minds