Today would have been T.S. Eliot's birthday. The poet, who was best known for creating Possum's Book Of Practical Cats, as well as modernist masterpiece The Wasteland would have been 124 today.
As well as being a poet, T.S. Eliot was a playwright, literary critic and a hugely influential publisher. During his time at publishing house Faber and Faber, of which he eventually became director, the likes of Ted Hughes and W.H Auden were given the chance to become the famous poets they are today.
Our friends at Faber have been celebrating Eliot with the best bits of their impressive archives - including this letter which shows Eliot deciding to take a chance on Hughes - poetry history in the making.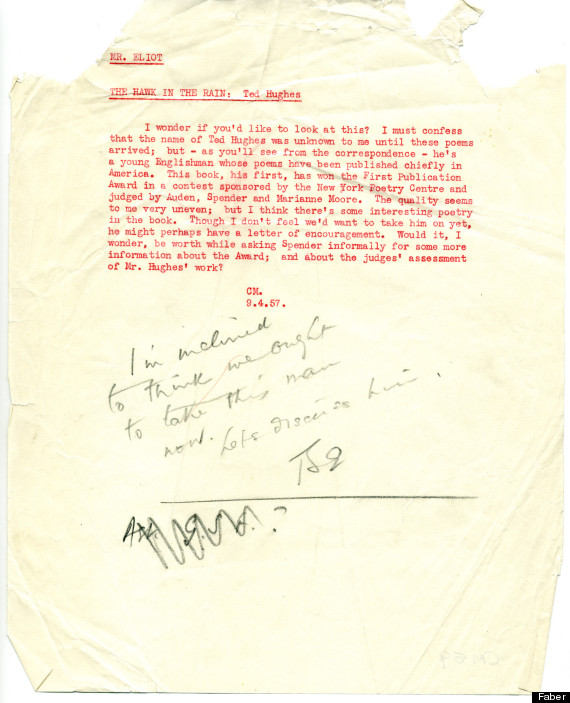 "I'm inclined to think we ought to take this man now" Eliot's views on Hughes
We've compiled our favourite images with Eliot's best quotes in the gallery below to celebrate.
"Only those who will risk going too far can possibly find out how far one can go." Photograph taken at the Faber office on Russell Square the day after Eliot's death in 1965.

"Genuine poetry can communicate before it is understood."

"Anxiety is the hand maiden of creativity."

"A toothache, or a violent passion, is not necessarily diminished by our knowledge of its causes, its character, its importance or insignificance."

"Poetry is not a turning loose of emotion, but an escape from emotion; it is not the expression of personality, but an escape from personality"

"If you aren't in over your head, how do you know how tall you are?"

"Humankind cannot bear very much reality."

"I have measured out my life with coffee spoons."

"It's strange that words are so inadequate. Yet, like the asthmatic struggling for breath, so the lover must struggle for words."

"I don't believe one grows older. I think that what happens early on in life is that at a certain age one stands still and stagnates."

"I had seen birth and death but had thought they were different."

"Let's not be narrow, nasty, and negative."

"Immature poets imitate; mature poets steal."

"People to whom nothing has ever happened cannot understand the unimportance of events."

"The bad poet is usually unconscious where he ought to be conscious, and conscious where he ought to be unconscious." Photograph taken at the Faber office on Russell Square the day after Eliot's death in 1965.

"The last thing one discovers in composing a work is what to put first."

"Some editors are failed writers, but so are most writers."

"My greatest trouble is getting the curtain up and down."

"Any poet, if he is to survive beyond his 25th year, must alter; he must seek new literary influences; he will have different emotions to express."

"There is not a more repulsive spectacle than on old man who will not forsake the world, which has already forsaken him."

"The Nobel is a ticket to one's own funeral. No one has ever done anything after he got it."

"There is no method but to be very intelligent."
Elsewhere in Culture this week...
The Bodyguard (REVIEW): Whitney Houston's Talent Lives On READ FULL STORY

Men Who Stole £500k Henry Moore Sculpture 'The Sundial' To Sell For £46 To Be Sentenced READ FULL STORY

Kraftwerk To Play Complete Studio Albums At Tate Modern READ FULL STORY

2012's Best Light Art In Pictures READ FULL STORY

Cultural Icon Of The Year 2012: Vote Now READ FULL STORY

READ FULL STORY

Jeff Goldblum On His World Of Dreams And Latest Wes Anderson Project READ FULL STORY

Elizabeth Price Wins The Turner Prize 2012 READ FULL STORY

Incredible Close-Up Snowflake Photography (PICTURES) READ FULL STORY

GDT European Wildlife Photographer Of The Year 2012 (PICTURES) READ FULL STORY

CS Lewis Facts: 11 Things You Never Knew About The Narnia Author READ FULL STORY

Yoko Ono's New Fashion Line Shows Bums, Raises Eyebrows READ FULL STORY

Pippa Middleton's Book Celebrate 'Is Terrible' Says Riders Author Jilly Cooper READ FULL STORY

Evening Standard Theatre Awards: Danny Boyle, Dame Judi Dench and Hattie Morahan Triumph READ FULL STORY

Tracey Emin Blog: Never Knew a Horse Could Be So Good for Your Soul READ FULL STORY

Making A Splash: Water Balloon Art Just Got A Make-Over READ FULL STORY

Frida Kahlo Clothing Exhibition Opens In Mexico City READ FULL STORY

Photographer Brian David Stevens' 'Graffiti Portraits' Reveals People Behind The Tags (PICTURES) READ FULL STORY

Male Nudes Exhibition To Open At Wallace Collection (PICTURES) READ FULL STORY

William Blake's Mad Wisdom To Celebrate The Great Poet's Birthday READ FULL STORY

READ FULL STORY

Photograph, Or Painting? READ FULL STORY

First Fashion Photographs Of Kate Moss, Aged 14, To Be Sold At Auction READ FULL STORY

'Head Of A Young Apostle' By Raphael To Sell For £15m At Auction READ FULL STORY

Street Artist Bambi Opens Solo Show In London READ FULL STORY

Death Exhibition Opens At Wellcome Collection READ FULL STORY

World Press Photo Contest Winners On Show At Southbank Centre READ FULL STORY

Dorothy Bohm Interview: 'I Remember Every Photograph I Take' READ FULL STORY

Urban Masters: Banksy, Shepard Fairey And Blek Le Rat Share Street Art Show In London READ FULL STORY

What Inspires Me: Judy Chicago READ FULL STORY

Where The Mangrove Grows (REVIEW): Joe Hammond's Heartbreaking Portrait Of Neglect READ FULL STORY

Sienna Miller Naked Portrait: Artist Jonathan Yeo Paints Pregnant Actress READ FULL STORY

What Inspires Me: Charlie Brooker READ FULL STORY

Forests (REVIEW): Calixto Bieito Condenses The Spirit Of Shakespeare With Nudity And Violence READ FULL STORY

Andy Golub's Body Paint: Naked Wanderers And Surreal Human Murals READ FULL STORY

Henry Moore's Draped Seated Woman Sold Off By Tower Hamlets Council To Meet Budget Cuts READ FULL STORY

How One Charity Is Tackling Complex Mental Health Problems Using The Simple Power Of Reading READ FULL STORY

How Culture Is Changing The Face Of Belfast READ FULL STORY

Tiny Ripples Look Like Giant Tidal Waves In DebM's 'Waveart' (PICTURES) READ FULL STORY

Obama Art: Paintings, Sculptures And Comics Inspired By President Barack Obama READ FULL STORY

Spencer Tunick Marks Mexico's Day Of The Dead With Usual Battalion Of Nudes (PICTURES) READ FULL STORY

'Jimmy Savile Is Innocent' Exhibition Under Fire For Sexualised Picture Of Young Girl READ FULL STORY

Kelly Brook In Forever Crazy At Crazy Horse Cabaret (REVIEW + PICTURES) READ FULL STORY

'Nude Males' Art Show At Leopold Museum Sparks Controversy: Then Sells Out... (PHOTOS) READ FULL STORY

Movember Moustaches From Great Artists And Authors READ FULL STORY

Jo Hedwig Teeuwisse's 'Ghosts Of War' World War 2 Photos (PICTURES) READ FULL STORY

'Theatre Ghost Picture Is Real' Insists Photographer Stuart Cheveralls - Are You Convinced? READ FULL STORY

Female Muses: The Inspiring Women Behind Great Artistic Men READ FULL STORY

Frida Kahlo Quotes And Pictures: Celebrating Mexico's Icon On The Day Of The Dead READ FULL STORY

'Theatre Ghost Picture Is Real' Insists Photographer Stuart Cheveralls - Are You Convinced? READ FULL STORY

Nosferatu (REVIEW): 'Lumbering' Dracula Disappoints On Halloween READ FULL STORY

War Art: 25 Artworks For Remembrance Day READ FULL STORY

Ai Weiwei's 'Gangnam Style' Dance Video Somewhat Surprises Art World READ FULL STORY

Sylvia Plath Quotes And Photos For Her Birthday! READ FULL STORY

Ramon Bruin's Anamorphosic Drawings Add A Touch Of Gothic To 3D Art READ FULL STORY

Dylan Thomas Quotes And Pictures: Happy Birthday, Dylan READ FULL STORY

Body Artist Trina Merry Makes Motorcycles Out Of Nude Models READ FULL STORY

The Art Of Being Middle Class (EXTRACT) READ FULL STORY

Alison Jackson On Obama, Assange And Why 'Reality' Doesn't Really Matter (INTERVIEW) READ FULL STORY

Meet Blink-182's Favourite Artist: Rich Simmons Sex-Inspired 'Just Be You Tiful' Show Opens In London READ FULL STORY

How To Tweet Like A Hobbit: 'The Wisdom of the Shire' By Noble Smith (EXTRACT) READ FULL STORY

Lizzy Jagger, Sir Ben Kingsley And Other Celebrities Pose Naked With Fish For Charity READ FULL STORY

Jason deCaires-Taylor's Politically-Charged Underwater Bankers Are Also Good For The Environment READ FULL STORY

Derek Eland Installs Afghanistan 'Diary Rooms' To Captures Soldiers' Stories READ FULL STORY

Veolia Environnement Wildlife Photographer Award Winners Announced (PICTURES) READ FULL STORY

Blood Artist Vincent Castiglia Reveals Gothic Paintings READ FULL STORY

Happy Birthday Oscar Wilde: 12 Quotes From Our Sharpest Ever Wit READ FULL STORY

Damien Hirst's Verity, A Statute Of A Naked Pregnant Woman, Erected In Devon READ FULL STORY

Booker Prize Award 2012 (LIVE BLOG) READ FULL STORY

David Cameron, David Hockney And Tracey Emin Draw 'Secret Postcards' For Charity: Can You Tell Spot Them? READ FULL STORY

Victorian Society Highlights 10 Most Threatened Landmarks In England And Wales (PICTURES) READ FULL STORY

Saber, World-Renowned Veteran Of LA Street Art, On Winding Up Fox News And Why He's Taking The Fight To Mitt Romney READ FULL STORY

Can You Spot The Man In This Picture? Look Closer! Camouflage Body Art By Carolyn Roper READ FULL STORY

Classic Nudes vs Live Model Update: Which Version Do You Prefer? READ FULL STORY

New Exhibition Of Original LOLCATS Raises Money For Charity: Enjoy Guilt-Free READ FULL STORY

New JRR Tolkien Book Announced: 'The Fall Of Arthur' READ FULL STORY

Mo Yan Becomes First Chinese Winner Of Nobel Prize For Literature READ FULL STORY

The Hopeless Romantic Photography Project By Julien Mauve And Pauline Ballet: The Truth About Love? READ FULL STORY

A Day In The World: 22 Countries Take Part In Largest Simultaneous Photo Exhibition Ever READ FULL STORY

The £50,000 James Bond Book READ FULL STORY

The Second Mrs Tanqueray (REVIEW): 'Poetic, Fast-Paced And Worth The Trip' READ FULL STORY

Russian Tourist Postcards Promote Gay Equality READ MORE HERE

Optical Illusion Photography Sees Man Play Basketball With Moon READ MORE HERE

Bob Egan's 'Popspots' Returns Classic Pop Album Covers To Their Original Locations READ MORE HERE

Nuart Festival 2012: World's Greatest Street Artists Descend On Norway (PICTURES) READ MORE HERE

Archaeologists Discover 'Skeleton Of Mona Lisa' READ MORE HERE

Illustrator David Shrigley Opens New Psychiatry-Based Show READ MORE HERE

Peter Blake's Sgt Pepper's Lonely Hearts Club Band Collage To Fetch £80,000 At Auction READ MORE HERE

New Barbican Show Gives Visitors Power Over Rain READ MORE HERE

Intricate Penny Art By Jacqueline Lou Skaggs READ MORE HERE

Turner Prize 2012 (REVIEW): Strip Away The Poo And The Theatrics And This Is A Solid Year For The Turner READ MORE HERE

Alison Jackson's Latest Political Spoofs See Julian Assange Play Cards With Hilary Clinton And Obama And Romney Fight It Out

Queen Portrait By Australian Artist Ralph Heimans Revealed

National Geographic Photography Competition: Earth At Its Most Beautiful

The Five Books You Meet At University

Photographer Dimitry Dubikovskiy Captures 'UFO Clouds'

Famous Writers When They Were Young (QUIZ)

'Skins' Photographer Ewen Spencer Opens New Show

T.S. Eliot's Best Quotes On The Poet's Birthday

Let It Be (REVIEW): Beatlemania Hits The West End

JK Rowling's The Casual Vacancy: Review Roundup

READ THE STORY: Optical Illusion: Black And White Snap Will Melt Your Mind

READ THE STORY: Enter The World Of The Moth-Man - If You Dare...

READ THE STORY: SamSam The Bubbleman Shows Off His Skill In London

READ THE STORY: Autistic Savant Daniel Tammet: What Books Mean To A Genius

READ THE STORY: Dapper Authors And Artists Who Knew A Thing Or Two About Fashion

READ THE STORY: 'I Don't Mind Page 3, Actually...' A Grown Up Chat With Britain's Best-Loved Children's Author

READ THE STORY: Erotic Art From Ancient China Goes On Display

READ THE STORY: Man Ray: Legendary Photographer To Star At National Portrait Gallery

READ THE STORY: Page 3: The Art Edition, An Alternative Suggestion For The Sun

READ THE STORY: Talk Like A Pirate Day: Literature's Most Fearsome Seadogs

IMAGE: From '60 Amazing Optical Ilusions - Don't Believe Your Eyes'

IMAGE: From 'The 5 Greatest Roald Dahl Moments'

IMAGE: From 'Hedda Gabler (REVIEW): Sheridan Smith Takes On The 'Female Hamlet''

IMAGE: From 'Meet Five, The Painting Elephant'

IMAGE: From 'Guy Whitby, Aka WorkByKnight's Amazing Keyboard Portraits'

IMAGE: From 'Artist Simon Beck Creates Snow 'Crop Circles' Using His Foot And A Compass'

IMAGE: From 'New Exhibition Explores Influence Of Punk Movement On Art And Graphic Design (PICTURES)'

IMAGE: From 'James Bond Photographer Terry O'Neill On Life Behind The Scenes (PICTURES)'

IMAGE: From 'Tate Britain Curator Claims Millais's 'Isabella' Contains Hidden Phallic Symbols'

IMAGE: From 'Kate Tempest: 'I Want To Talk To The People Who Don't Want To Listen'