Scroll down for some of the best news and sports pictures from around the world, brought to you by the Huffington Post's own picture editors Elliot Wagland, Matthew Tucker and Tahira Mirza:
26/09/2012 16:55 BST
TEE OFF......ALMOST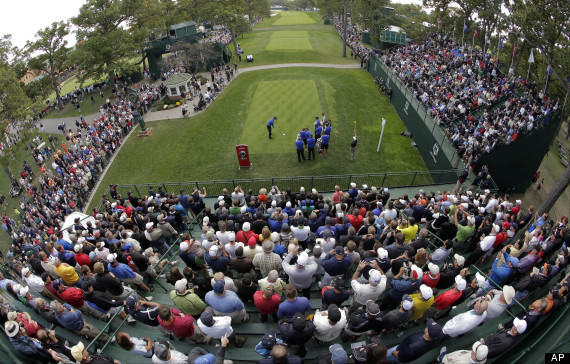 Europe's Justin Rose tees off on the first hole during a practice round at the Ryder Cup PGA golf tournament Wednesday, Sept. 26, 2012, at the Medinah Country Club in Medinah, Ill. (AP Photo/Charlie Riedel)
26/09/2012 16:42 BST
ATHENS PROTESTS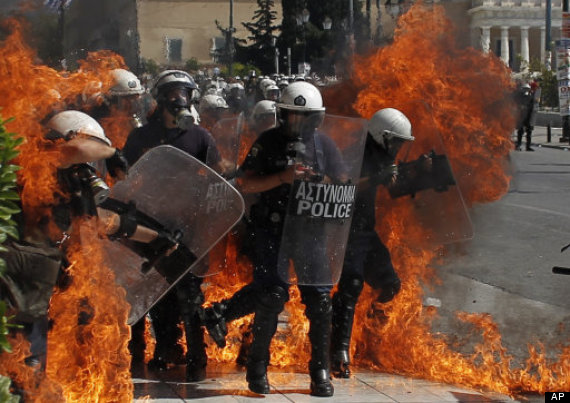 A fire bomb explodes among riot police during clashes in Athens Wednesday Sept. 26, 2012. Greek workers walked off the job Wednesday for the first general strike since the country's coalition government was formed in June, as the prime minister and finance minister hammered out a package of euros 11.5 billion ($14.87 billion) in spending cuts. (AP)
26/09/2012 15:04 BST
WICKED QUEEN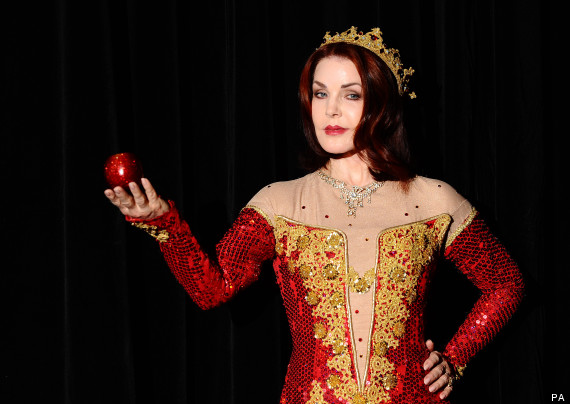 Priscilla Presley is dressed as the Wicked Queen at the launch of Snow White and the Seven Dwarfs which will start on 7th of December 2012 at the New Wimbledon Theatre in London.
26/09/2012 12:33 BST
SPANGLES THE CROSS-EYED CAT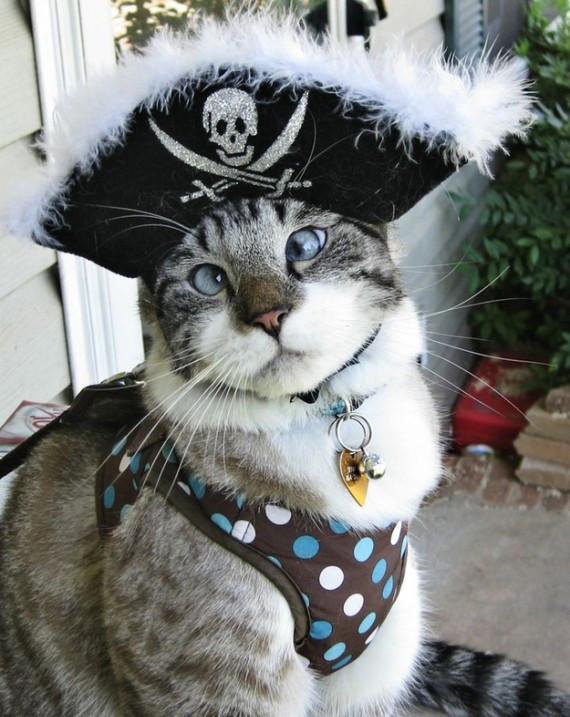 Meet Spangles, the three-year-old feline who is causing Facebook users to pound the "Like" button. He's crossed eyed. He's a cat. And he likes to dress up as a pirate.
26/09/2012 12:07 BST
VICTIM OF THE UK WEATHER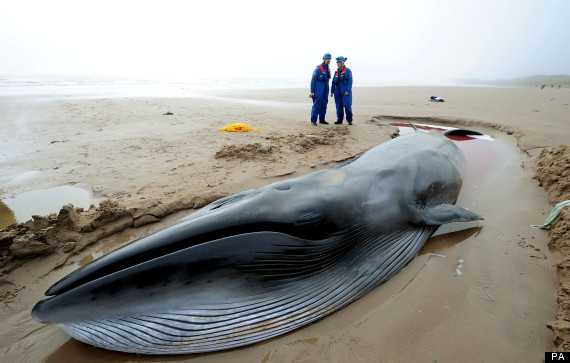 A 26ft minke whale washed up after gale force winds and high seas at Druridge Bay, Northumberland. The whale is alive but in a poor condition, the British Divers Marine Life Rescue charity said. We have people down there at the moment and a local vet is on her way, said the spokeswoman. Photo credit: Owen Humphreys/PA
26/09/2012 11:45 BST
2012 NATIONAL GEOGRAPHIC PHOTOGRAPHY CONTEST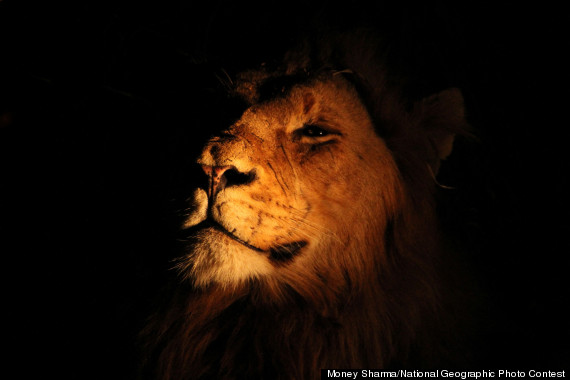 National Geographic Magazine Launches 2012 Photography Contest - images of entries vying for the top prize.
26/09/2012 11:16 BST
OKTOBERFEST IS HERE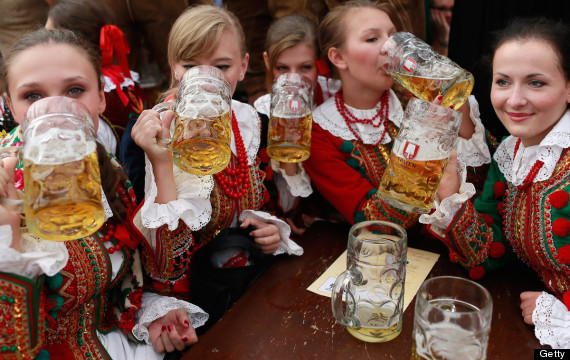 Polish girls, dressed with traditional Polish costume enjoy drinking beer after participating in the opening parade during day 2 of Oktoberfest beer festival on September 22, 2012 in Munich, Germany.This year's edition of the world's biggest beer festival Oktoberfest will run until October 7, 2012. (Photo by Johannes Simon/Getty Images)
26/09/2012 11:10 BST
SYRIAN CONFLICT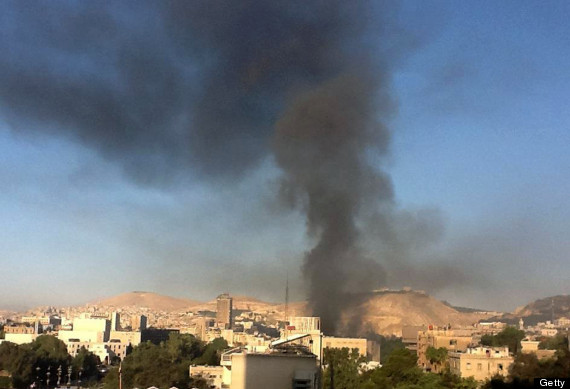 Smoke rises from the site of an explosion in Damascus on September 26, 2012. Bombers struck the heart of Damascus early September 26 setting off twin explosions near the headquarters of the armed forces general staff, state media said. (AFP PHOTO)
26/09/2012 10:53 BST
TRADITIONAL TATTOOS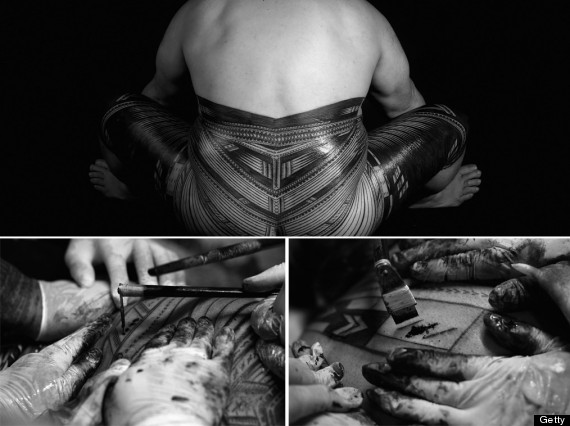 Clyde Cowley displays his pe'a, a traditional Samoan tattoo during a photoshoot on September 26, 2012 in Auckland, New Zealand.
26/09/2012 10:41 BST
REBEKAH BROOKS ARRIVES IN COURT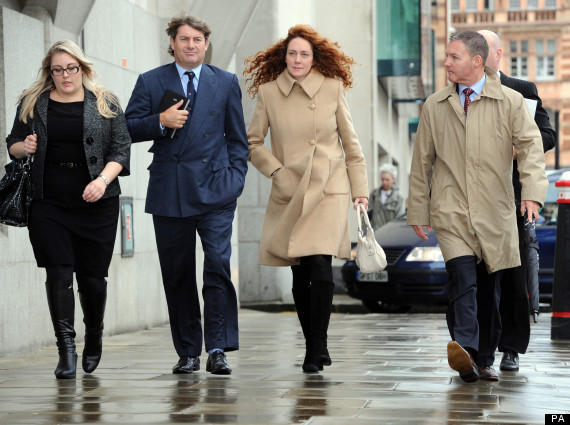 Rebekah Brooks and husband Charlie Brooks (second left) arrive at the Old Bailey in London to face charges linked to the investigation into phone hacking. Picture date: Wednesday September 26, 2012. (PA)
SUBSCRIBE TO & FOLLOW UK DAILY BRIEF