They've got through the audition rounds, they've made it through Boot Camp, now the X Factor finalists can relax - for a while - at their respective judges' houses.
Not everyone's happy, with ousted contestant Joseph Whelan complaining the whole thing's "a fix". Read more here...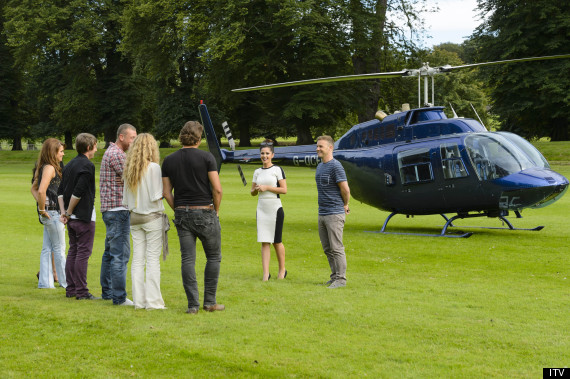 Here they are, with Gary Barlow's team getting a surprise visit from someone who can tell them exactly how they should behave to get ahead on the talent show... and Louis getting all the help he needs too!
Loading Slideshow
X_FACTOR_JUDGES_HOUSES_75

X_FACTOR_JUDGES_HOUSE_Rylan_49

X_FACTOR_JUDGES_HOUSES_77

X FACTOR JUDGES HOUSES

X_FACTOR_JUDGES_HOUSES_79

X_FACTOR_JUDGES_HOUSES_78

X_FACTOR_JUDGES_HOUSES_76

X_FACTOR_JUDGES_HOUSES_74

X_FACTOR_JUDGES_HOUSES_64

X FACTOR JUDGES HOUSES

X FACTOR JUDGES HOUSE

X FACTOR JUDGES HOUSE Union J

X FACTOR JUDGES HOUSE Times Red

X FACTOR JUDGES HOUSE Times Red

X FACTOR JUDGES HOUSE Rylan

X FACTOR JUDGES HOUSE Poisonous Twin

X_FACTOR_JUDGES_HOUSE_Poisonous_Twin_47

X_FACTOR_JUDGES_HOUSE_Overs_46

X_FACTOR_JUDGES_HOUSE_Nicola_Marie_45

X_FACTOR_JUDGES_HOUSE_Nicola_Marie_44

X_FACTOR_JUDGES_HOUSE_Nathan_43

X_FACTOR_JUDGES_HOUSE_Nathan_42

X_FACTOR_JUDGES_HOUSE_MK1_41

X_FACTOR_JUDGES_HOUSE_MK1_40

X_FACTOR_JUDGES_HOUSE_Mitsotu_39

X_FACTOR_JUDGES_HOUSE_Mitsotu_38

X_FACTOR_JUDGES_HOUSE_Lucy_35

X_FACTOR_JUDGES_HOUSE_Lucy_34

X_FACTOR_JUDGES_HOUSE_Leanne_33

X_FACTOR_JUDGES_HOUSE_Leanne_32

X_FACTOR_JUDGES_HOUSE_Kye_31

X_FACTOR_JUDGES_HOUSE_Kye_30

X_FACTOR_JUDGES_HOUSE_James_29

X_FACTOR_JUDGES_HOUSE_James_28

X_FACTOR_JUDGES_HOUSE_Jake_27

X_FACTOR_JUDGES_HOUSE_Jake_26

X_FACTOR_JUDGES_HOUSE_Jahmene_25

X_FACTOR_JUDGES_HOUSE_Jahmene_24

X_FACTOR_JUDGES_HOUSE_Jade_E_23

X_FACTOR_JUDGES_HOUSE_Jade_C_22

X_FACTOR_JUDGES_HOUSE_Jade_C_21

X_FACTOR_JUDGES_HOUSE_Jade_20

X_FACTOR_JUDGES_HOUSE_Groups_18

X_FACTOR_JUDGES_HOUSE_GMD3_17

X_FACTOR_JUDGES_HOUSE_GMD3_16

X_FACTOR_JUDGES_HOUSE_Girls_15

X_FACTOR_JUDGES_HOUSE_Ella_14

X_FACTOR_JUDGES_HOUSE_Ella_13

X_FACTOR_JUDGES_HOUSE_Duke_13

X_FACTOR_JUDGES_HOUSE_Duke_12

X_FACTOR_JUDGES_HOUSE_Christopher_11