Hats off to the... er... madly funny people at Mad magazine for this hilarious spoof - which uses a parody of Saul Steinberg's iconic 1976 New Yorker cover to poke fun at the much-maligned Apple Maps app...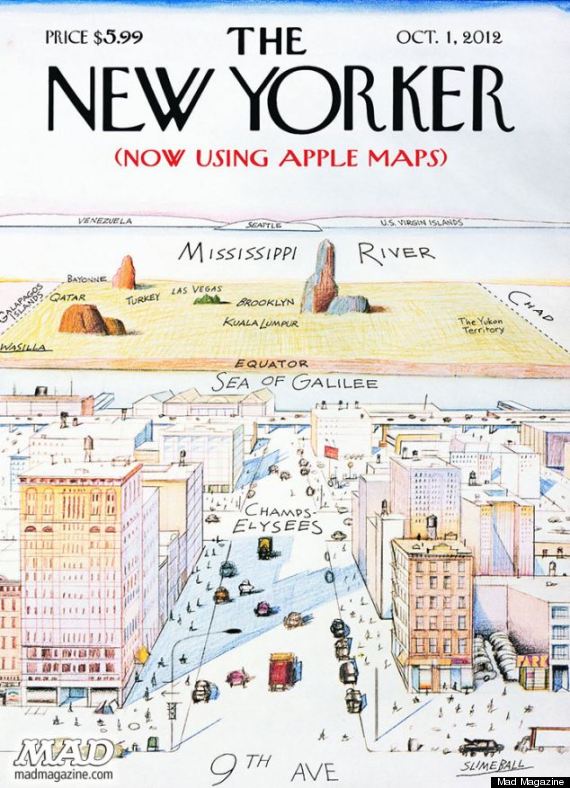 Referencing the app's apparent penchant for inaccurately displaying the geography of cities and countries, Mad's cover turns the Hudson River into the Sea of Galilee, while Canada becomes Chad. Ha!
Of course, we should point out that other Apple spoofs are available. Like this one, for example...
And if you want to see some of Apple Maps' epic bloopers, check out our favourite 10 so far...
Apple was just as distraught as you when Woolworths shut down. So they brought it back. Our Price, Electronics Boutique and other defunct stores are also listed.

Apple removed public transport search from its new Map app - but included Aldwych Station which has been closed since 1994. And was never in Lincoln's Inn. Also, the Sir John Soane museum is not located in the Fields, but around the edge of the square.

Apple's new maps seem to not know that Shakespeare's birth place exists.

Apple has decided to stay out of the whole Falklands/Las Malvinas debate by removing all directions, roads and towns from the islands.

Apple has turned the ancient spires and colleges of Cambridge into a wasteland with its recent Maps app. And has moved Downing College from the outskirts of the town into the centre - miles from its actual location.

This greengrocers is listed on Apple's maps - but has been closed for 15 years.

This man's 35-acre city farm is named Airfield. It is not an Air Field - but Apple has decided otherwise.

The Apple store in Sydney is listed as being on the other side of the road than it really is. Oops.

The marina of St. Katherine's Dock is now filled with cement, according to Apple.

The town of Hagley is listed as being the town of Dudley - at least seven miles away.

The town of Uckfield is almost entirely missing from Apple's Maps.