Things you don't want to see in the deli counter of your local supermarket No.1: a large rat eyeing up the cheese.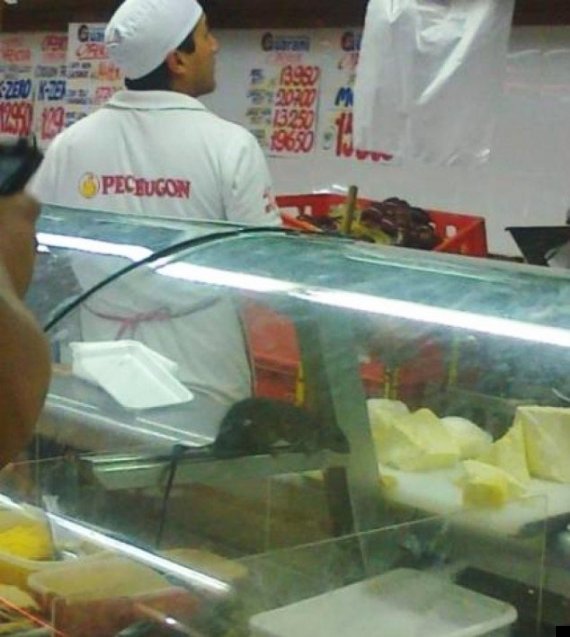 However, as you can see, that's what happened in one Paraguay store a few weeks ago. And a horrified shopper did exactly what any of us would do in the same situation: he took a photograph then posted it on Twitter. Oh, and presumably he went elsewhere to buy his cheese.
(Do feel free to insert your own "ratatouille" joke here.)
Unsurprisingly, the snap went viral - and the shop was swiftly closed down, pending an investigation by health officials, reports Twentytwowords.com.
Want more shocking/funny/shockingly funny pictures? Coming right up...
Loading Slideshow
Nick Clegg and his wife Miriam engage in a not-at-all-awkward kiss at the Lib Dem conference.

Britain - the big man of Europe, but the small man everywhere else.

The Pope suffers a wardrobe malfunction. Gust of wind - or act of God?

Barack Obama - never knowingly under-animated.

See what we mean?

Damian Lewis's Emmy success leaves him literally floating on air.

"No, YOU tell ME what 'Magna Carta' means!"

Honestly, the lengths some people will go to to get a phone signal.

Another typical day at the beach for Britons this week.

Is it just us, or is Hillary Clinton flirting with William Hague?

Yep. Definitely flirting.

Stop! Duke of Edinburgh time!

Got myself a cryin', walkin', sleepin', talkin', livin' doll! And her name is Nicki Minaj.

The 2012 London Triathlon causes controversy when it replaces swimming with 'wife-carrying'.

14633869

"Now who wants to give me the kiss of life? You - the pretty one!"

The Duke and Duchess of Cornwall - now stepping out in 'his 'n' her' matching outfits. Aww.

Lily Cole arrives at the Peace One Day Concert - then suddenly remembers she left the iron on.

We don't blame you, kid. We don't blame you at all.

Nick Clegg's election face.

Animal photobomb of the week - and possibly the whole year: a stingray gets in on the act.