Are we ever truly free of our past? The question playwright Arthur Wing Pinero asked over a century ago in The Second Mrs Tanqueray: a tale of destructive jealousy and the sins of a former life.
Director Stephen Unwin has awoken this classic at the Rose Theatre Kingston after an extensive slumber - the last major revival was over 30 years ago at the National Theatre starring Felicity Kendal.
By the end of the 19th century, theatre was full of fallen women; central characters involved in moral dilemmas of lost virtue - The Second Mrs Tanqueray, first performed in 1893, was no exception.
After the death of Aubrey Tanqueray's (James Wilby) first wife, the widower finds rekindled love in his second Mrs Tanqueray: Paula Jarman (Laura Michelle Kelly). Confident, lively and tactile, Paula flies in the face of stuffy Victorian values.
A woman of the world, with experience gained from an unspoken and unsavoury past, Paula embarks on her marriage with Aubrey, her heart set on being reborn into respectable society. However, Mrs Tanqueray's white elephant refuses to leave the stage: once a fallen woman, always a fallen woman.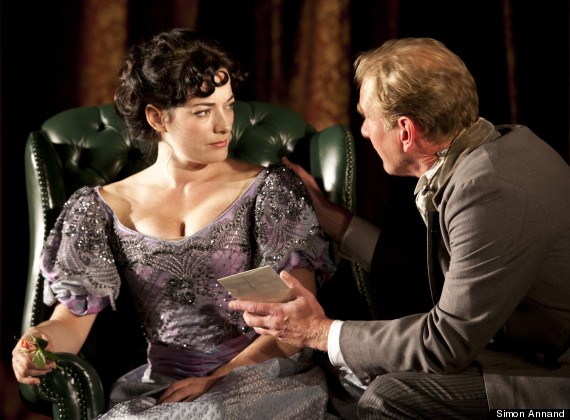 Laura Michelle Kelly, James Wilby

The woody smell of cigar-smoke fills the theatre as whiskered and waistcoated gentleman guffaw over Aubrey's departure from bachelorhood, on the eve of his wedding.
Once Laura Michelle Kelly breezes on to stage, bringing carefree femininity, Pinero's tale begins to soar.
Kelly holds the play in the palm of her hand: beguiling, jealous, catty, repentant - a woman in private turmoil. "Hurt me!" she exclaims at one point to Aubrey, squaring up to him, as she battles with self-destruction. The actress carries a raw and natural air to her performance.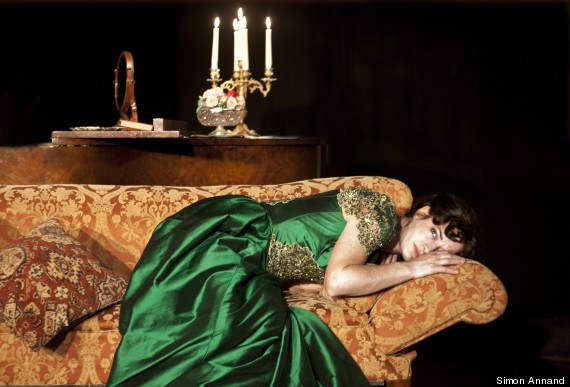 Laura Michelle Kelly

The cast of The Second Mrs Tanqueray is strong. With almost as much time on stage as Kelly, James Wilby succeeds as a man torn between true love and societal expectations. Rona Morrison plays the confused daughter with touching vulnerability.
A performance in danger of upstaging the leading lady is that of Sally Tatum as the scatty Mabel, providing light comedy, whilst steering clear from making her character farcical.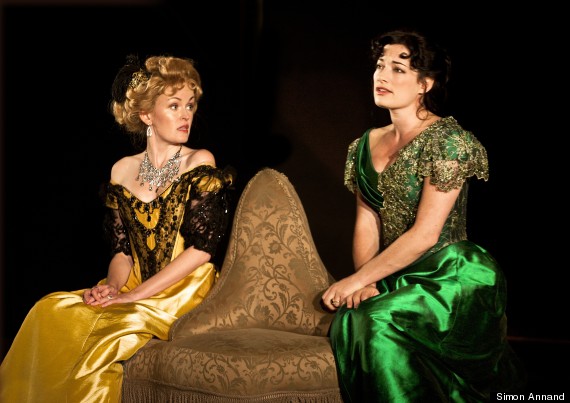 Sally Tatum, Laura Michelle Kelly

Despite the stiff competition of Pinero's contemporaries, Oscar Wilde and George Bernard Shaw, the author is considered by many to be the leading British playwright of the Victorian and Edwardian era.
Pinero's writing is direct, unflinching and refreshingly free of exposition - like a man in a rush, he has his story to tell and his views to make. The dialogue is poetic, rhythmical, yet still believable as conversation of the age. The result makes The Second Mrs Tanqueray fast-paced and hugely accessible.
Rose Theatre Kingston is a trip out of town - worth the extra travel time to your journey, where you can beat the West End crush and enjoy a solid piece of theatrical history.
The Second Mrs Tanqueray is running at the Rose Theatre Kingston, London, 27 Sep 2012 - 27 Oct 2012.
Take a look at all of HuffPost UK's theatre reviews:
Loading Slideshow
'Leaving Planet Earth' And 'Long Distance Affair', Edinburgh Festival

<a href="http://www.huffingtonpost.co.uk/2013/09/01/edinburgh-festival-review_n_3852176.html" target="_blank"><strong>CLICK TO READ REVIEW.</strong></a>

The Tragedy of Coriolanus, Beijing People's Art Theatre, Edinburgh International Festival

<a href="http://www.huffingtonpost.co.uk/2013/08/23/the-tragedy-of-coriolanus_n_3806736.html?utm_hp_ref=uk-culture" target="_blank"><strong>CLICK TO READ REVIEW.</strong></a>

Charlie and the Chocolate Factory, Theatre Royal Drury Lane

<a href="http://www.huffingtonpost.co.uk/matthew-tucker/charlie-chocolate-factory_b_3502220.html" target="_blank"><strong>CLICK TO READ REVIEW</strong></a>

The Cripple of Inishmaan, Noel Coward Theatre

<a href="http://www.huffingtonpost.co.uk/2013/06/26/the-cripple-of-inishmaan_n_3465766.html" target="_blank"><strong>CLICK TO READ REVIEW</strong></a>

Sweet Bird of Youth, The Old Vic

<a href="http://www.huffingtonpost.co.uk/2013/06/17/sweet-bird-of-youth_n_3455786.html" target="_blank"><strong>CLICK TO READ REVIEW</strong></a>

Passion Play, Duke of York's Theatre

<a href="http://www.huffingtonpost.co.uk/2013/06/09/passion-play-review_n_3412558.html" target="_blank"><strong>CLICK TO READ REVIEW.</strong></a>

Fallen In Love, The Tower of London

<a href="http://www.huffingtonpost.co.uk/2013/05/18/fallen-in-love-review-anne-boleyn_n_3298805.html" target="_blank"><strong>CLICK TO READ REVIEW.</strong></a>

Proof, The Menier Chocolate Factory

<a href="http://www.huffingtonpost.co.uk/2013/03/30/proof-review_n_2955940.html" target="_blank"><strong>CLICK TO READ REVIEW.</strong></a>

Peter And Alice, Noel Coward Theatre

<a href="http://www.huffingtonpost.co.uk/2013/03/26/peter-and-alice-review_n_2956014.html?utm_hp_ref=uk-culture" target="_blank"><strong>CLICK TO READ REVIEW.</strong></a>

The Winslow Boy, The Old Vic

<a href="http://www.huffingtonpost.co.uk/2013/03/22/the-winslow-boy-review_n_2908079.html?utm_hp_ref=uk-culture" target="_blank"><strong>CLICK TO READ REVIEW.</strong></a>

The Audience, Gielgud Theatre

<a href="http://www.huffingtonpost.co.uk/2013/03/07/the-audience-review_n_2828362.html" target="_blank"><strong>CLICK TO READ REVIEW.</strong></a>

Macbeth, Trafalgar Studios

<a href="http://www.huffingtonpost.co.uk/2013/02/26/macbeth-review-james-mcavoy_n_2768388.html"><strong>CLICK TO READ REVIEW.</strong></a>

Desolate Heaven, Theatre503

<a href="http://www.huffingtonpost.co.uk/2013/02/10/desolate-heaven-review_n_2658709.html"><strong>CLICK TO READ REVIEW.</strong></a>

The Showstoppers, Royal Albert Hall

<a href="http://www.huffingtonpost.co.uk/2013/02/06/the-showstoppers-review_n_2616047.html"><strong>CLICK TO READ REVIEW.</strong></a>

Old Times, Harold Pinter Theatre

<a href="http://www.huffingtonpost.co.uk/2013/01/31/old-times-review-kristin-scott-thomas_n_2594377.html"><strong>CLICK TO READ REVIEW.</strong></a>

Cirque Du Soleil's Kooza, Royal Albert Hall

<a href="http://www.huffingtonpost.co.uk/2013/01/21/cirque-du-soleils-kooza-review_n_2521495.html"><strong>CLICK TO READ REVIEW.</strong></a>

The Bodyguard, Adelphi Theatre

<a href="http://www.huffingtonpost.co.uk/2012/12/06/the-bodyguard-review_n_2250701.html" target="_hplink"><strong>CLICK TO READ REVIEW.</strong></a>

We Are Most Amused, Royal Albert Hall

<a href="http://www.huffingtonpost.co.uk/2012/11/28/blackadder-return-review_n_2207930.html" target="_hplink"><strong>CLICK TO READ REVIEW.</strong></a>

Kiss Me Kate, Old Vic

<a href="http://www.huffingtonpost.co.uk/2012/11/27/kiss-me-kate-old-vic-review_n_2201155.html" target="_hplink"><strong>CLICK TO READ REVIEW.</strong></a>

Unleashed, Barbican

<a href="http://www.huffingtonpost.co.uk/2012/11/24/unleashed-review_n_2184691.html" target="_hplink"><strong>CLICK TO READ REVIEW.</strong></a>

The Upstairs Room, King's Head Theatre

<a href="http://www.huffingtonpost.co.uk/2012/11/20/the-upstairs-room-review_n_2167940.html" target="_hplink"><strong>CLICK TO READ REVIEW.</strong></a>

The Dark Earth And Light Sky, Almeida Theatre

<a href="http://www.huffingtonpost.co.uk/2012/11/19/the-dark-earth-and-the-light-sky_n_2161070.html" target="_hplink"><strong>CLICK TO READ REVIEW.</strong></a>

Where The Mangrove Grows, Theatre503

<a href="http://www.huffingtonpost.co.uk/2012/11/12/where-the-mangrove-grows_n_2118923.html" target="_hplink"><strong>CLICK TO READ REVIEW.</strong></a>

Forests, Barbican

<a href="http://www.huffingtonpost.co.uk/2012/11/07/naked-shakespeare-forests-review_n_2087315.html" target="_hplink"><strong>CLICK TO READ REVIEW.</strong></a>

Uncle Vanya, Vaudeville Theatre

<a href="http://www.huffingtonpost.co.uk/2012/11/05/uncle-vanya-review-anna-friel_n_2076358.html" target="_hplink"><strong>CLICK TO READ REVIEW.</strong></a>

Forever Crazy Starring Kelly Brook, Crazy Horse Cabaret

<a href="http://www.huffingtonpost.co.uk/2012/11/02/kelly-brook-cabaret-show-forever-crazy-review_n_2063878.html#slide=1712838"><strong>CLICK TO READ REVIEW</strong></a>

Nosferatu, Barbican

<a href="http://www.huffingtonpost.co.uk/2012/10/31/nosferatu-review_n_2053085.html" target="_hplink"><strong>CLICK TO READ REVIEW.</strong></a>

The River, Royal Court Theatre

<a href="http://www.huffingtonpost.co.uk/2012/10/28/the-river-review_n_2036119.html" target="_hplink"><strong>CLICK TO READ REVIEW.</strong></a>

Michael Clark's Company - New Work, Barbican

<a href="http://www.huffingtonpost.co.uk/2012/10/19/michael-clark-company-new-work-2012-review_n_1984549.html" target="_hplink"><strong>CLICK TO READ REVIEW.</strong></a>

Ding Dong The Wicked, Royal Court Theatre

<a href="http://www.huffingtonpost.co.uk/2012/10/10/ding-dong-the-wicked-review_n_1956042.html" target="_hplink"><strong>CLICK TO READ REVIEW.</strong></a>

The Second Mrs Tanqueray, Rose Theatre Kingston

<a href="http://www.huffingtonpost.co.uk/2012/10/08/the-second-mrs-tanqueray-review_n_1949503.html" target="_hplink"><strong>CLICK TO READ REVIEW.</strong></a>

Timeless Tales, Christ Church Spitalfields

<a href="http://www.huffingtonpost.co.uk/2012/10/07/timeless-tales-review_n_1946667.html" target="_hplink"><strong>CLICK TO READ REVIEW.</strong></a>

Our Boys, Duchess Theatre

<a href="http://www.huffingtonpost.co.uk/2012/10/04/our-boys-review_n_1938732.html" target="_hplink"><strong>CLICK TO READ REVIEW.</strong></a>

Charley's Aunt, Menier Chocolate Factory

<a href="http://www.huffingtonpost.co.uk/2012/10/01/charleys-aunt-review_n_1930941.html" target="_hplink"><strong>CLICK TO READ REVIEW.</strong></a>

A Chorus of Disapproval, Harold Pinter Theatre

<a href="http://www.huffingtonpost.co.uk/2012/09/30/a-chorus-of-disapproval-review_n_1927155.html" target="_hplink"><strong>CLICK TO READ REVIEW.</strong></a>

Let It Be, Prince of Wales Theatre

<a href="http://www.huffingtonpost.co.uk/2012/09/24/let-it-be-review-beatlemania-hits-the-west-end_n_1911281.html" target="_hplink"><strong>CLICK TO READ REVIEW.</strong></a>

Mademoiselle Julie, Barbican

<a href="http://www.huffingtonpost.co.uk/2012/09/20/mademoiselle-julie-review_n_1902105.html" target="_hplink"><strong>CLICK TO READ REVIEW.</strong></a>

Three Sisters, Young Vic

<a href="http://www.huffingtonpost.co.uk/2012/09/13/three-sisters-review-young-vic_n_1882599.html" target="_hplink"><strong>CLICK TO READ REVIEW.</strong></a>

Philadelphia, Here I Come!, Donmar Warehouse

<a href="http://www.huffingtonpost.co.uk/2012/08/01/philadelphia-here-i-come-review_n_1726879.html" target="_hplink"><strong>CLICK TO READ REVIEW.</strong></a>

Ten Billion, Royal Court Theatre

<a href="http://www.huffingtonpost.co.uk/2012/07/18/countdown-to-ten-billion_n_1684762.html" target="_hplink"><strong>CLICK TO READ REVIEW.</strong></a>

A Doll's House, young Vic

<a href="http://www.huffingtonpost.co.uk/2012/07/10/a-dolls-house-the-young-vic-review_n_1661048.html" target="_hplink"><strong>CLICK TO READ REVIEW.</strong></a>

Land of Giants, Titanic Causeway, Belfast

<a href="http://www.huffingtonpost.co.uk/2012/07/01/land-of-giants-belfast-2012-art-show_n_1641600.html" target="_hplink"><strong>CLICK TO READ REVIEW.</strong></a>

The Last of the Haussmans, National Theatre

<a href="http://www.huffingtonpost.co.uk/2012/06/20/julie-walters-returns-to-_n_1611164.html" target="_hplink"><strong>CLICK TO READ REVIEW.</strong></a>

Posh, Royal Court Theatre

<a href="http://www.huffingtonpost.co.uk/2012/06/17/laura-wade-posh-review_n_1603638.html" target="_hplink"><strong>CLICK TO READ REVIEW.</strong></a>

Gross und Klein, Barbican

<a href="http://www.huffingtonpost.co.uk/2012/05/14/cate-blanchett-on-stage-gross-und-klein_n_1514595.html" target="_hplink"><strong>CLICK TO READ REVIEW.</strong></a>



The Second Mrs Tanqueray (REVIEW)

Director Stephen Unwin has awoken this classic at the Rose Theatre Kingston, after an extensive slumber - the last major revival was over 30 years ago at the National Theatre starring Felicity Kendal.


Written by: Matthew Tucker


The Second Mrs Tanqueray, Rose Theatre Kingston

Date published: 10/09/2012


4 / 5 stars