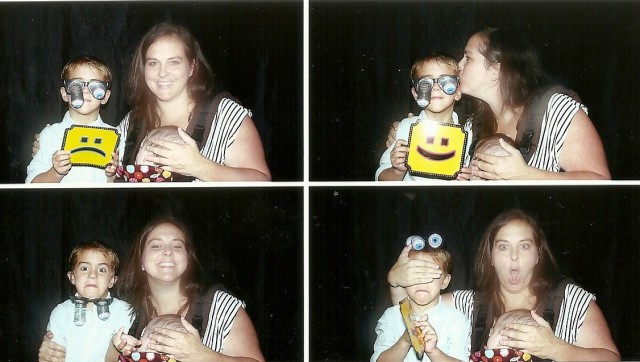 When mother-of-four Allison Tate admitted that she didn't want to have her photo taken with her son, the reaction to her HuffPost blog last Saturday was astonishing.
Instead of a few 'I hear you, sister' comments, she managed to start a mini campaign that has seen thousands of women come forward with photos of themselves AND their child.
Scroll down to see readers' photos
Ms Tate admitted that, since having her children, she avoids photographic evidence of her existence, and her words resonated with mums across America.
To date, the story has been shared on Facebook 139,400 times and tweeted by more than 14,000 people.
"When I see myself in pictures, it makes me wince. I know I am far from alone; I know that many of my friends also avoid the camera," Tate wrote in her blog.
"I'm still carrying a fair amount of baby weight and wearing a nursing bra, and I don't fit into my cute clothes. I felt awkward and tired and rumpled."
According to Tamsin Kelly, editor of Parentdish, it's natural to put your child first.
"You think, 'Who would want to see a photograph of me, tired, food-stained, carrying some extra weight, when they could see my beautiful child instead?'
"You're also feeling, quite often, a certain amount of disappointment at your own changing looks and definitely not wanting to record that change."
She also recognises that mums are quite often the ones left holding the cameras.
"We call it the 'invisible mum' syndrome. But it is sad – our loved ones don't care whether we don't measure up to our image of ourselves, they just want to remember us being there and enjoying the occasion with them."
Based on the tremendous response that HuffPost has had to the post, we're extending their challenge to encourage UK mums to get in the picture. Read some of the most moving reactions here, and submit your photos to the gallery below.
SUBSCRIBE TO & FOLLOW UK LIFESTYLE