Network bosses at Greece's state television network have come under fire from politicians and gay rights groups for editing a same sex kiss out of the local broadcast of period drama 'Downton Abbey' earlier this week.

NET channel executives opted not to show the gay kiss between a visiting duke and Rob James-Collier's scheming footman character, Thomas, citing parental guidance viewing rules.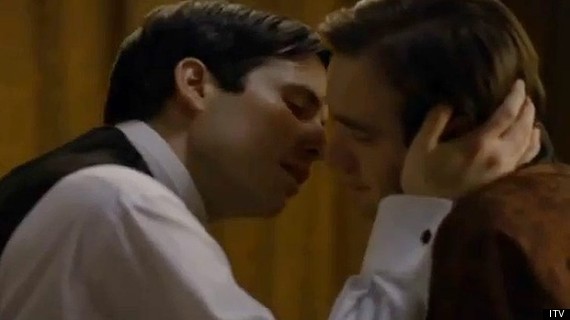 Downton's got a worldwide fanbase, but the Greeks didn't like this bit

But leading politicians for the country's opposition party have lashed out at the decision, insisting the scene was unnecessarily censored.

A statement from SYRZIA party officials reads: "As incredible as it may seem for a democratic country in the 21st century, officials of the NET television channel censored the scene of a kiss between men from the TV drama 'Downton Abbey'. This is of course an obvious case of censorship, an extreme act of homophobia and discrimination."

Greek state television bosses insist the kiss was not censored, but edited out of the broadcast to comply with rules regarding the primetime slot. They planned to re-air the episode, unedited, on Tuesday at a later time.
Some hopefully inoffensive pics of Downton Abbey Series 3...
Downton's new footman Alfred Nugent

Lady Mary, Lady Sybil and Anna

Earl Of Grantham, Robert

Alfred Nugent

Mrs Hughes

Mrs Hughes and Mr Carson

Dinner downstairs

Mrs Hughes and O'Brien

Alfred Nugent

Mr Carson

Mr Carson

O'Brien

O'Brien

Tom Branson

Anna Bates and Thomas Barrow

Carson and O'Brien

Daisy

Thomas and Daisy

Alfred Nugent

Robert

Robert

Robert and Carson

Robert and Carson

Lady Edith

Anthony Strallan

Lady Edith and Anthony Strallan

Lady Edith

Anna and Bates

Bates

Anna

Anna

Shirley MacLaine as Martha Levinson

Shirley MacLaine as Martha Levinson

Shirley MacLaine as Martha Levinson

Ever, ever swear: 'It is always better to speak politely, that is with extreme propriety and delicacy, than coarsely, sulkily, or impertinently.' A rule passionate Lady Mary often breaks!