Among the superstitious, it is said a resident ghost in a theatre is a sign of good fortune.
If that's true then Tottenham Court Road's Dominion Theatre may be one of the luckiest theatres in London after a photo has emerged of a supposed ghost lurking in its stalls.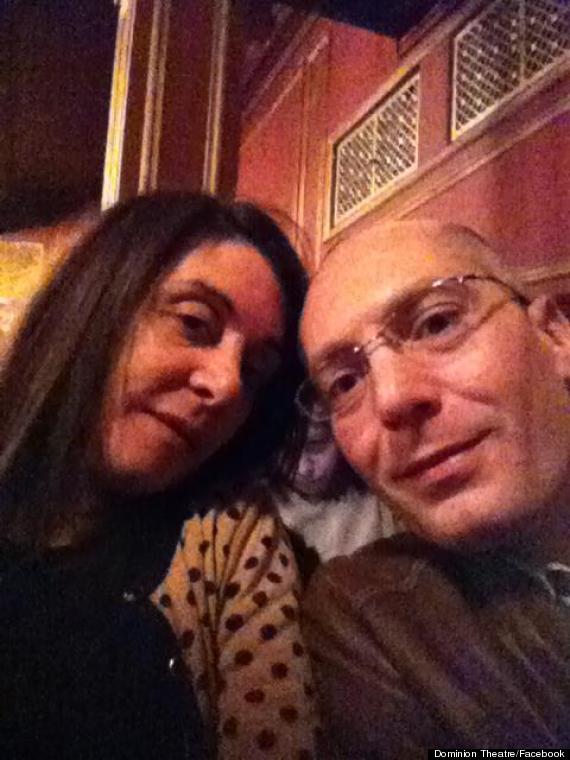 Dominion Theatre visitors with an unexpected photo-bombing ghost.
The chilling photo was taken by We Will Rock You patron Stuart Cheveralls and uploaded on to the theatre's Facebook page.
Irrefutable proof of the afterlife? Add the real life events surrounding the site of the theatre, and you have what may be a compelling case.
History tells of a terrible disaster 114 years before the Dominion was built, when the Meux and Company Brewery occupied the same site as the present building.
On 17 October 1814 a huge vat containing 3,550 barrels of beer - over a million pints - ruptured, causing a tsunami of alcohol to sweep the area, flattening buildings and killing those in its path.
An eyewitness wrote in New York magazine The Knickerbocker: "All at once, I found myself borne onward with great velocity by a torrent which burst upon me so suddenly as almost to deprive me of breath. A roar as of falling buildings at a distance, and suffocating fumes, were in my ears and nostrils."
Eight people drowned in what became known as the London Beer Flood.
Is this a photograph of one of the poor unfortunate souls claimed by the worst industrial alcohol accident in British history? Or simply a fake? Take a closer look...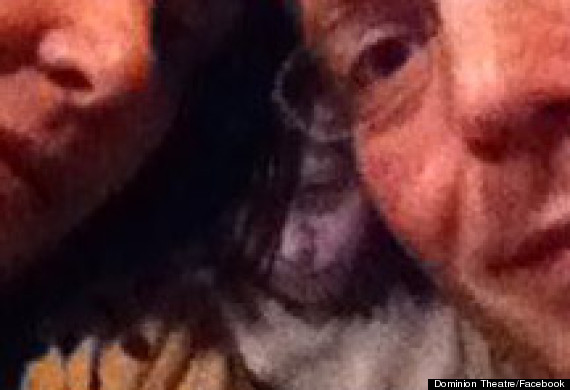 Still unconvinced? Take a look at our exclusive interview with 'theatre ghost' photographer Stuart Cheveralls.
Check out London's other most haunted theatres:
Haunted Theatres Of London
Drury Lane, said to be the oldest and most haunted theatre in the world, has had a playhouse on its site since 1661, with the current building dating to 1812. One of Drury Lane's spectral stars is the lavendar-scented spirit of actor Dan Leno, a famed Victorian pantomime dame, said to have worn strong perfume to cover up the stench of incontinence. British actor Dan Leno (1860 - 1904) as the Baroness in Babes in the Woods in 1888 (left) and as 'Mother Goose' at Drury Lane (right). Actors and stagehands have been haunted by Leno's signature aroma of lavendar, along with the 'tap-tap-tap' sound of his disembodied clogs. Carry On actress Patsy Rowlands claims to have heard phantom footsteps move across the stage.

Do you suffer from Coulrophobia; the overwhelming fear of clowns? Drury Lane can claim the ultimate chilling experience for Coulrophobes, with their very own ghost clown: Joseph Grimaldi. English clown Joseph Grimaldi (1779 - 1837), who gave his name 'Joey' to all later clowns, singing 'All the world's in Paris' from the pantomime 'Harlequin Whittington'. Engraving by George Cruikshank. Credited as the inventor of the classic clown with oversized clothes and coloured wigs, rumour has it that Grimaldi asked to be be decapitated before his burial. Grimaldi's ghost is known to haunt the stage area, giving a kick up the backside to any actor who's performance doesn't come up to the high standards of the famous clown.

Sharing the ghoulish spotlight with Leno is the Man In Grey. Dozens of eyewitnesses of this shadowy figure have seen the apparition walk across the upper circle, disappearing through a solid wall. Renovations in 1870 revealed a small bricked-up room behind the wall through which the ghost disappears, containing a skeleton with a dagger through the ribcage. In 1939, the cast of Ivor Novello's The Dancing Years were gathered on stage for a photo call when the Man In Grey appeared before them, stalking his regular route across the audience seats.

William Terriss (left), an actor murdered by a jealous bit-part player in 1897, is said to haunt Covent Garden tube station and the Adelphi Theatre, London. History reports that Terriss died in the arms of his mistress, the actress Jessie Milward, in the dressing room of the theatre. The first reporting of the ghost was in 1928. (Photo credit: Getty)

The ghost of actor-manager John Buckstone (left) has been reported in Dressing Room 1 at the Theatre Royal Haymarket. Staff have said to have heard Buckstone rehearsing his lines. Witnesses include Dame Judi Dench and Sir Donald Sinden. (Photo credit: Getty)

An apparition of a woman with bloodstained hands has been seen clutching her bosom at the Old Vic. Some say she is a dead actress with fake blood on her hands, who continues to act her final dramatic scene, even in death. (Photo credit: Rex)

Head to Victoria Palace Theatre for a hair-rising experience; a poltergeist with a liking for wigs is known to frequent the corridors. Hair-pieces have been reported to fly through the air, with locked doors opening and closing of their own accord. (Photo credit: PA)

The ghost of an eldery woman has been sighted in the Lyceum Theatre, cradling a severed head in her lap. Little is known about the background story of this spectre. Some say it is the ghost of Madame Marie Tussaud, who exhibited her waxwork creations for the first time in the theatre in 1802. (Photo credit: PA)
FROM PUMPKIN CARVING TO SPOOKY GANGNAM STYLE DANCING, SEE ALL OUR HALLOWEEN STORIES HERE.
Do you want to share your 'ghost' photos with us? Send to ukpicturedesk@huffingtonpost.com - we'll publish with a credit to you.