A remote cabin on a moonless midnight.
The swirling waters of a river holds a bewitching power over a man (Dominic West) as he hopes to impress his girlfriend (Miranda Raison) on a fishing holiday in his cabin on the cliffs.
Isolation, omens and the mystique of nature - Jez Butterworth's new play The River at the Royal Court is reminiscent of the famous opening line by Victorian novelist Edward Bulwer-Lytton: "It was a dark and stormy night".
Instead Butterworth gives us an equally portentous sunset the night after a storm.
"Blood red as far as the headland, turning to lilac-blue wisps," our unnamed protagonist describes the evening sky to his girlfriend without looking out the window, unromantic about a vista seen from his cabin countless times. He is more interested in what is to follow; a cool moonless night heralding the migration of the sea trout and a night angler's dream.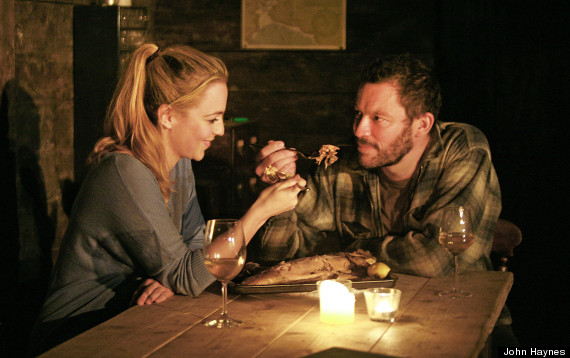 Miranda Raison and Dominic West.
Following enormous success with award-winning plays Mojo and Jerusalem, both at the Royal Court, Butterworth succeeds in leading us down a dark lane of meandering narrative in The River. We never quite know the source of uneasiness brought about by this seemingly picturesque hideaway for a courting couple.
Losing each other in the water of the river, the woman is eventually reunited with the man at the cabin, although she is strikingly altered (played by Laura Donnelly).
The River explores the complex depths of relationships. Can we ever truly know we have the heart of our partner? Are words enough?
Donnelly holds the stage with natural playfulness and teasing seduction, yet an air of quiet menace keeps the audience on edge. West's energetic earnestness pulls together the thread of the story.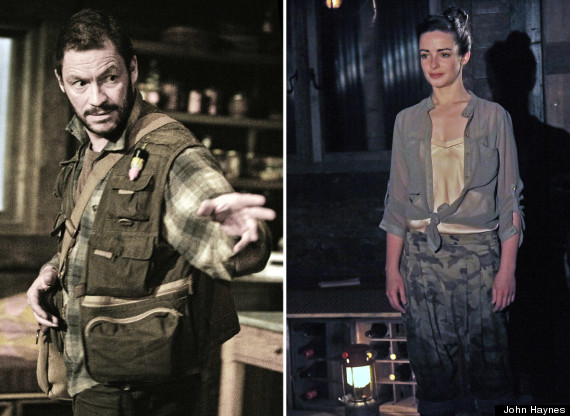 Dominic West and Laura Donnelly.
Each encounter with the wild landscape surrounding the couple's cabin is like a portentous dark omen: white swans, a jet black horse. Butterworth's naturalistic dialogue moves to whimsical description, presumably as we travel deeper into the psyche of his characters. Despite sounding pleasing to the ear, the symbolism and earnest discussion become too dense in parts, never quite giving us the answers we need.
Director Ian Rickson draws out incredible suspense with well placed periods of silence, including a full five minutes in which West guts a real fish on stage - a simple cooking session becomes eerily uneasy. The candle-lit stage of Royal Court's Jerwood Theatre Upstairs creates the intimate atmosphere of campfire storytelling.
As we come to terms with darker days and chillier nights, The River is a fitting outing for those in the mood to embrace Halloween, welcome the bare trees of winter and pull a blanket up to their chin on a moonless night at the Royal Court.
The River is running at the Royal Court, London, 18 Oct 2012 - 17 Nov 2012.
Loading Slideshow
Miranda Raison and Dominic West. (Photo credit: John Haynes)

Dominic West and Laura Donnelly. (Photo credit: John Haynes)

(Photo credit: John Haynes)

Miranda Raison and Dominic West. (Photo credit: John Haynes)

Laura Donnelly. (Photo credit: John Haynes)
Take a look at all of HuffPost UK's theatre reviews:
Loading Slideshow
'Leaving Planet Earth' And 'Long Distance Affair', Edinburgh Festival

<a href="http://www.huffingtonpost.co.uk/2013/09/01/edinburgh-festival-review_n_3852176.html" target="_blank"><strong>CLICK TO READ REVIEW.</strong></a>

The Tragedy of Coriolanus, Beijing People's Art Theatre, Edinburgh International Festival

<a href="http://www.huffingtonpost.co.uk/2013/08/23/the-tragedy-of-coriolanus_n_3806736.html?utm_hp_ref=uk-culture" target="_blank"><strong>CLICK TO READ REVIEW.</strong></a>

Charlie and the Chocolate Factory, Theatre Royal Drury Lane

<a href="http://www.huffingtonpost.co.uk/matthew-tucker/charlie-chocolate-factory_b_3502220.html" target="_blank"><strong>CLICK TO READ REVIEW</strong></a>

The Cripple of Inishmaan, Noel Coward Theatre

<a href="http://www.huffingtonpost.co.uk/2013/06/26/the-cripple-of-inishmaan_n_3465766.html" target="_blank"><strong>CLICK TO READ REVIEW</strong></a>

Sweet Bird of Youth, The Old Vic

<a href="http://www.huffingtonpost.co.uk/2013/06/17/sweet-bird-of-youth_n_3455786.html" target="_blank"><strong>CLICK TO READ REVIEW</strong></a>

Passion Play, Duke of York's Theatre

<a href="http://www.huffingtonpost.co.uk/2013/06/09/passion-play-review_n_3412558.html" target="_blank"><strong>CLICK TO READ REVIEW.</strong></a>

Fallen In Love, The Tower of London

<a href="http://www.huffingtonpost.co.uk/2013/05/18/fallen-in-love-review-anne-boleyn_n_3298805.html" target="_blank"><strong>CLICK TO READ REVIEW.</strong></a>

Proof, The Menier Chocolate Factory

<a href="http://www.huffingtonpost.co.uk/2013/03/30/proof-review_n_2955940.html" target="_blank"><strong>CLICK TO READ REVIEW.</strong></a>

Peter And Alice, Noel Coward Theatre

<a href="http://www.huffingtonpost.co.uk/2013/03/26/peter-and-alice-review_n_2956014.html?utm_hp_ref=uk-culture" target="_blank"><strong>CLICK TO READ REVIEW.</strong></a>

The Winslow Boy, The Old Vic

<a href="http://www.huffingtonpost.co.uk/2013/03/22/the-winslow-boy-review_n_2908079.html?utm_hp_ref=uk-culture" target="_blank"><strong>CLICK TO READ REVIEW.</strong></a>

The Audience, Gielgud Theatre

<a href="http://www.huffingtonpost.co.uk/2013/03/07/the-audience-review_n_2828362.html" target="_blank"><strong>CLICK TO READ REVIEW.</strong></a>

Macbeth, Trafalgar Studios

<a href="http://www.huffingtonpost.co.uk/2013/02/26/macbeth-review-james-mcavoy_n_2768388.html"><strong>CLICK TO READ REVIEW.</strong></a>

Desolate Heaven, Theatre503

<a href="http://www.huffingtonpost.co.uk/2013/02/10/desolate-heaven-review_n_2658709.html"><strong>CLICK TO READ REVIEW.</strong></a>

The Showstoppers, Royal Albert Hall

<a href="http://www.huffingtonpost.co.uk/2013/02/06/the-showstoppers-review_n_2616047.html"><strong>CLICK TO READ REVIEW.</strong></a>

Old Times, Harold Pinter Theatre

<a href="http://www.huffingtonpost.co.uk/2013/01/31/old-times-review-kristin-scott-thomas_n_2594377.html"><strong>CLICK TO READ REVIEW.</strong></a>

Cirque Du Soleil's Kooza, Royal Albert Hall

<a href="http://www.huffingtonpost.co.uk/2013/01/21/cirque-du-soleils-kooza-review_n_2521495.html"><strong>CLICK TO READ REVIEW.</strong></a>

The Bodyguard, Adelphi Theatre

<a href="http://www.huffingtonpost.co.uk/2012/12/06/the-bodyguard-review_n_2250701.html" target="_hplink"><strong>CLICK TO READ REVIEW.</strong></a>

We Are Most Amused, Royal Albert Hall

<a href="http://www.huffingtonpost.co.uk/2012/11/28/blackadder-return-review_n_2207930.html" target="_hplink"><strong>CLICK TO READ REVIEW.</strong></a>

Kiss Me Kate, Old Vic

<a href="http://www.huffingtonpost.co.uk/2012/11/27/kiss-me-kate-old-vic-review_n_2201155.html" target="_hplink"><strong>CLICK TO READ REVIEW.</strong></a>

Unleashed, Barbican

<a href="http://www.huffingtonpost.co.uk/2012/11/24/unleashed-review_n_2184691.html" target="_hplink"><strong>CLICK TO READ REVIEW.</strong></a>

The Upstairs Room, King's Head Theatre

<a href="http://www.huffingtonpost.co.uk/2012/11/20/the-upstairs-room-review_n_2167940.html" target="_hplink"><strong>CLICK TO READ REVIEW.</strong></a>

The Dark Earth And Light Sky, Almeida Theatre

<a href="http://www.huffingtonpost.co.uk/2012/11/19/the-dark-earth-and-the-light-sky_n_2161070.html" target="_hplink"><strong>CLICK TO READ REVIEW.</strong></a>

Where The Mangrove Grows, Theatre503

<a href="http://www.huffingtonpost.co.uk/2012/11/12/where-the-mangrove-grows_n_2118923.html" target="_hplink"><strong>CLICK TO READ REVIEW.</strong></a>

Forests, Barbican

<a href="http://www.huffingtonpost.co.uk/2012/11/07/naked-shakespeare-forests-review_n_2087315.html" target="_hplink"><strong>CLICK TO READ REVIEW.</strong></a>

Uncle Vanya, Vaudeville Theatre

<a href="http://www.huffingtonpost.co.uk/2012/11/05/uncle-vanya-review-anna-friel_n_2076358.html" target="_hplink"><strong>CLICK TO READ REVIEW.</strong></a>

Forever Crazy Starring Kelly Brook, Crazy Horse Cabaret

<a href="http://www.huffingtonpost.co.uk/2012/11/02/kelly-brook-cabaret-show-forever-crazy-review_n_2063878.html#slide=1712838"><strong>CLICK TO READ REVIEW</strong></a>

Nosferatu, Barbican

<a href="http://www.huffingtonpost.co.uk/2012/10/31/nosferatu-review_n_2053085.html" target="_hplink"><strong>CLICK TO READ REVIEW.</strong></a>

The River, Royal Court Theatre

<a href="http://www.huffingtonpost.co.uk/2012/10/28/the-river-review_n_2036119.html" target="_hplink"><strong>CLICK TO READ REVIEW.</strong></a>

Michael Clark's Company - New Work, Barbican

<a href="http://www.huffingtonpost.co.uk/2012/10/19/michael-clark-company-new-work-2012-review_n_1984549.html" target="_hplink"><strong>CLICK TO READ REVIEW.</strong></a>

Ding Dong The Wicked, Royal Court Theatre

<a href="http://www.huffingtonpost.co.uk/2012/10/10/ding-dong-the-wicked-review_n_1956042.html" target="_hplink"><strong>CLICK TO READ REVIEW.</strong></a>

The Second Mrs Tanqueray, Rose Theatre Kingston

<a href="http://www.huffingtonpost.co.uk/2012/10/08/the-second-mrs-tanqueray-review_n_1949503.html" target="_hplink"><strong>CLICK TO READ REVIEW.</strong></a>

Timeless Tales, Christ Church Spitalfields

<a href="http://www.huffingtonpost.co.uk/2012/10/07/timeless-tales-review_n_1946667.html" target="_hplink"><strong>CLICK TO READ REVIEW.</strong></a>

Our Boys, Duchess Theatre

<a href="http://www.huffingtonpost.co.uk/2012/10/04/our-boys-review_n_1938732.html" target="_hplink"><strong>CLICK TO READ REVIEW.</strong></a>

Charley's Aunt, Menier Chocolate Factory

<a href="http://www.huffingtonpost.co.uk/2012/10/01/charleys-aunt-review_n_1930941.html" target="_hplink"><strong>CLICK TO READ REVIEW.</strong></a>

A Chorus of Disapproval, Harold Pinter Theatre

<a href="http://www.huffingtonpost.co.uk/2012/09/30/a-chorus-of-disapproval-review_n_1927155.html" target="_hplink"><strong>CLICK TO READ REVIEW.</strong></a>

Let It Be, Prince of Wales Theatre

<a href="http://www.huffingtonpost.co.uk/2012/09/24/let-it-be-review-beatlemania-hits-the-west-end_n_1911281.html" target="_hplink"><strong>CLICK TO READ REVIEW.</strong></a>

Mademoiselle Julie, Barbican

<a href="http://www.huffingtonpost.co.uk/2012/09/20/mademoiselle-julie-review_n_1902105.html" target="_hplink"><strong>CLICK TO READ REVIEW.</strong></a>

Three Sisters, Young Vic

<a href="http://www.huffingtonpost.co.uk/2012/09/13/three-sisters-review-young-vic_n_1882599.html" target="_hplink"><strong>CLICK TO READ REVIEW.</strong></a>

Philadelphia, Here I Come!, Donmar Warehouse

<a href="http://www.huffingtonpost.co.uk/2012/08/01/philadelphia-here-i-come-review_n_1726879.html" target="_hplink"><strong>CLICK TO READ REVIEW.</strong></a>

Ten Billion, Royal Court Theatre

<a href="http://www.huffingtonpost.co.uk/2012/07/18/countdown-to-ten-billion_n_1684762.html" target="_hplink"><strong>CLICK TO READ REVIEW.</strong></a>

A Doll's House, young Vic

<a href="http://www.huffingtonpost.co.uk/2012/07/10/a-dolls-house-the-young-vic-review_n_1661048.html" target="_hplink"><strong>CLICK TO READ REVIEW.</strong></a>

Land of Giants, Titanic Causeway, Belfast

<a href="http://www.huffingtonpost.co.uk/2012/07/01/land-of-giants-belfast-2012-art-show_n_1641600.html" target="_hplink"><strong>CLICK TO READ REVIEW.</strong></a>

The Last of the Haussmans, National Theatre

<a href="http://www.huffingtonpost.co.uk/2012/06/20/julie-walters-returns-to-_n_1611164.html" target="_hplink"><strong>CLICK TO READ REVIEW.</strong></a>

Posh, Royal Court Theatre

<a href="http://www.huffingtonpost.co.uk/2012/06/17/laura-wade-posh-review_n_1603638.html" target="_hplink"><strong>CLICK TO READ REVIEW.</strong></a>

Gross und Klein, Barbican

<a href="http://www.huffingtonpost.co.uk/2012/05/14/cate-blanchett-on-stage-gross-und-klein_n_1514595.html" target="_hplink"><strong>CLICK TO READ REVIEW.</strong></a>



The River (REVIEW): Embrace Halloween With A Moonless Midnight

Isolation, omens and the mystique of nature - Jez Butterworth's new play The River explores the complex depths of relationships. Can we ever truly know we have the heart of our partner? Are words enough?

A remote cabin and a moonless midnight. The swirling waters of a river holds a bewitching power over a man (Dominic West) as he hopes to impress his girlfriend (Miranda Raison) on a fishing holiday in his cabin on the cliffs.


Written by: Matthew Tucker


The River, Royal Court Theatre

Date published: 10/29/2012


4 / 5 stars