Nothing says "come to our new beauty store" like hot women getting it on. Right?
From the same stable of ads that featured male and female models gleefully pissing themselves in anticipate of sales week, here is the latest offering from upmarket department store Harvey Nichols.
Ostensibly promoting the opening of a new store in Liverpool on November 7, the ads feature beautiful women leaning in for some lady love.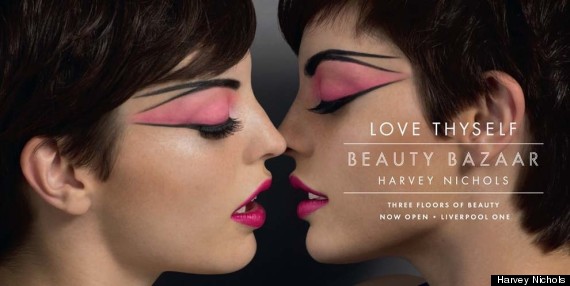 "Love Thyself," it purrs in the sapphic series of pictures shot by fashion snapper Norbert Schoerner.
A spokesman explains: "Beauty Bazaar, Harvey Nichols offers the customer a uniquely indulgent experience that allows you to recharge your batteries through a little self-love and me-time."
Ohhhhh, self love she says? So these chicks are kissing mirror images of themselves?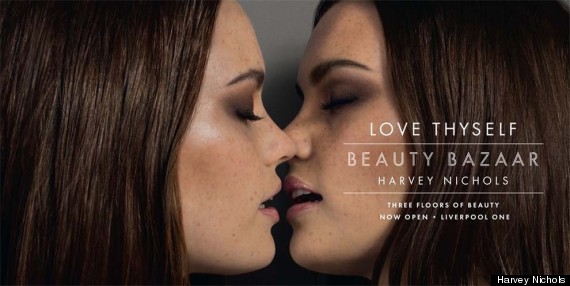 OK got it. And feeling strangely let-down yet simultaneously relieved they didn't indulge in a masterbatory theme. (Too obvious, Harvey Nichols?)
The store was in hot water last Christmas for its "Walk of Shame" TV advert.
Depicting women making their way home after boozy nights out and looking like crap, the "twist" was a finely-dressed woman confidently strolling into her luxury home, unashamed to acknowledge her postman.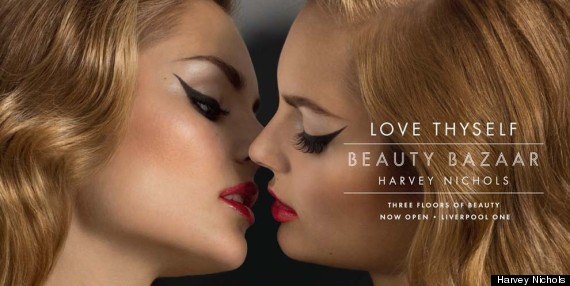 The implication being that those in Harvey Nichols dresses would feel no shame in performing "the walk" in their upmarket threads, prompted complaints that the advert "mocked less wealthy women", was "demeaning to women" and endorsed casual sex.
The ASA received a total of four complaints but found that the advert did not play on negative stereotypes of women. Last Christmas Harvey Nichols ran a controversial 'walk of shame' advert
SEE ALSO:
100 Controversial Adverts
Levis.

Saatchi and Saatchi's campaign for The Conservative Party ahead of the 1979 general election.

Durex.

Sisley fashion brand.

Sean John's Unforgivable Woman fragrance.

Linford Christie stars in Kleenex's tissue advert.

Wonderbra's infamous advert.

Lynx.

BMW.

BaF's anti-domestic violence ad.

Red Tape menswear fashion brand.

Controversial French anti-smoking advert,

MacDonald's.

QSOL service provider.

NSPCC

A German MacDonald's advert.

Heinz.

Cadbury's.

Miquita Oliver in Women's Aid advert.

Advert for Chicolate chocolate substitute.

Skin Burn, anti-smoking ad

Barnardo's.

Tipalet cigarette advert.

Benetton

TG4 television program entitled 'Paisean Faisean'.

Courage beer.

Budweiser.

Barcardi rum.

Amnesty International

Skyy alcoholic drink.

Amnesty International

Amnesty International

Anti binge-drinking advert

Van Heusen

BMW

Pitney-Bowes Postage Meter

Government anti-drug driving advert

Anti-abortion advert

Advert against verbal abuse

Fabrica

Benson & Hedges

American Apparel

Amnesty International

Post-It

An M&C Saatchi advert for St Matthew's in the City in Aukland, New Zealand.