This All Hallows' Eve, Dracula trod the boards in a bold and minimalist reworking of Bram Stoker's gothic novel: Grzegorz Jarzyna's Nosferatu at the Barbican.
Despite existing in folklore and literature for 250 years, it was Bram Stoker who cemented our notion of the cape-wearing vampiric aristocrat with a taste for young ladies' necks. Brought to the London stage by Polish theatres TR Warszawa and Teatr Narodowy, writer and director Jarzyna uses the monster myth to explore our bewilderment of science, fear of death and the vampire lurking within us all.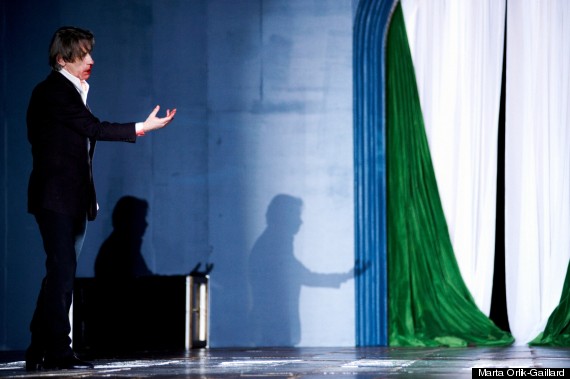 Wolfgang Michael (Nosferatu)
Noseratu sees the familiar story of Lucy (Sandra Korzeniak) and Mina (Katarzyna Warnke) surrounded by a band of men, including Van Helsing (Jan Frycz), fighting off Nosferatu as he preys on the young women.
In a modern setting, Jarzyna's stage adaptation shows dark and self-centred characters that contrast with Bram Stoker's original clear divide between good and bad. Instead of the light and shade of Dracula and his nemeses, we are given a grey hue of morals; Mina shows little regard for her close friend as she pursues a heated affair with Lucy's fiancé and Van Helsing chloroforms Mina in a bizarre interrogation scene.
Memorable moments come from Sandra Korzeniak as the undead Lucy, performing a stalking dance of death as she moves in for the kill on her former photographer friend Quincey. When explaining her joy at being a vampire, an impressive screen lightshow appears, proving effective with the copious amounts of spooky smoke pumped on stage.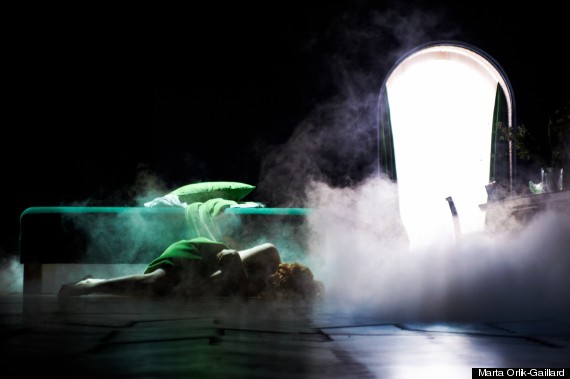 Sandra Korzeniak (Lucy)
Technical difficulties with unwanted noise on the actors' microphones and a sluggish speed on the display of English subtitles made the production less accessible that it might have been.
Aesthetically, Nosferatu is pleasing on the eye and ear: minimalist set design reminiscent of German Expressionist cinema, mood-evoking lighting and a score of sound effects with such presence it deserves a credit on the cast list.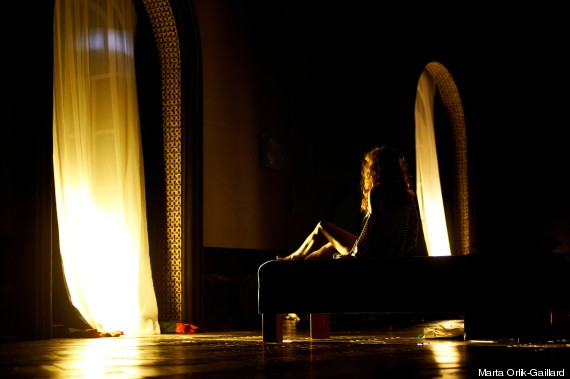 Sandra Korzeniak (Lucy)
Despite some dramatic moments, Jarzyna's Nosferatu lacks the overall chill that Bram Stoker evoked.
Lucy's terrible demise is part of the novel's horror - seeing the innocent, sweet, buoyant young woman turn into a shell of herself, growing pale and weak, despite multiple transfusions. Jarzyna gives us none of this, instead we are immediately introduced to a morose Lucy - her transition from human to vampire takes the form of mournful pacing and writhing on stage. As a vampire she appears more animated than when in life.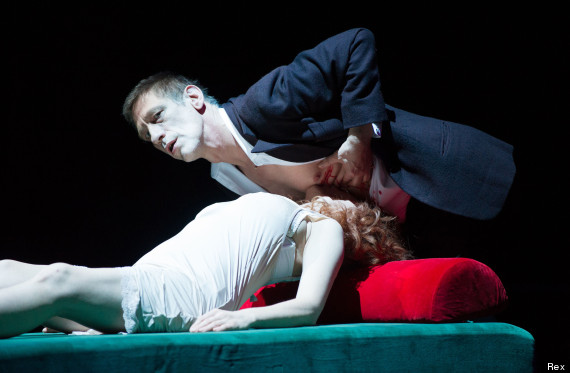 Wolfgang Michael (Nosferatu) and Sandra Korzeniak (Lucy)
In an interview with the Polish weekly news magazine Przekrój, Jarzyna explains the rhythm of his production: "I wanted to achieve an effect of 'retardation', a slow-down, of stretching time to show moments when nothing really happens."
This lumbering approach feels suited to the gothic genre of suspense and Nosferatu certainly does choose to go at its own pace, however, not always succeeding in taking the audience with it.
This latest offering of vampire theatrics may not meet everyone's expectations of fang-toothed horror, but as a genre-defining piece of literature, Bram Stoker's Dracula deserves to be reimagined over and over.
Nosferatu is running at the Barbican, London, 31 Oct 2012 - 3 Nov 2012.
Loading Slideshow
Sandra Korzeniak. (Credit: Marta Orlik-Gaillard)

Katarzyna Warnke. (Credit: Marta Orlik-Gaillard)

Sandra Korzeniak. (Credit: Marta Orlik-Gaillard)

Wolfgang Michael. (Credit: Marta Orlik-Gaillard)

Jan Englert (Doctor John Seward) and Jan Frycz (Abraham Van Helsing). (Credit: Rex)

Wolfgang Michael (Nosferatu) and Sandra Korzeniak (Lucy Westenra). (Credit: Rex)
Take a look at all of HuffPost UK's theatre reviews:
Loading Slideshow
'Leaving Planet Earth' And 'Long Distance Affair', Edinburgh Festival

<a href="http://www.huffingtonpost.co.uk/2013/09/01/edinburgh-festival-review_n_3852176.html" target="_blank"><strong>CLICK TO READ REVIEW.</strong></a>

The Tragedy of Coriolanus, Beijing People's Art Theatre, Edinburgh International Festival

<a href="http://www.huffingtonpost.co.uk/2013/08/23/the-tragedy-of-coriolanus_n_3806736.html?utm_hp_ref=uk-culture" target="_blank"><strong>CLICK TO READ REVIEW.</strong></a>

Charlie and the Chocolate Factory, Theatre Royal Drury Lane

<a href="http://www.huffingtonpost.co.uk/matthew-tucker/charlie-chocolate-factory_b_3502220.html" target="_blank"><strong>CLICK TO READ REVIEW</strong></a>

The Cripple of Inishmaan, Noel Coward Theatre

<a href="http://www.huffingtonpost.co.uk/2013/06/26/the-cripple-of-inishmaan_n_3465766.html" target="_blank"><strong>CLICK TO READ REVIEW</strong></a>

Sweet Bird of Youth, The Old Vic

<a href="http://www.huffingtonpost.co.uk/2013/06/17/sweet-bird-of-youth_n_3455786.html" target="_blank"><strong>CLICK TO READ REVIEW</strong></a>

Passion Play, Duke of York's Theatre

<a href="http://www.huffingtonpost.co.uk/2013/06/09/passion-play-review_n_3412558.html" target="_blank"><strong>CLICK TO READ REVIEW.</strong></a>

Fallen In Love, The Tower of London

<a href="http://www.huffingtonpost.co.uk/2013/05/18/fallen-in-love-review-anne-boleyn_n_3298805.html" target="_blank"><strong>CLICK TO READ REVIEW.</strong></a>

Proof, The Menier Chocolate Factory

<a href="http://www.huffingtonpost.co.uk/2013/03/30/proof-review_n_2955940.html" target="_blank"><strong>CLICK TO READ REVIEW.</strong></a>

Peter And Alice, Noel Coward Theatre

<a href="http://www.huffingtonpost.co.uk/2013/03/26/peter-and-alice-review_n_2956014.html?utm_hp_ref=uk-culture" target="_blank"><strong>CLICK TO READ REVIEW.</strong></a>

The Winslow Boy, The Old Vic

<a href="http://www.huffingtonpost.co.uk/2013/03/22/the-winslow-boy-review_n_2908079.html?utm_hp_ref=uk-culture" target="_blank"><strong>CLICK TO READ REVIEW.</strong></a>

The Audience, Gielgud Theatre

<a href="http://www.huffingtonpost.co.uk/2013/03/07/the-audience-review_n_2828362.html" target="_blank"><strong>CLICK TO READ REVIEW.</strong></a>

Macbeth, Trafalgar Studios

<a href="http://www.huffingtonpost.co.uk/2013/02/26/macbeth-review-james-mcavoy_n_2768388.html"><strong>CLICK TO READ REVIEW.</strong></a>

Desolate Heaven, Theatre503

<a href="http://www.huffingtonpost.co.uk/2013/02/10/desolate-heaven-review_n_2658709.html"><strong>CLICK TO READ REVIEW.</strong></a>

The Showstoppers, Royal Albert Hall

<a href="http://www.huffingtonpost.co.uk/2013/02/06/the-showstoppers-review_n_2616047.html"><strong>CLICK TO READ REVIEW.</strong></a>

Old Times, Harold Pinter Theatre

<a href="http://www.huffingtonpost.co.uk/2013/01/31/old-times-review-kristin-scott-thomas_n_2594377.html"><strong>CLICK TO READ REVIEW.</strong></a>

Cirque Du Soleil's Kooza, Royal Albert Hall

<a href="http://www.huffingtonpost.co.uk/2013/01/21/cirque-du-soleils-kooza-review_n_2521495.html"><strong>CLICK TO READ REVIEW.</strong></a>

The Bodyguard, Adelphi Theatre

<a href="http://www.huffingtonpost.co.uk/2012/12/06/the-bodyguard-review_n_2250701.html" target="_hplink"><strong>CLICK TO READ REVIEW.</strong></a>

We Are Most Amused, Royal Albert Hall

<a href="http://www.huffingtonpost.co.uk/2012/11/28/blackadder-return-review_n_2207930.html" target="_hplink"><strong>CLICK TO READ REVIEW.</strong></a>

Kiss Me Kate, Old Vic

<a href="http://www.huffingtonpost.co.uk/2012/11/27/kiss-me-kate-old-vic-review_n_2201155.html" target="_hplink"><strong>CLICK TO READ REVIEW.</strong></a>

Unleashed, Barbican

<a href="http://www.huffingtonpost.co.uk/2012/11/24/unleashed-review_n_2184691.html" target="_hplink"><strong>CLICK TO READ REVIEW.</strong></a>

The Upstairs Room, King's Head Theatre

<a href="http://www.huffingtonpost.co.uk/2012/11/20/the-upstairs-room-review_n_2167940.html" target="_hplink"><strong>CLICK TO READ REVIEW.</strong></a>

The Dark Earth And Light Sky, Almeida Theatre

<a href="http://www.huffingtonpost.co.uk/2012/11/19/the-dark-earth-and-the-light-sky_n_2161070.html" target="_hplink"><strong>CLICK TO READ REVIEW.</strong></a>

Where The Mangrove Grows, Theatre503

<a href="http://www.huffingtonpost.co.uk/2012/11/12/where-the-mangrove-grows_n_2118923.html" target="_hplink"><strong>CLICK TO READ REVIEW.</strong></a>

Forests, Barbican

<a href="http://www.huffingtonpost.co.uk/2012/11/07/naked-shakespeare-forests-review_n_2087315.html" target="_hplink"><strong>CLICK TO READ REVIEW.</strong></a>

Uncle Vanya, Vaudeville Theatre

<a href="http://www.huffingtonpost.co.uk/2012/11/05/uncle-vanya-review-anna-friel_n_2076358.html" target="_hplink"><strong>CLICK TO READ REVIEW.</strong></a>

Forever Crazy Starring Kelly Brook, Crazy Horse Cabaret

<a href="http://www.huffingtonpost.co.uk/2012/11/02/kelly-brook-cabaret-show-forever-crazy-review_n_2063878.html#slide=1712838"><strong>CLICK TO READ REVIEW</strong></a>

Nosferatu, Barbican

<a href="http://www.huffingtonpost.co.uk/2012/10/31/nosferatu-review_n_2053085.html" target="_hplink"><strong>CLICK TO READ REVIEW.</strong></a>

The River, Royal Court Theatre

<a href="http://www.huffingtonpost.co.uk/2012/10/28/the-river-review_n_2036119.html" target="_hplink"><strong>CLICK TO READ REVIEW.</strong></a>

Michael Clark's Company - New Work, Barbican

<a href="http://www.huffingtonpost.co.uk/2012/10/19/michael-clark-company-new-work-2012-review_n_1984549.html" target="_hplink"><strong>CLICK TO READ REVIEW.</strong></a>

Ding Dong The Wicked, Royal Court Theatre

<a href="http://www.huffingtonpost.co.uk/2012/10/10/ding-dong-the-wicked-review_n_1956042.html" target="_hplink"><strong>CLICK TO READ REVIEW.</strong></a>

The Second Mrs Tanqueray, Rose Theatre Kingston

<a href="http://www.huffingtonpost.co.uk/2012/10/08/the-second-mrs-tanqueray-review_n_1949503.html" target="_hplink"><strong>CLICK TO READ REVIEW.</strong></a>

Timeless Tales, Christ Church Spitalfields

<a href="http://www.huffingtonpost.co.uk/2012/10/07/timeless-tales-review_n_1946667.html" target="_hplink"><strong>CLICK TO READ REVIEW.</strong></a>

Our Boys, Duchess Theatre

<a href="http://www.huffingtonpost.co.uk/2012/10/04/our-boys-review_n_1938732.html" target="_hplink"><strong>CLICK TO READ REVIEW.</strong></a>

Charley's Aunt, Menier Chocolate Factory

<a href="http://www.huffingtonpost.co.uk/2012/10/01/charleys-aunt-review_n_1930941.html" target="_hplink"><strong>CLICK TO READ REVIEW.</strong></a>

A Chorus of Disapproval, Harold Pinter Theatre

<a href="http://www.huffingtonpost.co.uk/2012/09/30/a-chorus-of-disapproval-review_n_1927155.html" target="_hplink"><strong>CLICK TO READ REVIEW.</strong></a>

Let It Be, Prince of Wales Theatre

<a href="http://www.huffingtonpost.co.uk/2012/09/24/let-it-be-review-beatlemania-hits-the-west-end_n_1911281.html" target="_hplink"><strong>CLICK TO READ REVIEW.</strong></a>

Mademoiselle Julie, Barbican

<a href="http://www.huffingtonpost.co.uk/2012/09/20/mademoiselle-julie-review_n_1902105.html" target="_hplink"><strong>CLICK TO READ REVIEW.</strong></a>

Three Sisters, Young Vic

<a href="http://www.huffingtonpost.co.uk/2012/09/13/three-sisters-review-young-vic_n_1882599.html" target="_hplink"><strong>CLICK TO READ REVIEW.</strong></a>

Philadelphia, Here I Come!, Donmar Warehouse

<a href="http://www.huffingtonpost.co.uk/2012/08/01/philadelphia-here-i-come-review_n_1726879.html" target="_hplink"><strong>CLICK TO READ REVIEW.</strong></a>

Ten Billion, Royal Court Theatre

<a href="http://www.huffingtonpost.co.uk/2012/07/18/countdown-to-ten-billion_n_1684762.html" target="_hplink"><strong>CLICK TO READ REVIEW.</strong></a>

A Doll's House, young Vic

<a href="http://www.huffingtonpost.co.uk/2012/07/10/a-dolls-house-the-young-vic-review_n_1661048.html" target="_hplink"><strong>CLICK TO READ REVIEW.</strong></a>

Land of Giants, Titanic Causeway, Belfast

<a href="http://www.huffingtonpost.co.uk/2012/07/01/land-of-giants-belfast-2012-art-show_n_1641600.html" target="_hplink"><strong>CLICK TO READ REVIEW.</strong></a>

The Last of the Haussmans, National Theatre

<a href="http://www.huffingtonpost.co.uk/2012/06/20/julie-walters-returns-to-_n_1611164.html" target="_hplink"><strong>CLICK TO READ REVIEW.</strong></a>

Posh, Royal Court Theatre

<a href="http://www.huffingtonpost.co.uk/2012/06/17/laura-wade-posh-review_n_1603638.html" target="_hplink"><strong>CLICK TO READ REVIEW.</strong></a>

Gross und Klein, Barbican

<a href="http://www.huffingtonpost.co.uk/2012/05/14/cate-blanchett-on-stage-gross-und-klein_n_1514595.html" target="_hplink"><strong>CLICK TO READ REVIEW.</strong></a>



Nosferatu (REVIEW): Dracula Steps Into The Spotlight

This All Hallows' Eve, Dracula trod the boards in a bold and minimalist reworking of Bram Stoker's gothic novel: Grzegorz Jarzyna's Nosferatu at the Barbican.

Brought to the London stage by Polish theatres TR Warszawa and Teatr Narodowy, writer and director Jarzyna uses the monster myth to explore our bewilderment of science, fear of death and the vampire lurking within us all.


Written by: Matthew Tucker


Nosferatu, Barbican, London.

Date published: 11/01/2012


2 / 5 stars