Today sees the start of Mexico's Day Of The Dead, the two day Latin American equivalent of Halloween.
An event of huge culture significance, it sees families coming together to celebrate their beloved departed by making sugar skulls and placing bottles of Tequila and Mezcal on graves. The spirits of the dead are encouraged to come and celebrate with the living with prayers, anecdotes and particularly riotous dancing.
Among the more famous Mexicans celebrated each year is Frida Kahlo, the artist who became an embodiment of Mexican tradition before she died aged just 47 in 1954. Her habit of donning colourful shawls, full skirts and elaborate head dresses - as well as the cultural symbolism that is runs in a rich vein through her work - cemented her as a national icon, so it's fitting that she gets her own tribute on the Day Of The Dead too.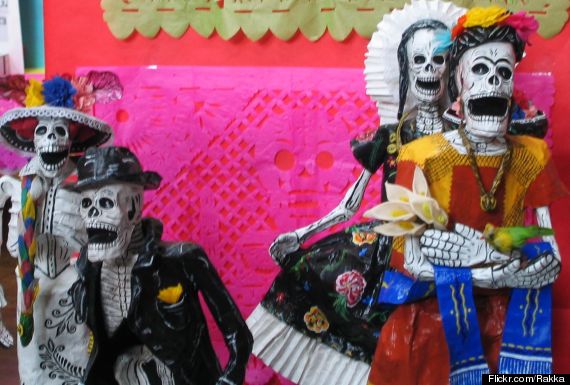 Frida Kahlo death dolls are made for the Day Of The Dead

Kahlo's remains are fondly recreated and placed among the charms and colourful trinkets on homemade shrines. As this photo demonstrates, while skeletons in traditional Mexican clothing could be interchangeable, hers is the only one with such distinct facial hair.
SEE ALSO: LoLourdes Grobet's Amazing Mexican Wrestling Photos

Kahlo started painting after a tram accident kept her bed-bound for months. She took to wearing traditional Mexican clothing to compensate for the severe injuries sustained to her spine, and later leg amputation. They soon became an iconic part of her work, as she depicted her favourite subject: herself.
Pain permeates Kahlo's paintings, spawned from her turbulent marriage and the infertility caused by her accident and the 30 operations which punctuated her life after it. As somebody who gradually turned her own existence into a work of art, we like to think she'd appreciate being the muse of others after it ended.
Loading Slideshow
Without Hope

"My painting carries with it the message of pain."

Self Portrait Dedicated to Dr Eloesser

"I paint my own reality. The only thing I know is that I paint because I need to, and I paint whatever passes through my head without any other consideration."

Roots

" I was born a bitch. I was born a painter."

The Broken Column

"I used to think I was the strangest person in the world but then I thought there are so many people in the world, there must be someone just like me who feels bizarre and flawed in the same ways I do. I would imagine her, and imagine that she must be out there thinking of me too. Well, I hope that if you are out there and read this and know that, yes, it's true I'm here, and I'm just as strange as you." Quoted in <em>Diary of Frida Kahlo</em>

The Two Fridas

"I love you more than my own skin."

Moses

"I think that little by little I'll be able to solve my problems and survive." Frida Kahlo, <em>Letter to Nickolas Muray</em>, 12-18-1939

Girl with Death Mask (She Plays Alone)

"I am not sick. I am broken. But I am happy as long as I can paint." Quoted in <em>Time Magazine</em>, 'Mexican Autobiography' (27 April 1953)

Portrait of Natasha Gelman

"I leave you my portrait so that you will have my presence all the days and nights that I am away from you."

Portrait of Marucha Lavin

"Feet, what do I need you for when I have wings to fly?"

Autorretrato Con Chango Y Loro (self-portrait With Monkey And Parrot) (1942)

"I tried to drown my sorrows, but the bastards learned how to swim, and now I am overwhelmed by this decent and good feeling." <a href="http://www.artfinder.com/artist/frida-kahlo/" target="_hplink">Artfinder.com</a>

Diego and I

"There have been two great accidents in my life. One was the trolley, and the other was Diego. Diego was by far the worst."