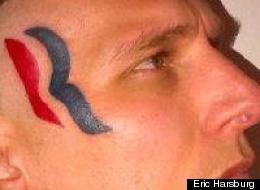 A man who had Mitt Romney's campaign logo tattooed onto his face on the run up to the election is now literally taking the full force of being a loser head on.
Eric Hartsburg featured in many national media outlets after getting the red and blue logo inked onto his temple. Politico caught up with him to find out how he feels now.
"Totally disappointed, man," the 30-year-old wrestler told POLITICO "I'm the guy who has egg all over his face, but instead of egg, it's a big Romney/Ryan tattoo. It's there for life."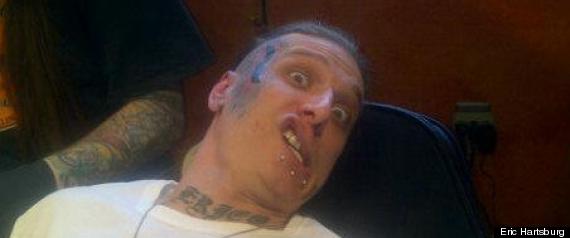 Hartsburg getting the tattoo before the election
The Indiana resident put the five by two-inch space on his forehead up for sale on eBay, and went through with the inking after one seller shelled out $5,000.
Hartsburg now claims he is getting of lot a negative reaction.
"I get a lot of FU's" he told POLITICO.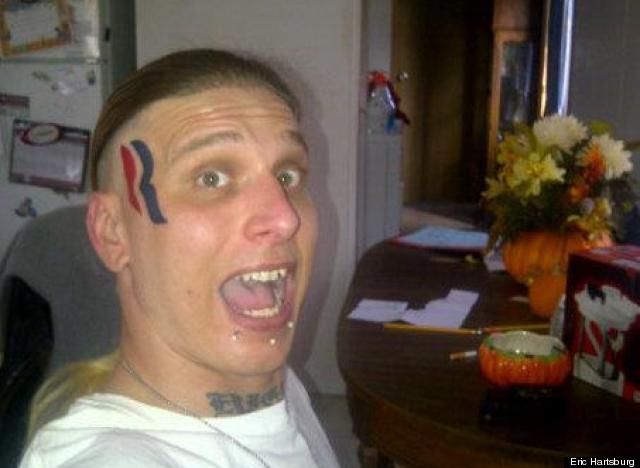 Hartsburg tweeted 'win or lose I'll stick with my team'
After Romney lost, one Twitter user asked Hartsburg if he would be removing the tattoo, but he tweeted he would not be removing it because he's "not the bandwagon type. Win or lose I'll stick w my team." Apparently he'd even do it again.
@supererico

Eric Hartsburg
Political Tattoos That Really Suck
This guy was super cereal about making a bad decision. (Ugliest Tattoos)

This is what happens when you ask for a tattoo that nobody else in the world has. More on this here.

Bubba's dreamy gaze really comes through on an inked up bicep. (source)

'Merica.

You have to admire the directness of this tattoo. (Ugliest Tattoos)

When in doubt, just cover up that old tat with one of an ex-vice president devil-goat. (source)

The tattoo on the right must complicate the process of getting a back-walking massage. (source)

Well, would ya look at that. That's, uh, that's a tattoo. Go you. (Tattoo Rack)

Remember now, they're permanent. (Ugliest Tattoos)

"Ich bin ein tattoo." (source)

We're sure it makes sense in the context of the rest of the arm. (source)

You know what else Leviticus says? No tattoos. Also no haircuts. (source)

And here's Nixon as a tattoo, by way of "The Simpsons." (Rate My Ink)

Whoa. Too much detail. (Offbeatink.com)

Whoa. Not enough detail. (source)

We'd be remiss not to make an "I can see butt-crack from here" joke. More on the tattoo from the Military Times.

Clearly a fan of trickle down economics. And tramp stamps. (Allweirdpics.com)

Reminds me of my Green Party tribal band. (Reason)

Alaska's third-most popular half-term governor assumes her rightful place on your calf, where she'll stay forever. (Ugliest Tattoos)

An exact replica of the presidential portrait in the White House. That's what we hear. (source)

Think of someone you find repulsive and toxic, then brand a picture of said person's face on your body. Voilà.

This is one confused racist. (Ugliest Tattoos)

Poor Jimmy Carter -- always the *butt* of political jokes. See what we did there?