If the key to reducing cases of abuse in the home is to get people talking about the problem, then an interactive video quiz, supported by singer Alesha Dixon, should certainly help.
The animation, which is part of the 'Support a Friend' campaign run by domestic violence charity Refuge, prompts viewers to question their own beliefs about what constitutes abusive behaviour.
The video ask questions such as: "How will you respond if she confides in you? Will you say: 'But he seems such a nice guy'.. Yes or No?"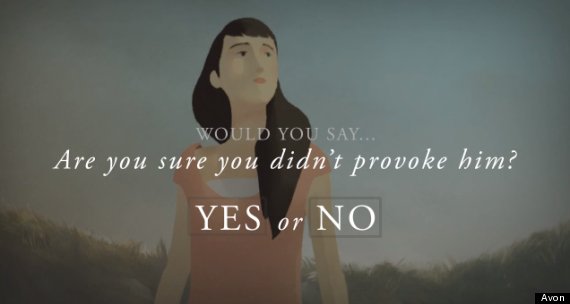 Watch the full video below and take the quiz
"It's a horrifying thought that one in 4 of my female friends could be affected by domestic violence in their lifetime. This video could help you understand more about domestic violence, spot the signs and how to support those who need it," says Alesha, who works with beauty company Avon to raise awareness of women's issues.
"Together we can pass on the word about the signs of domestic abuse in the hope of ending violence against women."
According to the video, victims seldom know how to communicate what's happening to them, as abusers often appear charming to the outside world, but are jealous, controlling and demanding behind closed doors.
The film explores how friends can better respond to a potential crisis.
"That's why I'm supporting this campaign: because the more we all understand about domestic violence, the more women will be able to escape it and rebuild their lives free from fear," says Alesha.
The 'Support a Friend campaign is the latest phase of the joint '1in4women' campaign, launched by Refuge and Avon last year, reflecting the statistic that one woman in every four will experience domestic violence at some point in her lifetime.
The striking animation video sets up four scenarios and asks viewers what they might consider doing in each situation to support a friend experiencing domestic violence. The animation unfolds in different, dramatic ways according to the responses given.
Would you recognise signs that suggest your partner could become abusive?

Loading Slideshow
Charming Man

Don't assume just because someone is charming that they're perfect. Often abusive men can be incredibly charming.

Inconsistency

Do you notice that he says one thing and then does another? This could be a sign of an unstable personality.

Overly Sensitive

While it's lovely to have a man who's in touch with their feelings, if your man is overly sensitive and needy this could be a warning sign.

Guilt Trips

Are you often made to feel guilty about your plans or that you have done something wrong?

Values

Take notes of their value system. Do his moral beliefs and basic instincts chime with yours?

Attention

Are you the 'only' object of his affections. It's healthy for people to have other friends and interests outside of the relationship

Intense Flattery

Don't let his compliments divert your attention from excessive manipulation or emotional blackmail.

Early Declarations Of Love

Early proclamations of love can be a sign of unhealthy intensity - and could be a way to emotionally blackmail you further down the line.

Waitresses

Look out for how your date treats people around him, such as waitresses. This will demonstrate if he really respects other people - or is putting on an act.

Friends

How does he get on with your friends? If he's keen to be involved in your friendship group, rather than preferring to keep you to himself, that's a really positive sign.

Macho Man

He doesn't have to look like a thug to control you emotionally. Remember that being charming and sensitive, is a far easier route to emotional blackmail.

Aggressive Language

Does his talk about others in an overly aggressive way - or even directly to their face?

Clothes

Does he tell you what to wear? Perhaps suggesting the reason he doesn't want you to wear a short skirt is that it makes 'him' insecure.

Parents

How do his parents get on? Sometimes (although not always!) we learn about being in a relationship from our parents.

Making Plans

Do you end up changing your plans often. Perhaps 'nights out with the girls' end up with ... 'But I'm going to miss you so much?'

Behaviours

If you start behaving out of character, is it because you don't feel comfortable about yourself any more?

Defensive

Do you find talking about your relationship awkward and feel the need to defend your partner in conversation?

Ending It

Have you tried 'and failed' to end it? Often when a woman tries to leave an abusive relationship the problems escalate and his reaction is disproportionate. "You can't do this to me" is a common refrain.

Empty promises

Has he promised to be less demanding, spend more time with your friends, not be so jealous of your time - and then failed to change?

Hypocrite

Do you constantly find yourself questioning his 'double standards'.

Lying

Do lie to your friends about the details of your relationship - or choose not to tell them thing he does, because they might 'misintepret it'?
In a statement, Sandra Horley, CEO of Refuge, says: "Domestic violence is an insidious crime which affects women from all walks of life.
"Given that one woman in four will experience domestic violence at some point in her lifetime, it's likely that we all know someone who is experiencing it - whether it be a sister, daughter, friend, colleague or neighbour. Domestic violence has devastating consequences - supporting a friend could save her life."
Tweet #1in4women to support this video today and perhaps save a friend's life.
Would this video help you to help a friend? Tell us, below.
See Also: More Shocking Domestic Violence Campaigns