Huffington Post Picture Desk Live: Scroll down for the best news, entertainment, culture and sports pictures of the day, brought to you by The Huffington Post's own picture editors Elliot Wagland, Matthew Tucker and Tahira Mirza.
Follow us on Twitter for links to top pics featured on The Huffington Post.
15/11/2012 16:37 GMT
Windy Reception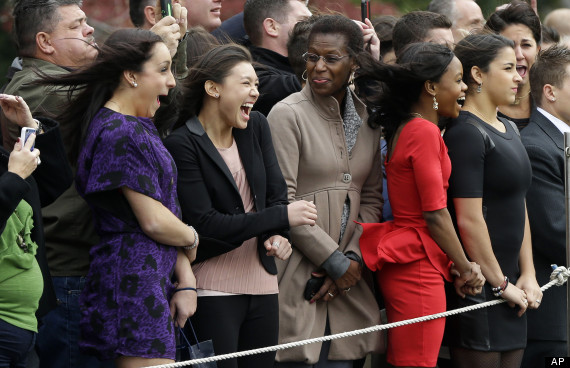 Members of the 2012 Women's Olympic Gymnastics team, from left, Aly Raisman, Kyla Ross,, Gabby Douglas, and McKayla Maroney, react to the wind gust caused by the Marine One helicopter, with President Barack Obama aboard, as they watch the departure from the South Lawn of the White House in Washington, Thursday, Nov. 15, 2012. Obama had meet with the team earlier in private meeting in the Oval Office.
15/11/2012 15:57 GMT
Political Reunion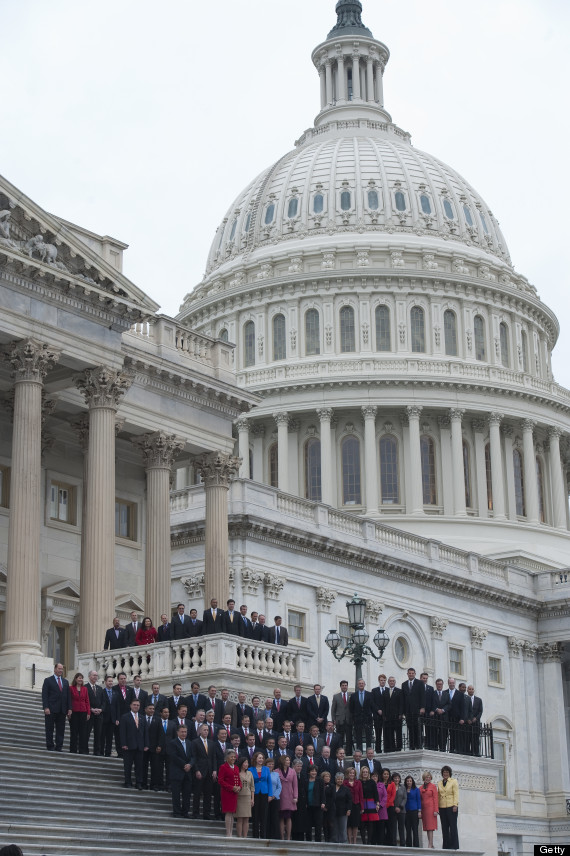 The freshmen class of the 113th Congress during a photo shoot on the East Front of the U.S. Capitol on November 15, 2012.
15/11/2012 15:55 GMT
Making A Splash In Dubai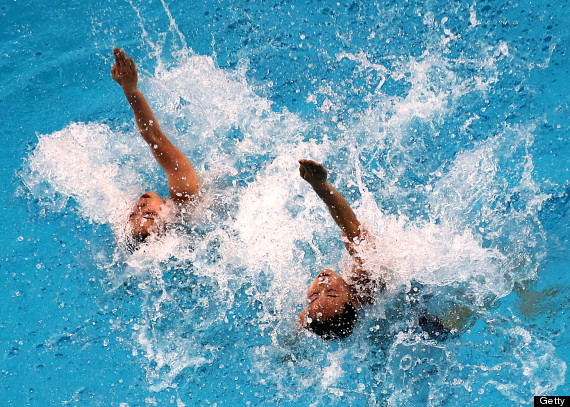 Democratic Republic of Korea duet team performs Syncronized swimming during the 9th Asian Swimming Championships in Dubai, November 15, 2012.
15/11/2012 15:49 GMT
'Big Phil' Goes Under The Hammer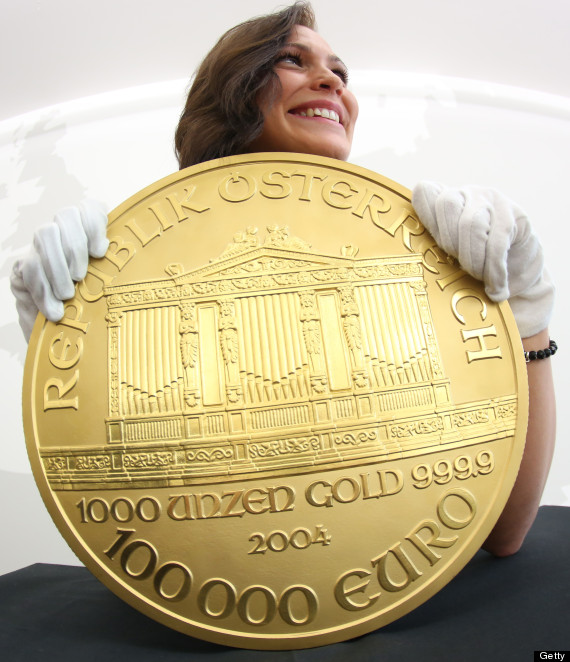 A woman presents Europe's biggest gold coin during an exhibition at the Pro Aurum trade house in Hamburg, northern Germany, on November 15, 2012. The so-called 'Big Phil' made after the model of an Austrian coin weighs around 31 kilograms and is worth more than 1,3 million euros.
15/11/2012 15:09 GMT
Motorcyclist Dies During GP Crash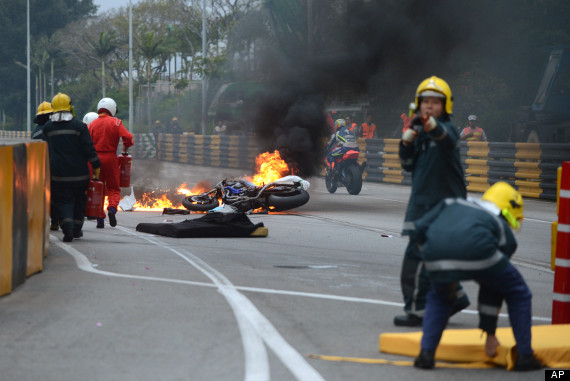 Portuguese motorcycle rider Luis Filipe de Sousa Carreira's motorcycle burns after a crash during qualifying for the Macau Grand Prix, Thursday, Nov. 15, 2012, in Macau. Carreira died from injuries sustained in the crash.
15/11/2012 14:42 GMT
Funeral of 11-month-old Omar Al-Masharawi Killed By Israeli Airstrike In Gaza City BBC Arabic reporter Jihad al-Masharawi with the body of his 11-month-old baby boy Omar, who was killed by an Israeli airstrike targeting Hamas militants. Israel exchanged the fiercest fire with Hamas in years after assassinating its military mastermind and threatening a wider offensive in the Gaza Strip to stem Palestinian rocket salvoes. The Israeli air force continued striking Hamas targets in the Gaza Strip on Wednesday, after killing 10 people, including Ahmed Jabari and the baby son of a BBC Arabic reporter. Israel is threatening an invasion of the enclave that the Islamist group vowed would "open the gates of hell".
15/11/2012 14:37 GMT
The Perfect Place to Grow: 175 Years of the Royal College of Art's exhibition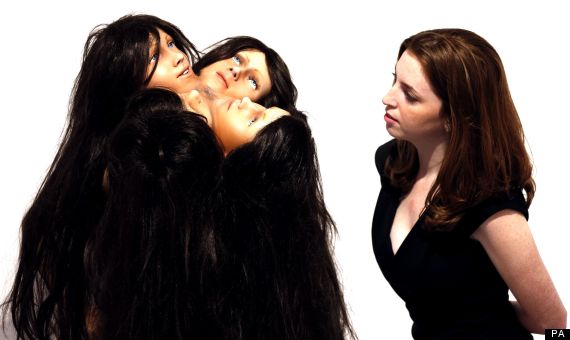 A member of staff looks at Jake and Dinos Chapman's work 'Forehead' during a preview of the Royal College of Art's 'The Perfect Place to Grow: 175 Years of the Royal College of Art' exhibition at the Royal College of Art, London.
15/11/2012 14:07 GMT
Donkey Work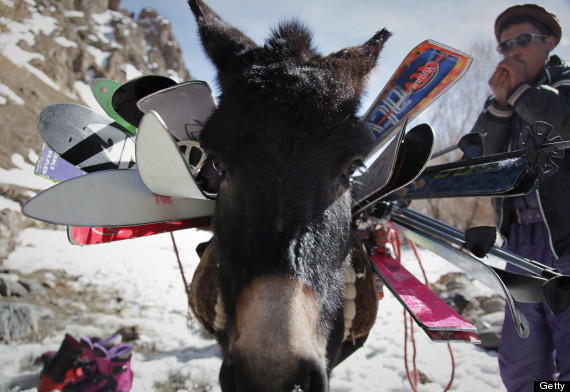 In the absence of chairlifts and roads, local ski guides in Afghanistan's Hindu Kush mountains use donkeys to help carry skis and poles above the snow-line. The slopes south of Bamyan's ancient Buddhist monatry - once home to the world's largest Buddhas, until the Taleban destroyed them in February 2001.
15/11/2012 14:05 GMT
One Man And his Puppy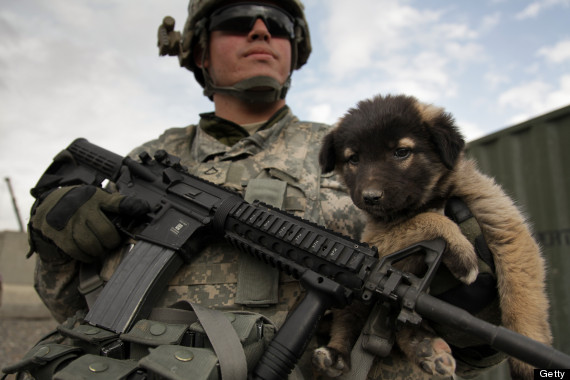 A soldier from the 2-502 Infantry Battalion, 101st Airborne Division, with a stray puppy at the entrance to Forward Operating Base Howz-e-Madad, in Zhari district, west of Kandahar City.
15/11/2012 13:32 GMT
Nasa Image Shows Dust, Sea Salt, Smoke And Fossil Fuel Emissions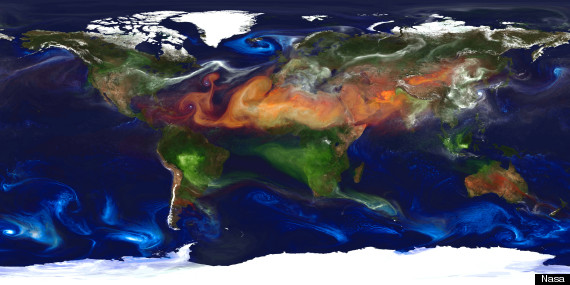 This stunning new image released by Nasa shows how dust, sea salt and smoke is swirled around the globe by weather. Dust (red) is lifted from the surface, sea salt (blue) swirls inside cyclones, smoke (green) rises from fires, and sulfate particles (white) stream from volcanoes and fossil fuel emissions.
SUBSCRIBE TO & FOLLOW UK DAILY BRIEF