The Huffington Post picture desk live bringing you the best pictures of the day from around the world chosen by our very own photo editors.
Follow The Huffington Post picture desk and our picture editors Elliot Wagland, Tahira Mirza and Matthew Tucker on twitter.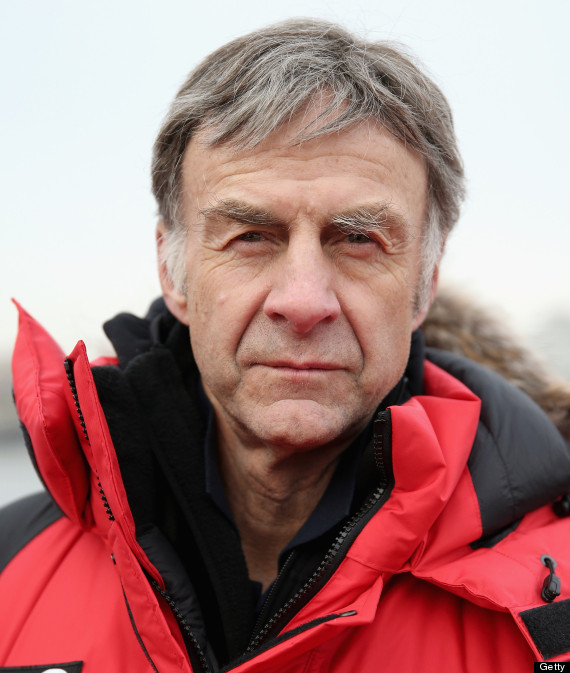 Sir Ranulph Fiennes poses for a photograph at The Coldest Journey launch on board the SA Agulhas, the ship for Sir Ranulph Fiennes' polar expedition to be the first to cross Antarctica in winter on December 6, 2012 in London, England and pictured below in 2010.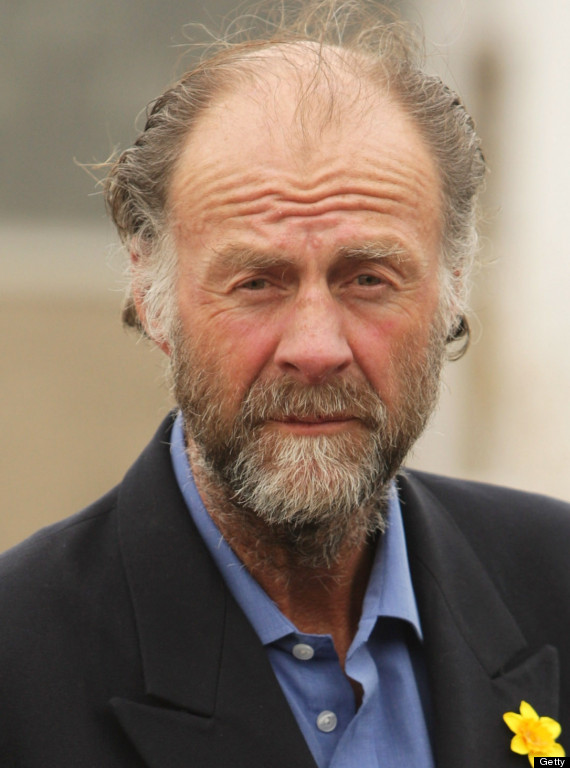 Loading Slideshow
The Coldest Journey Send-Off

LONDON, ENGLAND - DECEMBER 06: Sir Ranulph Fiennes poses for a picture at The Coldest Journey launch on board the SA Agulhas, the ship for Sir Ranulph Fiennes' polar expedition to be the first to cross Antarctica in winter on December 6, 2012 in London, England. The boat departs London at 15.15 today headed for South Africa, and then Antarctica. The expedition is raising funds for Seeing is Believing, the global charitable campaign tackling preventable and treatable blindness. (Photo by Tom Shaw/Getty Images)

The Coldest Journey Send-Off

LONDON, ENGLAND - DECEMBER 06: Sir Ranulph Fiennes poses for a picture at The Coldest Journey launch on board the SA Agulhas, the ship for Sir Ranulph Fiennes' polar expedition to be the first to cross Antarctica in winter on December 6, 2012 in London, England. The boat departs London at 15.15 today headed for South Africa, and then Antarctica. The expedition is raising funds for Seeing is Believing, the global charitable campaign tackling preventable and treatable blindness. (Photo by Tom Shaw/Getty Images)

The Coldest Journey Send-Off

LONDON, ENGLAND - DECEMBER 06: Sir Ranulph Fiennes poses for a picture at The Coldest Journey launch on board the SA Agulhas, the ship for Sir Ranulph Fiennes' polar expedition to be the first to cross Antarctica in winter on December 6, 2012 in London, England. The boat departs London at 15.15 today headed for South Africa, and then Antarctica. The expedition is raising funds for Seeing is Believing, the global charitable campaign tackling preventable and treatable blindness. (Photo by Tom Shaw/Getty Images)

The Coldest Journey Send-Off

LONDON, ENGLAND - DECEMBER 06: Sir Ranulph Fiennes talks at The Coldest Journey launch on board the SA Agulhas, the ship for Sir Ranulph Fiennes' polar expedition to be the first to cross Antarctica in winter on December 6, 2012 in London, England. The boat departs London at 15.15 today headed for South Africa, and then Antarctica. The expedition is raising funds for Seeing is Believing, the global charitable campaign tackling preventable and treatable blindness. (Photo by Chris Jackson/Getty Images)

The Coldest Journey Send-Off

LONDON, ENGLAND - DECEMBER 06: Actress Joanna Lumley and Sir Ranulph Fiennes pose for a photograph at The Coldest Journey launch on board the SA Agulhas, the ship for Sir Ranulph Fiennes' polar expedition to be the first to cross Antarctica in winter on December 6, 2012 in London, England. The boat departs London at 15.15 today headed for South Africa, and then Antarctica. The expedition is raising funds for Seeing is Believing, the global charitable campaign tackling preventable and treatable blindness. (Photo by Chris Jackson/Getty Images)

Coldest Journey on Earth expedition

The Prince of Wales with Sir Ranulph Fiennes aboard the SA Agulhas, where he is meeting members of 'The Coldest Journey' expedition, a bid to cross the Antarctic in winter led by Sir Ranulph.

Coldest Journey on Earth expedition

The Prince of Wales with Sir Ranulph Fiennes aboard the SA Agulhas, where he is meeting members of 'The Coldest Journey' expedition, a bid to cross the Antarctic in winter led by Sir Ranulph.

Coldest Journey on Earth expedition

The Prince of Wales with Sir Ranulph Fiennes aboard the SA Agulhas, where he is meeting members of 'The Coldest Journey' expedition, a bid to cross the Antarctic in winter led by Sir Ranulph.

Coldest Journey on Earth expedition

The Prince of Wales with Sir Ranulph Fiennes aboard the SA Agulhas, where he is meeting members of 'The Coldest Journey' expedition, a bid to cross the Antarctic in winter led by Sir Ranulph.

Coldest Journey on Earth expedition

The Prince of Wales with Sir Ranulph Fiennes aboard the SA Agulhas, where he is meeting members of 'The Coldest Journey' expedition, a bid to cross the Antarctic in winter led by Sir Ranulph.

Coldest Journey on Earth expedition

The Prince of Wales with Sir Ranulph Fiennes aboard the SA Agulhas, where he is meeting members of 'The Coldest Journey' expedition, a bid to cross the Antarctic in winter led by Sir Ranulph.

Coldest Journey on Earth expedition

The Prince of Wales meets the public as he leaves SA Agulhas, where he launched 'The Coldest Journey' expedition, a bid to cross the Antarctic in winter led by Sir Ranulph Fiennes.

Coldest Journey on Earth expedition

The Prince of Wales with Sir Ranulph Fiennes aboard the SA Agulhas, where he is meeting members of 'The Coldest Journey' expedition, a bid to cross the Antarctic in winter led by Sir Ranulph.

Coldest Journey on Earth expedition

The Prince of Wales meets the public as he leaves SA Agulhas, where he launched 'The Coldest Journey' expedition, a bid to cross the Antarctic in winter led by Sir Ranulph Fiennes.

Coldest Journey on Earth expedition

The Prince of Wales with Sir Ranulph Fiennes aboard the SA Agulhas, where he is meeting members of 'The Coldest Journey' expedition, a bid to cross the Antarctic in winter led by Sir Ranulph.

Coldest Journey on Earth expedition

The Prince of Wales with Sir Ranulph Fiennes aboard the SA Agulhas, where he is meeting members of 'The Coldest Journey' expedition, a bid to cross the Antarctic in winter led by Sir Ranulph.

Coldest Journey on Earth expedition

The Prince of Wales with Sir Ranulph Fiennes aboard the SA Agulhas, where he is meeting members of 'The Coldest Journey' expedition, a bid to cross the Antarctic in winter led by Sir Ranulph.

Coldest Journey on Earth expedition

The Prince of Wales with Sir Ranulph Fiennes aboard the SA Agulhas, where he is meeting members of 'The Coldest Journey' expedition, a bid to cross the Antarctic in winter led by Sir Ranulph.

The Coldest Journey Send-Off

LONDON, ENGLAND - DECEMBER 06: The ship for Sir Ranulph Fiennes' polar expedition to be the first to cross Antarctica in winter the SA Agulhas lies moored on the Thames in the early morning on December 6, 2012 in London, England. The boat departs London at 15.15 today headed for South Africa, and then Antarctica. The expedition is raising funds for Seeing is Believing, the global charitable campaign tackling preventable and treatable blindness. (Photo by Chris Jackson/Getty Images)

Coldest Journey on Earth expedition

The Prince of Wales with Sir Ranulph Fiennes aboard the SA Agulhas, where he is meeting members of 'The Coldest Journey' expedition, a bid to cross the Antarctic in winter led by Sir Ranulph.

The Coldest Journey Send-Off

LONDON, ENGLAND - DECEMBER 06: The ship for Sir Ranulph Fiennes' polar expedition to be the first to cross Antarctica in winter the SA Agulhas lies moored on the Thames in the early morning on December 6, 2012 in London, England. The boat departs London at 15.15 today headed for South Africa, and then Antarctica. The expedition is raising funds for Seeing is Believing, the global charitable campaign tackling preventable and treatable blindness. (Photo by Chris Jackson/Getty Images)

The Coldest Journey Send-Off

LONDON, ENGLAND - DECEMBER 06: The ship for Sir Ranulph Fiennes' polar expedition to be the first to cross Antarctica in winter the SA Agulhas lies moored on the Thames in the early morning on December 6, 2012 in London, England. The boat departs London at 15.15 today headed for South Africa, and then Antarctica. The expedition is raising funds for Seeing is Believing, the global charitable campaign tackling preventable and treatable blindness. (Photo by Chris Jackson/Getty Images)

The Coldest Journey Send-Off

LONDON, ENGLAND - DECEMBER 06: The ship for Sir Ranulph Fiennes' polar expedition to be the first to cross Antarctica in winter the SA Agulhas lies moored next to HMS Belfast on the Thames in the early morning on December 6, 2012 in London, England. The boat departs London at 15.15 today headed for South Africa, and then Antarctica. The expedition is raising funds for Seeing is Believing, the global charitable campaign tackling preventable and treatable blindness. (Photo by Chris Jackson/Getty Images)

The Coldest Journey Send-Off

LONDON, ENGLAND - DECEMBER 06: The ship for Sir Ranulph Fiennes' polar expedition to be the first to cross Antarctica in winter the SA Agulhas lies moored on the Thames in the early morning on December 6, 2012 in London, England. The boat departs London at 15.15 today headed for South Africa, and then Antarctica. The expedition is raising funds for Seeing is Believing, the global charitable campaign tackling preventable and treatable blindness. (Photo by Chris Jackson/Getty Images)

The Coldest Journey Send-Off

LONDON, ENGLAND - DECEMBER 06: The ship for Sir Ranulph Fiennes' polar expedition to be the first to cross Antarctica in winter the SA Agulhas lies moored on the Thames in the early morning on December 6, 2012 in London, England. The boat departs London at 15.15 today headed for South Africa, and then Antarctica. The expedition is raising funds for Seeing is Believing, the global charitable campaign tackling preventable and treatable blindness. (Photo by Chris Jackson/Getty Images)

The Coldest Journey Send-Off

LONDON, ENGLAND - DECEMBER 06: The ship for Sir Ranulph Fiennes' polar expedition to be the first to cross Antarctica in winter the SA Agulhas lies moored on the Thames in the early morning on December 6, 2012 in London, England. The boat departs London at 15.15 today headed for South Africa, and then Antarctica. The expedition is raising funds for Seeing is Believing, the global charitable campaign tackling preventable and treatable blindness. (Photo by Chris Jackson/Getty Images)

The Coldest Journey Send-Off

LONDON, ENGLAND - DECEMBER 06: The ship for Sir Ranulph Fiennes' polar expedition to be the first to cross Antarctica in winter the SA Agulhas lies moored on the Thames in the early morning on December 6, 2012 in London, England. The boat departs London at 15.15 today headed for South Africa, and then Antarctica. The expedition is raising funds for Seeing is Believing, the global charitable campaign tackling preventable and treatable blindness. (Photo by Chris Jackson/Getty Images)

The Coldest Journey Send-Off

LONDON, ENGLAND - DECEMBER 06: Sir Ranulph Fiennes speaks into a microphone during the The Coldest Journey launch on board the SA Agulhas, the ship for Sir Ranulph Fiennes' polar expedition to be the first to cross Antarctica in winter on December 6, 2012 in London, England. The boat departs London at 15.15 today headed for South Africa, and then Antarctica. The expedition is raising funds for Seeing is Believing, the global charitable campaign tackling preventable and treatable blindness. (Photo by Chris Jackson/Getty Images)

The Coldest Journey Send-Off

LONDON, ENGLAND - DECEMBER 06: The ship for Sir Ranulph Fiennes' polar expedition to be the first to cross Antarctica in winter the SA Agulhas departs on the first let of its journey to Antarctica on December 6, 2012 in London, England. The boat departs London at 15.15 today headed for South Africa, and then Antarctica. The expedition is raising funds for Seeing is Believing, the global charitable campaign tackling preventable and treatable blindness. (Photo by Chris Jackson/Getty Images)

The Coldest Journey Send-Off

LONDON, ENGLAND - DECEMBER 06: SA Agulhas, the ship for Sir Ranulph Fiennes' polar expedition to be the first to cross Antarctica in winter, departs on the first let of its journey to Antarctica on December 6, 2012 in London, England. The boat departs London at 15.15 today headed for South Africa, and then Antarctica. The expedition is raising funds for Seeing is Believing, the global charitable campaign tackling preventable and treatable blindness. (Photo by Chris Jackson/Getty Images)

The Coldest Journey Send-Off

LONDON, ENGLAND - DECEMBER 06: SA Agulhas, the ship for Sir Ranulph Fiennes' polar expedition to be the first to cross Antarctica in winter, departs on the first let of its journey to Antarctica on December 6, 2012 in London, England. The boat departs London at 15.15 today headed for South Africa, and then Antarctica. The expedition is raising funds for Seeing is Believing, the global charitable campaign tackling preventable and treatable blindness. (Photo by Chris Jackson/Getty Images)

The Coldest Journey Send-Off

LONDON, ENGLAND - DECEMBER 06: SA Agulhas, the ship for Sir Ranulph Fiennes' polar expedition to be the first to cross Antarctica in winter, departs on the first let of its journey to Antarctica on December 6, 2012 in London, England. The boat departs London at 15.15 today headed for South Africa, and then Antarctica. The expedition is raising funds for Seeing is Believing, the global charitable campaign tackling preventable and treatable blindness. (Photo by Chris Jackson/Getty Images)