Andrea Riseborough and Toby Jones collected the biggest acting honours at Sunday evening's British Independent Film Awards in London.
Riseborough collected her Best Actress gong for her role in Northern Irish thriller 'Shadow Dancer', while Jones collected his for 'Berberian Sound Studio'.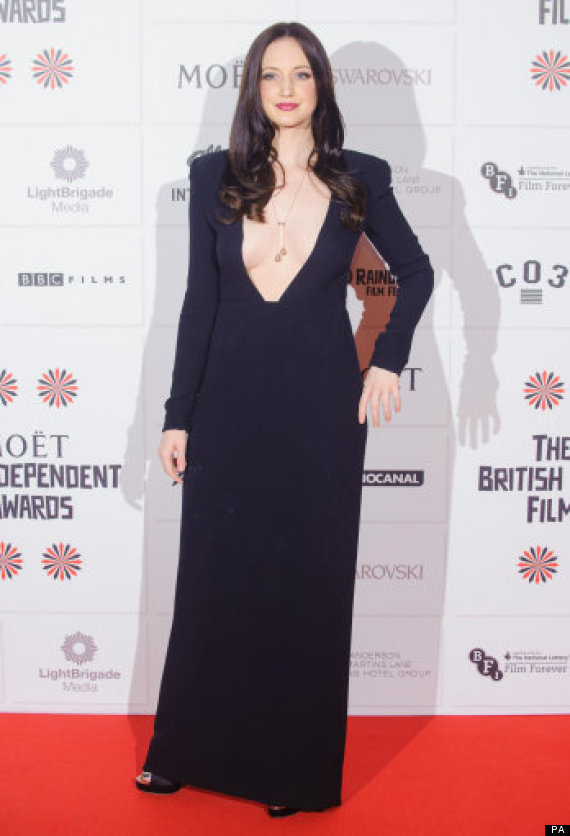 Andrea Riseborough was awarded for her gritty role as Colette McVeigh in 'Shadow Dancer'
'Berberian Sound Studio', in which a sound engineer's work for an Italian horror studio becomes a terrifying case of life imitating art, collected the most awards of the night, with four trophies for Best Director, Best Actor, Best Achievement in Production and Best Technical Achievement.
But the evening's biggest award, Best British Independent Film, went to 'Broken', starring Tim Roth, Rory Kinnear and Cillian Murphy, who also won for Best Supporting Actor.
British Independent Film Awards
Jude Law was at the ceremony to receive the Variety Award for sustained effort through his career.
"It feels great, there is no tension here tonight," he said.
"I am very proud to be a Brit in a global film industry, and to be recognised after 20 years of kind of hard work is a good thing."
Previous recipients include Sir Michael Caine, Dame Helen Mirren and Sir Kenneth Branagh.
Law recently accused the Government of "cultural vandalism" with its plans to cut art education from the school syllabus.
The 39-year-old added: "Let's not ruin its future by stopping kids having free and fair artistic education."

Complete list of winners below...
BEST BRITISH INDEPENDENT FILM
Sponsored by Moët & Chandon
Berberian Sound Studio
Broken
Sightseers
The Best Exotic Marigold Hotel
The Imposter

BEST DIRECTOR
Sponsored by AllCity & Intermission
Bart Layton - The Imposter
Ben Wheatley - Sightseers
John Madden - The Best Exotic Marigold Hotel
Peter Strickland - Berberian Sound Studio
Rufus Norris - Broken

THE DOUGLAS HICKOX AWARD [BEST DEBUT DIRECTOR]
Sponsored by 3 Mills Studios
Bart Layton - The Imposter
Ben Drew - Ill Manors
Rowan Athale - Wasteland
Rufus Norris - Broken
Sally El Hosaini - My Brother the Devil

BEST SCREENPLAY
Sponsored by BBC Films
Abi Morgan - The Iron Lady
Alice Lowe, Steve Oram, Amy Jump - Sightseers
Mark O'Rowe - Broken
Paul Andrew Williams - Song for Marion
Peter Strickland - Berberian Sound Studio

BEST ACTRESS
Sponsored by M.A.C
Alice Lowe (Tina) - Sightseers
Andrea Riseborough (Colette McVeigh) - Shadow Dancer
Elle Fanning (Ginger) - Ginger & Rosa
Judi Dench (Evelyn Greenslade) - The Best Exotic Marigold Hotel
Meryl Streep (Margaret Thatcher) - The Iron Lady

BEST ACTOR
Riz Ahmed (Aaron) - Ill Manors
Steve Oram (Chris) - Sightseers
Terence Stamp (Arthur) - Song for Marion
Tim Roth (Archie) - Broken
Toby Jones (Gilderoy) - Berberian Sound Studio

BEST SUPPORTING ACTRESS
Alice Englert (Rosa) - Ginger & Rosa
Eileen Davies (Carol) - Sightseers
Maggie Smith (Muriel Donnelly) - The Best Exotic Marigold Hotel
Olivia Colman (Queen Elizabeth) - Hyde Park on Hudson
Vanessa Redgrave (Marion) - Song for Marion

BEST SUPPORTING ACTOR
Sponsored by Sanderson & St Martins Lane
Billy Connolly (Wilf) - Quartet
Cillian Murphy (Mike Kiernan) - Broken
Domhnall Gleeson (Connor) - Shadow Dancer
Rory Kinnear (Bob Oswald) - Broken
Tom Wilkinson (Graham Dashwood) - The Best Exotic Marigold Hotel

MOST PROMISING NEWCOMER
Sponsored by Studiocanal
Elliott Tittensor (Tits) - Spike Island
Eloise Laurence (Skunk) - Broken
James Floyd (Rashid) - My Brother the Devil
Paul Brannigan (Robbie) - The Angels' Share
Zawe Ashton (Joyce Vincent) - Dreams of a Life

BEST ACHIEVEMENT IN PRODUCTION
Sponsored by Company3
Berberian Sound Studio
Ill Manors
Sightseers
The Imposter
The Sweeney

BEST TECHNICAL ACHIEVEMENT
Sponsored by LightBrigade Media
Nic Knowland BSC- Cinematography - Berberian Sound Studio
Joakim Sundström, Stevie Haywood AMPS IPS- Sound Design - Berberian Sound Studio
Electric Wave Bureau - Music - Broken
Robbie Ryan - Cinematography - Ginger & Rosa
Andrew Hulme - Editing - The Imposter

BEST DOCUMENTARY
Dreams of a Life
London: The Modern Babylon
Marley
Roman Polanski: A Film Memoir
The Imposter

BEST BRITISH SHORT
Supported by the BFI
Friday
Junk
Skyborn
Swimmer
Volume

BEST INTERNATIONAL INDEPENDENT FILM
Amour
Beasts of the Southern Wild
Rust and Bone
Searching For Sugar Man
The Hunt

THE RAINDANCE AWARD
Frank
Strings
Love Tomorrow
City Slacker
Jason Becker: Not Dead Yet

THE RICHARD HARRIS AWARD (for outstanding contribution by an actor to British Film)
Sir Michael Gambon

THE VARIETY AWARD
Jude Law

THE SPECIAL JURY PRIZE
Sandra Hebron
SUBSCRIBE AND FOLLOW
Get top stories and blog posts emailed to me each day. Newsletters may offer personalized content or advertisements.
Learn more