Billie Piper shocked everyone when she took a turn as saucy lady-of-the-night Belle de Jour in 'Secret Diary Of A Call Girl', but starring in the show has resulted in an on-going problem for her - she's now regularly mistaken for a real-life prostitute.
The former 'Doctor Who' star has revealed her US career is hampered by people believing she really is a call girl thanks to the ITV2 series.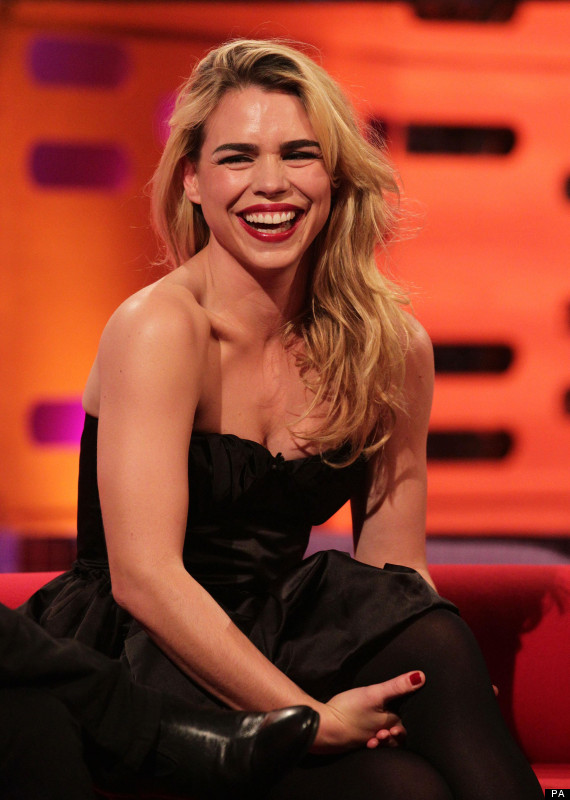 Making the admission during an appearance on 'The Graham Norton Show', she said: "When I moved to the country people thought I was a genuine prostitute. It happens all the time.
"It happened recently in America, where they tend to introduce people with a little biography, and I was introduced as 'the prostitute'," she laughed.
Billie starred in four series of the hit show, which was adapted from the novels written under the pseudonym 'Belle de Jour', who was later revealed to be research scientist Brooke Magnanti.
HUFFPOST UK CELEB ON FACEBOOK | FOLLOW US ON TWITTER
During the interview, the mum-of-two - who gave birth again last year - also revealed she didn't enjoy being pregnant.
"It's stressful and wearing," she said.
"You're either one of those people that love and embrace it, or you find it frustrating and uncomfortable and I was that girl. It pushed me to the edge," she added.
Loading Slideshow
January

Jaws across the country dropped when former wild child Peaches Geldof announced she was pregnant with rocker boyfriend Thomas Cohen. She gave birth to a little boy called Astala Dylan Willow Geldof-Cohen in April.

January

We all thought Sarah Harding had found happiness when she left rehab with a new man in tow. However, their relationship became abusive when she and Theo DeVries had a brawl in a hotel room, which left the Girls Aloud star battered and bruised.

January

Mariah Carey was left to care for husband and 'America's Got Talent' host Nick Cannon when he was rushed to hospital following kidney failure.

January

Sinead O'Connor left fans worried when she pleaded for help on Twitter before being rushed to hospital following an overdose. Thankfully, she survived and sought help for depression.

January

In one of the oddest stories of the year, TV chef Antony Worrall Thompson became front page news when he was caught shoplifting at Tesco. After publicly apologising, he vowed to seek help for his problem.

January

Beyonce and Jay-Z became parents for the first time when they welcomed daughter Blue Ivy Carter, who will undoubtedly become the coolest child ever.

January

There was also baby joy for Michelle Heaton, who gave birth to daughter Faith.

January

Kerry Katona's financial woes continued when she faced bankruptcy for the second time, after she was served a £70,000 tax bill.

January

After weeks of speculation, Heidi Klum and Seal announced their separation after seven years of marriage. Later in 2012, Heidi went public with her new relationship with her bodyguard Martin. Seal was left less than impressed, and told a TV crew: "I would have thought Heidi would have shown a little bit more class... before deciding to fornicate with the help, as it were." Ouch.

January

'Loose Woman' Denise Welch caused one hell of a stir when she appeared in 'Celebrity Big Brother'. She was characterised by her tempestuous relationship with Michael Madsen, her infamous row with the Playboy twins Kristina and Karissa Shannon, oh, and getting her boobs out in the hot tub with Frankie Cocozza.

January

N-Dubz stars Tulisa and Fazer ended their relationship, only months after publicly confirming it. It was rumoured former 'Made In Chelsea' star Chloe Green was implicated in the break up.

January

Amanda Holden's life hung in the balance after she gave birth to second child Hollie being rushed to intensive care for an emergency blood transfusion. After recovering, she returned to 'Britain's Got Talent' filming just a few weeks later.

January

Cheryl Cole was outraged when rapper and Alesha Dixon's ex husband Harvey claimed in an interview that he had had a secret relationship with her. After Cheryl's persistent denials, Harvey eventually changed his story, and she took legal action against Now magazine over the story.

February

There were many rumours that Katie Price was back with ex boyfriend Leandro Penna after they were spotted together on numerous occasions. Katie insisted she was single and they were 'just friends', but it was little surprise when she eventually came clean about the reunion.

February

Cher Lloyd made a tearful appearance on 'Panorama' to try and beat Twitter trolls who hounded the star since competing on 'The X Factor' in 2010.

February

One of the unlikeliest parings of the year came from Cat Deeley and Patrick Kielty who were first linked in February. After going public a few months later, they soon became engaged and the former 'Fame Academy' hosts got hitched in October.

February

The music world mourned the loss of an icon when Whitney Houston was found dead in her hotel room after a suspected overdose.

February

Ahead of the London 2012 Olympics, Tom Daley posted this hilarious spoof of him and fellow Team GB divers dancing to LMFAO's 'Sexy And I Know It', giving female fans a taster of what they could expect to see from him in the summer - lots of speedo action.

February

After Denise Welch was accused of cheating on her husband Tim Healy, the 'Celebrity Big Brother' winner announced live on 'Loose Women' the couple had actually split last year and kept it secret. She later went public with toyboy lover Lincoln Townley.

February

Cher Lloyd sparked a war of words with former 'X Factor' mentor Cheryl Cole when she claimed the Girls Aloud star couldn't sing without the aid of autotune. Cheryl hit back on Twitter, telling her old protege: "Be Careful who you kick on your way up .. They kick you twice as hard on your way back down.. #unappreciationisugly".

February

Love was reignited for Nicole Scherzinger and Lewis Hamilton who got back together after previously ending their relationship at the end of 2011.

February

There was hospital drama for Danielle Lloyd who, after checking into hospital to have her breast implants removed, doctors discovered a blood clot and the star received an emergency transfusion, prompting her to lose a shocking amount of weight.

February

Gary Barlow and wife Dawn announced they were expecting their fourth child.

February

The wrath of Adele was felt by ITV when host James Corden was forced to cut short her Brit Awards acceptance speech, with the singer sticking her middle finger in the air live on telly.

February

Lorraine Kelly was involved in a serious horse riding accident, which left her absent from her morning chat show for months as she recovered.

March

Mel B's dirty laundry was hung out in public when her sister Danielle blasted the Spice Girl for not getting in touch when she visited the UK on Twitter, and claimed her husband Stephen Belafonte was controlling her.

March

The Saturdays' Una Healy and fiance Ben Foden welcomed their first child, Aoife Belle, who has since gone on to become the most Instagramed baby in celebville.

March

Tulisa was linked to former 'Skins' star Jack O'Connell and soon went public with their romance. But after only a few months, the couple went their separate ways.

March

Stacey Solomon found herself at the centre of a media storm when she was photographed smoking whilst pregnant with her second child. She then made a tearful appearance on 'This Morning' to publicly apologise and try and explain her actions.

March

Russell Brand was in trouble with the law when he got himself arrested following an altercation with a photographer.

March

Undoubtedly the biggest scandal to rock celebville in 2012 was Tulisa's sex tape. A seven minute video was leaked showing the 'X Factor' judge performing a sex act on an unidentified male. She later posted a confessional video on YouTube, admitting she had appeared in the tape and slammed ex boyfriend Justin Edwards, aka MC Ultra, for leaking it.

March

Simon Cowell was left cowering in a wardrobe when burglars broke into his west London home.

March

Kim Kardashian was flour bombed on the red carpet of her own perfume launch by an animal rights activist campaigning against the star's love of fur.

March

Lady Gaga gave us a rare look at what she looks like underneath all the crazy costumes and make-up as she posted this slap free snap on Twitter.

April

It all kicked off between Cheryl Cole and Louis Walsh after she attacked his management skills when he looked after Girls Aloud. The war of words continued when he then retorted that she needed vocal lessons, before the pair eventually called a truce.

April

Then, after months out of the spotlight following her axing from 'The X Factor USA', Cheryl made a spectacular return when pictures surfaced of her on a video shoot for comeback single 'Call My Name'. The end result was a dazzling spectacle, and we well and truly welcomed our Chez back into our lives.

April

Lauren Goodger was left devastated when some not-so-flattering pictures were published of her on holiday in Miami, prompting the star to make a vow to lose weight.

April

They were pals for years, but friendship turned into something more for Kim Kardashian and Kanye West, who went public with their relationship after months of rumours following her split from Kris Humphries last October.

April

There were signs all was not well in Max George and Michelle Keegan's relationship when they called off their engagement, they but insisted they were still a couple. We all know what happened next...

April

Billie Piper and her husband Laurence Fox were delighted when they welcomed a brother for their son Winston, called Eugene Pip.

April

After seven years and six children, Brad Pitt finally decided to put a ring on it by asking Angelina Jolie to marry him. However, the couple - who famously met on the set of 'Mr & Mrs Smith' while he was still married to Jennifer Aniston - have still to set a date for their nuptials.

April

Una Healy was left red faced when her fiance Ben Foden was caught on camera getting his bits out on his stag do in a strip club.

April

Celebville was rocked by the revelations Simon Cowell and Dannii Minogue had enjoyed a secret relationship when she joined 'The X Factor' in 2007 when Tom Bower published a endorsed biography of the music mogul.

April

Posh has been banging on about her legendary sense of humour for years, and finally she proved she was in possession of one when she tweeted a string of hilarious pictures on a trip to Japan, including this one of her acting as a barista in Starbucks.

April

After weeks of tabloid speculation and not so subtle hints dropped in interviews, Alexandra Burke finally went public with footballer Jermain Defoe.

May

Kerry Katona unveiled the results of a secret tummy tuck after years of trying to regain her slim figure.

May

Stacey Solomon welcomed a happy and healthy baby boy Leighton with her fiance Aaron after the scandal over her smoking during her pregnancy earlier in the year.

May

It was all out Twitter war between 'X Factor' star Marcus Collins and former 'TOWIE' girl Maria Fowler when the two clashed at an event. In a series of heated tweets Marcus accused Maria of being racist, while she said he had spat at her.

May

There were fears for Rihanna's health when she tweeted a picture of herself hooked up to a drip, amid reports she was suffering from exhaustion. Some said that she was rushed to hospital, while others suggested she may have been using an energy boosting drip, popular with celebs.

May

They both denied they were dating last year, but One Direction's Zayn Malik and Little Mix's Perrie Edwards could hide their romance no longer after he was spotted sneaking out of her house early in the morning, and they were then seen kissing a few weeks later.

May

McFly's Harry Judd broke many girls' hearts when he popped the question to girlfriend Izzy Johnston. Obvs, she accepted.
Also on HuffPost: