Despite centuries of analysis by art historians and critics, it appears two Tudor portrait paintings have been harbouring creative secrets, until now.
Infrared reflectography and x-radiography analysis has revealed a fully worked up version of The Flagellation of Christ painted beneath the surface of a 1601 portrait of the Lord Treasurer and poet Thomas Sackville, 1st Earl of Dorset.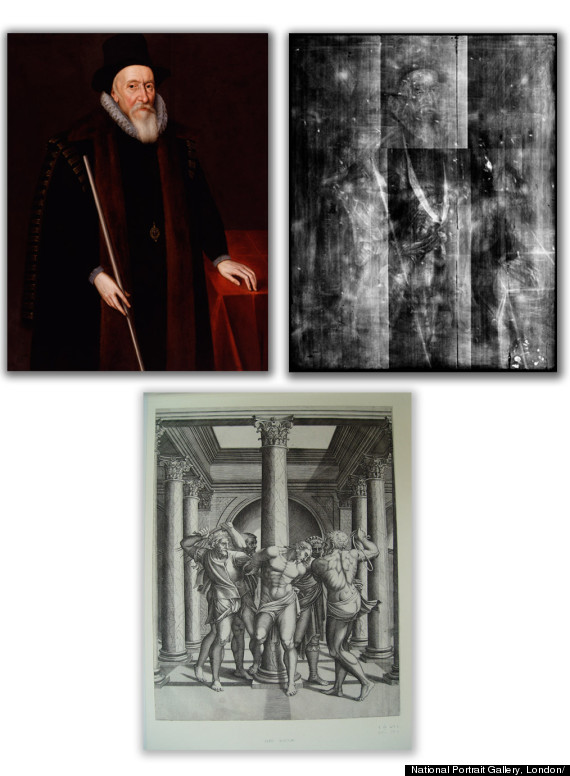 Thomas Sackville, 1st Earl of Dorset, Unknown artist, 1601 (top left) and the X-ray image of the portrait of Thomas Sackville, 1st Earl of Dorset (top right). The Flagellation of Christ, After Michelangelo, print by Adamo Scultori, Italian, 1547-1587 (bottom)

The painting's hidden composition, by an unknown artist, is derived from a fresco in the Borgherini Chapel in Rome by Sebastiano del Piombo after designs by Michelangelo.
Other works on display at the Hidden: Unseen Paintings Beneath Tudor Portraits display include the National Portrait Gallery's painting of Sir Francis Walsingham, Elizabeth I's Protestant spymaster and Secretary of State.
The portrait hangs alongside technical images that reveal the secret painting, along with The Virgin and Child in a Garden, style of Martin Schongauer (The National Gallery, London), which gives an impression of what the original composition may have looked like.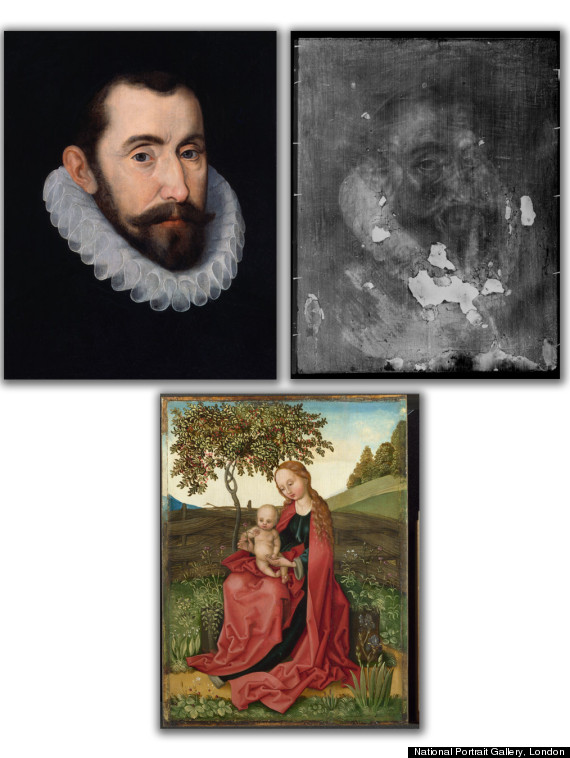 Sir Francis Walsingham, Unknown artist, late 16th century (top left) and X-ray image of the portrait of Sir Francis Walsingham (top right). The Virgin and Child in a Garden, Style of Martin Schongauer (bottom).

Dr Tarnya Cooper, Chief Curator of the National Portrait Gallery, London, said: "It has been really exciting to discover these unexpected images beneath portraits.
"The re-use of wooden panels is an example of Tudor recycling … yet, the people in the portraits painted over the top were unlikely to have known the panels were second hand."
Infrared reflectography revealed there were at least three figures beneath the Walsingham portrait and in x-ray it became evident that these were likely to be of the Virgin Mary with the infant Christ, with either the figure of Joseph or an angel also visible.
Dendrochronology (tree-ring) analysis has suggested that the panel was first used between 1547 and 1579, whilst the portrait of Sir Francis Walsingham dates to the mid 1580s.
The circumstances of the re-use of the portrait's panel are unknown, however, given Walsingham's ardent religious beliefs he may not have approved of the re-use, had he known.
Cooper added: "In the case of Sir Francis Walsingham, the Protestant Spymaster with the Roman Catholic image of the Virgin and child beneath, you do wonder if the artist might be enjoying a private joke at the expense of the sitter."
Hidden: Unseen Paintings Beneath Tudor Portraits is running at the National Portrait Gallery, London, 3 Jan 2013 - 2 June 2013.
Loading Slideshow
Manet: Portraying Life

<strong>26 January – 14 April 2013, Royal Academy</strong> You may think you've seen Manet, but this show at the RA is the first ever retrospective dedicated to Eduoard Manet's portraiture. Over 50 words depicting a range of scenes of Manet's Paris, this exhibition definitely has the feel of the observer - his forward-thinking portraits reflecting today's street photography.

William Scott Centenary

26 January –6 May 2013, Tate St Ives To celebrate the centenary of British painter William Scott, the dramatic background of Tate St Ives will host an exhibition which places his work in context of the Cornish landscape which inspired his genre-crossing paintings.

Andy Warhol

8 February - 28 April, MAC Belfast Belfast's shiny new venue is playing host to the first significant exhibition of Andy Warhol's work in Northern Ireland. A mighty 232 works from Warhol's career, considering youth, fame and material culture, will be on display.

Lichtenstein: A Retrospective

21 February - 27 May 2013, Tate Modern With Roy Lichtenstein pastiches populating Tube-train adverts, there's no better time to be reminded of the pop-art originator. Thankfully, London's embankment behemoth, Tate Modern, plays host to the most comprehensive Lichtenstein exhibition ever - and the first retrospective for 20 years.

Ed Ruscha

22 Feb - 22 May, Hatton Gallery, Newcastle Ed Ruscha's work leaves the sunny climes of LA for the North East, and other places, as part of the ARTIST ROOMS tour in 2013. One of the most inventive artists of the last 50 years, this show is a comprehensive look at four decades' of his work. Expect irreverent, interesting looks at communication through art and words.

The Bride and the Bachelors

14 February – 9 June 2013, Barbican A fierce collaboration between composer John Cage, choreographer Merce Cunningham and artists Robert Rauschenberg and Jasper Johns is at the heart of Barbican's Dancing around Duchamp season next year. Looking at the influence of pivotal artist Marcel Duchamp, these four creatives have resulted in an impressive body of work, including music, performance and visual art.

George Catlin: American Indian Portraits

7 March - 23 June 2013, National Portrait Gallery George Catlin was an artist and writer who documented the Native American peoples and cultures to preserve what he saw as a passing way of life in the 19th century. He was right, and now his project is one of the most extensive records in existence. On loan from the Smithsonian American Art Museum, some of Catlin's 500 portraits will be on show at the NPG to demonstrate how he presented these people to capture the public imagination.

Toshio Saeki

8 - 31 March 2013, Print House Gallery Saeki is practically unheard of in the UK, but after his first show here (at the age of 67), it's likely his provocative erotic images are likely to gain attention. Print House, an independent gallery in London, is showing a mix of original and new works from Saeki.

David Bowie is

23 March - 28 July, V&A The V&A have been allowed to rootle around in the Bowie archive and sift out the best bits for the first international retrospective of the cultural icon and musician. Over 300 objects are being brought together for the first time - from some of Bowie's crazy costumes to handwritten lyrics and set design - showing some clue behind his creative thinking and development.

The House Of Annie Lennox

23 March - 30 June 2013, Scottish National Portrait Gallery Eurythmics star and artist Annie Lennox has co-created this show, which focuses on her work as a performer, singer-songwriter and activist. Including photographs, costumes and videos from Lennox's personal archive, it's a go-to not only for fans, but gives an insight into the cultural climate over the course of her career.

Outsider Art from Japan

28 March - 30 June 2013, Wellcome Collection Once again Wellcome find an innovative way to cross the divide between art and science. 2013's spring exhibition shows work from 46 artists who are residents and patients at social welfare institutions in Japan. A mixture of painting, sculpture and textiles explores culture, memory and creativity.

Saloua Raouda Choucair

17 April - 20 October 2013, Tate Modern In another first for the UK, the work of Lebanese artist Saloua Raouda Choucair will go on show in Tate Modern. Choucair has long been respected as a pioneer of abstract art in the Middle East. However, her London show demonstrates the burgeoning importance that she's being given globally of late. This show will reflect her interests in science, mathematics and Islamic art through painting and sculpture over the last five decades.

Gary Hume

5 June –1 September 2013, Tate Britain Along with Lucas, another YBA has a major exhibition in 2013. Now one of Britain's most respected painters, Gary Hume's well-known works will be shown alongside international loans never-before seen in the UK. The show will run in Tate Britain alongside an exhibition of the work of fellow British painter Patrick Caulfield.

Chagall: Modern Master

7 June – 6 October 2013, Tate Liverpool The dreamy works of Russian painter Marc Chagall will be hitting the North West next summer. The first Chagall show in over 15 years in the UK, Tate Liverpool have curated an exhibition which focuses on his time in Paris before WW1 and in Russia during the revolution of 1917.

Witches And Wicked Bodies

27 July - 3 November 2013, Scottish National Gallery of Modern Art An apt exhibition as autumn encroaches on the Gothic city of Edinburgh, this is the first major exhibition to look at visual representations of witches from the last 400 years. Big names include Albrecht Durer, William Blake and Paula Rego, with work looking at how witches have been depicted - from the beautiful to the damned.

Diane Arbus

14 Sep 2013 – 11 Jan 2014, Moray Art Centre 2013's going to be a good year if you're an American photography fan in Scotland - the work of photographic legend Diane Arbus is part of the Artist Rooms collection. 69 images from across her career between the mid 1950s until her suicide in the 70s will be on show.

Sarah Lucas

2 October – 15 December 2013, Whitechapel Gallery Big name Brit-Sculptor Sarah Lucas is starring in her first major solo exhibition in London next autumn. Lucas will be showing some of the witty works responsible for her fame, as well as new pieces, in a specially-commissioned show which looks at feminism and British art.

The Portrait In Vienna 1867-1918

9 October 2013 – 12 January 2014, Sainsbury Wing, National Gallery If you're a fan of Gustav Klimt, Egon Schiele or Oskar Kokoschka, this is the show to look forward to. If you're not, here's a good place to start. The National's exhibition is the first to look at portraiture between the 18th and 19th centuries - a time often seen as when the strictures of the artistic academy were overthrown by the avant-garde.